Regional Territories 4
This section contains monthly articles on over two dozen territories. To relive those wonderful days of old, click here.
Wrestlers 4
Enter this section for bios/profiles of various wrestlers from the regional days. To find more out about your favorite pro wrestler, click here.
Stories 4
This section contains stories from the pros themselves told exclusively to Kayfabe Memories. Want to know more as told from the wrestlers themselves? Click here.
Old School Book Reviews4
Click here to find various book reviews from old school wrestlers.
KM Links 4
For tons of links to old school related sites, click
here
.
KM Micro Wrestlers4
What are Micro Wrestlers? Click here
to find out.
KM Interviews... 4
Click here to read exclusive interviews with stars from the regional territories.
www.kayfabememories.com is © 2004 AtomDesigns. All promotional art, characters, logos and other depictions are © their respective owners. All Rights Reserved.
All contents save Wrestler Stories are © Kayfabe Memories.
Website designed and maintained by AtomDesigns © 2004 . If you experience any problems with this site or have any questions, please contact the Webmaster.
- Jason Hess
It is summer time here at Kayfabe Memories! My personal hope is that you and your family are having a great summer, doing things that help you and your loved ones grow closer as you make memories that will last forever. Down here in Houston, our summers are traditionally very hot. While we flirt with the 100 degree mark and usually don't hit it (unlike heat centers in the Southwest like Phoenix and Las Vegas), we do have our humidity match our temperature….which makes for some hot days.
Back in the summer of 1984, America was preparing for the Olympic Games in Los Angeles, which would see a track star from Houston, Carl Lewis, capture tons of gold as he was one of many who took the center stage at the Games. Lewis was on a hot streak that would continue throughout the 1980's.
Down in the Mid-South region, things were getting as hot as the weather as some huge angles were executed, making Mid-South the show to watch, and the house show to attend during the second quarter of 1984.
Rewind:
During the first quarter of 1984, Mid-South was ablaze in transition, as new stars joined the mix of established Mid-South legends such as Junkyard Dog, Ted DiBiase, Butch Reed, and Jim Duggan. Newcomers Terry Taylor, Jim Cornette and the Midnight Express, and the Rock-n-Roll Express were the cause of much excitement during the first quarter of 1984. With Jim Cornette feuding with Mid-South president Cowboy Bill Watts AND Magnum T.A.-Mr. Wrestling 2 AND the Rock-n-Roll Express, Cornette quickly became the most hated man in the Mid-South territory. He would soon garner competition for that spot at the hands of a legendary masked man.
The Teacher and the Student
Magnum T.A. was an up-and-comer in the eyes of many Mid-South fans, having held the Mid-South tag belts with Jim Duggan, and a flirtation with the North American title in 1983. Mr. Wrestling 2 quickly took T.A. under his wing, and the two formed a mentor-student relationship, highlighted by training videos showing 2 putting his protégé through the paces of grueling weight and wrestling workouts.
Each week, T.A. would seemingly progress in his confidence and his ability to put people away more quickly with his belly to belly suplex, which would quickly grow to be a feared maneuver in the territory. Cracks, however, would quickly form in the relationship between teacher and student.
When Lanny Poffo entered the Mid-South area, T.A. agreed to tag team with the lithe grappler, much to 2's chagrin. 2 warned T.A. that Poffo was the brother of Randy "Macho Man" Savage, a man that 2 stated was not to be trusted. Since Savage couldn't be trusted, neither could Poffo. T.A. on the other hand, stated that Poffo was his own man, therefore worthy of trust. The situation blew over, but it began to plant ideas in the heads of fans that things were not right between the two.
While tag team champions, 2 garnered a shot at the North American title held by Junkyard Dog. 2 began to deride JYD in interviews until the Dog gave him a title shot. In March 1984, 2 won the North American title in New Orleans and sent JYD packing for a term with a loaded "coup de grace," his million dollar knee lift.
The next night in Lafayette, 2 cemented his heel turn by walking out on T.A. after the two lost the tag belts to Cornette's Midnight Express. The loser of the fall would have to receive five lashes a piece from the winner. With 2 not willing to go along with the stipulation of the match, it looked like T.A. was doomed to receive all 10 lashes. In one act of bravery, highlighted on Mid-South tv for the next few weeks, Terry Taylor rushed towards the ring, and took five lashes on T.A.'s behalf, "saving" him from a more brutal beating, and cementing his status as one of the most popular babyfaces around.
With 2's turn complete, the stage was set for the ultimate showdown: teacher vs. student. 2 would taunt T.A. for the next couple of months, escaping with the title via every rule-breaking way possible. But in the eyes of many Mid-South fans, it was only a matter of time before T.A. broke through to become the superstar many predicted him to become. That time came on Mother's Day. More...

KM DVD/VHS Store 4
Click here to purchase DVD or VHS products direct from the official distributors.
KM Replica Masks 4
Click here to purchase pro quality replica wrestling masks of all your favorite old school masked wrestlers.
KM Store 4
The KM Store now features products featuring the GCW logo as well as some other very cool images. To see what's new and to purchase T-Shirts, ball caps, mouse pads and more, click here.
KM Message Board 4
Want to chat with other fans of regional wrestling? This message board has forums for over two dozen promotions. Click here.
KM Belt Gallery 4
This section contains an extensive title belt gallery... images of heavyweight, tag, U.S. and various regional title belts. To view it, click here.
Old School Tape Review 4
Reviews of various PPV's, commercial tapes and regional wrestling TV shows are available in this section. To read more, click here.
Website designed & maintained by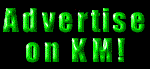 Thanks for visiting!