Regional Territories 4
This section contains monthly articles on over two dozen territories. To relive those wonderful days of old, click here.
Wrestlers 4
Enter this section for bios/profiles of various wrestlers from the regional days. To find more out about your favorite pro wrestler, click here.
Stories 4
This section contains stories from the pros themselves told exclusively to Kayfabe Memories. Want to know more as told from the wrestlers themselves? Click here.
Old School Book Reviews4
Click here to find various book reviews from old school wrestlers.
KM Links 4
For tons of links to old school related sites, click
here
.
KM Micro Wrestlers4
What are Micro Wrestlers? Click here
to find out.
KM Interviews... 4
Click here to read exclusive interviews with stars from the regional territories.
www.kayfabememories.com is © 2004 AtomDesigns. All promotional art, characters, logos and other depictions are © their respective owners. All Rights Reserved.
All contents save Wrestler Stories are © Kayfabe Memories.
Website designed and maintained by AtomDesigns © 2004 . If you experience any problems with this site or have any questions, please contact the Webmaster.
- Jason Hess
They are here…..the dog days of summer. The days where childhood memories are formed that stay with us long after the event. The days of family vacations to "wherever-world," to grandparents' houses, the smell of cookouts and anticipation of family reunions fill our minds and hearts with remembrance and hopefully……..fondness.
With the great city of Houston hosting the 2004 MLB All Star Game this month, I am taken back in time nearly 20 years to many "all star" cards that were being presented by Mid-South Sports to fans in the Mid-South Territory during those hot, "dog" days of the summer of 1984.
As Carl Lewis and Mary Lou Retton took not only the literal gold medals in the Olympic Games, but the gold medals of America's heart, other gifted athletes were battling for gold……Mid-South Gold.
As the summer went into full swing, more hot weather engulfed the Mid-South territory, and more hot action accompanied the weather. In this edition of Kayfabe Memories, we will focus on the third quarter of 1984, which would see some surprise exits, and surprise returns.
Rewind:
By the end of June 1984, the new stars of Mid-South had been firmly established. Magnum T.A. was riding high as the North American champion. Jim Cornette and the Midnight Express seemingly had a death grip on the tag belts. Terry Taylor was the TV champion, and the Rock-n-Roll Express had captured the hearts of every teenage girl in the territory. Things couldn't have been better………….or could they?
….Get Your Motor Runnin'
As Magnum T.A. ascended to the top of the singles ladder, his persona tweaked ever so slightly in the eyes of fans. Already a good looking, rugged babyface, T.A. added the weapon of confidence in his holster. T.A. would annihilate opponents quickly with the belly-to-belly suplex, and positioned his finisher as being able to be applied at anytime.
With this confidence, T.A. no longer was the upset kid in our eyes. He became the "champ." He oozed confidence in his abilities, and we in turn believed in him. When he beat Nikolai Volkoff in 1983 for an aborted run for the N.A. title, fans were happy because it was an upset. When he would down Ted DiBiase (more on him in a moment) at the Superdome in June 1984, it was no upset. T.A. had arrived.
His foes ranged from Mr. Wrestling '3" (Hercules Hernandez), to the aforementioned DiBiase. And during the summer months of 1984….they all went down.
Two Years Too Soon….
Ricky and Robert. That's all that Reeser Bowden would need to say to grab the attention and hearts of millions of girls in the Mid-South territory. Did they have last names? Of course. Morton and Gibson. But to many teenage girls during 1984, Ricky and Robert were enough to send palpitations to their hearts.
So, when two other men entered into the Mid-South area named Bobby and Tommy, both younger, more tan, and more in shape than Morton and Gibson, one would think that the girls would be in 7th Heaven. One would be wrong.
Ricky and Robert had left Mid-South for a short spell, returning to Memphis. In their place stepped in the Fantastics, 'Bobby' Fulton and 'Tommy' Rogers. Both men were athletic, and could work a fast pace, which made them naturals for the Midnight Express. And while Ricky and Robert were away, Bobby and Tommy had the unenviable task of following them in both match quality and in capturing fan support.
For the Fantastics, match quality was not a problem. The problem was that they were either two years too late…..or too early. They failed to get over as well as many would have hoped, and left during the fall for World Class, where they would get over like gangbusters….and continue the feud with the Midnight Express. Two years later, in 1986, they became the most popular tag team in the UWF, winning the tag titles on two different occasions, and enjoying the respect….and the hearts of many fans. More...

KM DVD/VHS Store 4
Click here to purchase DVD or VHS products direct from the official distributors.
KM Replica Masks 4
Click here to purchase pro quality replica wrestling masks of all your favorite old school masked wrestlers.
KM Store 4
The KM Store now features products featuring the GCW logo as well as some other very cool images. To see what's new and to purchase T-Shirts, ball caps, mouse pads and more, click here.
KM Message Board 4
Want to chat with other fans of regional wrestling? This message board has forums for over two dozen promotions. Click here.
KM Belt Gallery 4
This section contains an extensive title belt gallery... images of heavyweight, tag, U.S. and various regional title belts. To view it, click here.
Old School Tape Review 4
Reviews of various PPV's, commercial tapes and regional wrestling TV shows are available in this section. To read more, click here.
Website designed & maintained by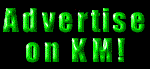 Thanks for visiting!