Regional Territories 4
This section contains monthly articles on over two dozen territories. To relive those wonderful days of old, click here.
Wrestlers 4
Enter this section for bios/profiles of various wrestlers from the regional days. To find more out about your favorite pro wrestler, click here.
Stories 4
This section contains stories from the pros themselves told exclusively to Kayfabe Memories. Want to know more as told from the wrestlers themselves? Click here.
Old School Book Reviews4
Click here to find various book reviews from old school wrestlers.
KM Links 4
For tons of links to old school related sites, click
here
.
KM Micro Wrestlers4
What are Micro Wrestlers? Click here
to find out.
KM Interviews... 4
Click here to read exclusive interviews with stars from the regional territories.
www.kayfabememories.com is © 2004 AtomDesigns. All promotional art, characters, logos and other depictions are © their respective owners. All Rights Reserved.
All contents save Wrestler Stories are © Kayfabe Memories.
Website designed and maintained by AtomDesigns © 2004 . If you experience any problems with this site or have any questions, please contact the Webmaster.
- Sean Rowland
After Mr. Wrestling II & Magnum T.A. had taken care of Butch Reed & Jim Neidhart, a newly arrived team quickly started to make noise about wanting a title shot. The Midnight Express, Bobby Eaton & Dennis Condrey, had made the Mid-South scene a few weeks earlier. The duo, along with their loud-mouthed manager Jimmy Cornette, had turned the tag-team scene on its ear. I still remember the first time I saw them work. It was unreal how they totally understood how to work a tag-team match. It was all quick tags and some spectacular double team moves. They truly broke new ground in the Mid-South area. Plus, they had the man that was perhaps the greatest manager in the history of the sport in Jim Cornette. Cornette was something new in the Mid-South area as well. In one of the many great moments of this feud, Bill Watts himself pointed out the difference between Cornette and other Mid-South managers. Until Cornette's arrival, the managers in the area tended to be former wrestlers, such as Ernie Ladd, Skandor Ackbar, Rock Hunter and Gary Hart. But Cornette was the first guy who came in specifically to act as a manager. Cornette's character was a spoiled momma's boy who had gotten money from mom and put together a tag-team that would win him a title. And Cornette played his role to the hilt. Cornette was also one of the best talkers around. When he got on the microphone, it was always entertaining. During the segment with Watts that I mentioned above, Watts was interviewing Cornette. The whole point was that Watts was completely disgusted with this little wimpy momma's boy. But, with Cornette throwing out one-liners like a rabid Henny Youngman, Watts almost broke kayfabe by laughing at Cornette. Jimmy was truly one of a kind.
The Midnights made major waves with their complete domination of the jobber teams they were put up against. Once II & T.A. won the belts, Cornette and The Express turned all their attention to them. Cornette was constantly baiting the champs and trying to get a title match. But, Wrestling II kept putting them off saying Condrey & Eaton had to prove themselves. The Express then took matters into their own hands and "pearl harbored" the champs. They then proceeded to "tar & feather" Magnum. A couple of weeks later, while T.A. & II were doing color commentary during their match, Condrey & Eaton beat the stuffing out of a pair of jobbers, and then were going to pull the old "tar & feather" routine on one of the jobbers. Despite Wrestling II encouraging him not to, T.A. ran into the ring and made the save. Then he and II chased The Express off. But, the whole thing had cost them $2,500.00. And, in a final humiliation, Condrey & Eaton proceeded to whip II & T.A. with a belt! II did a killer interview after that incident where he showed the red welts that the beating had left and swore revenge on The Midnight Express.
More...
If you'd like to discuss the Mid-South region with other fans, please visit the KM Message Board

KM DVD/VHS Store 4
Click here to purchase DVD or VHS products direct from the official distributors.
KM Replica Masks 4
Click here to purchase pro quality replica wrestling masks of all your favorite old school masked wrestlers.
KM Store 4
The KM Store now features products featuring the GCW logo as well as some other very cool images. To see what's new and to purchase T-Shirts, ball caps, mouse pads and more, click here.
KM Message Board 4
Want to chat with other fans of regional wrestling? This message board has forums for over two dozen promotions. Click here.
KM Belt Gallery 4
This section contains an extensive title belt gallery... images of heavyweight, tag, U.S. and various regional title belts. To view it, click here.
Old School Tape Review 4
Reviews of various PPV's, commercial tapes and regional wrestling TV shows are available in this section. To read more, click here.
Website designed & maintained by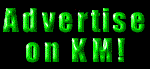 Thanks for visiting!