Regional Territories 4
This section contains monthly articles on over two dozen territories. To relive those wonderful days of old, click here.
Wrestlers 4
Enter this section for bios/profiles of various wrestlers from the regional days. To find more out about your favorite pro wrestler, click here.
Stories 4
This section contains stories from the pros themselves told exclusively to Kayfabe Memories. Want to know more as told from the wrestlers themselves? Click here.
Old School Book Reviews4
Click here to find various book reviews from old school wrestlers.
KM Links 4
For tons of links to old school related sites, click
here
.
KM Micro Wrestlers4
What are Micro Wrestlers? Click here
to find out.
KM Interviews... 4
Click here to read exclusive interviews with stars from the regional territories.
www.kayfabememories.com is © 2004 AtomDesigns. All promotional art, characters, logos and other depictions are © their respective owners. All Rights Reserved.
All contents save Wrestler Stories are © Kayfabe Memories.
Website designed and maintained by AtomDesigns © 2004 . If you experience any problems with this site or have any questions, please contact the Webmaster.
- Sean Rowland
Magnum T.A. debuted in the Mid-South area in late spring or early summer of 1983. There wasn't a tremendous amount of fanfare when he debuted. He came in as pretty much what he had been everywhere else he had wrestled…a solid mid-card worker. He was the type of wrestler who beat the guys he was supposed to beat, and hung on a little longer with the guys he wasn't supposed to beat than was expected. He definitely had the look of a future star. He was big, had a good wrestling build, and was good looking enough to drive the young girls crazy. But, there were a lot of guys like that in wrestling that never made it past the level of gifted jobber. However, there was just some quality that Magnum had that made you think he might make it big someday. While working under his real name, Terry Allen, he had kicked around the Southwest region for Joe Blanchard and then spent some time in Florida, where he was even a tag-team champ with Scott McGhee. But, even though he had a championship reign under his belt, he still hadn't managed to really break out. So, with things in Florida apparently having run their course, T.A.'s next stop was the Mid-South area.
In retrospect, this was probably the perfect move for Magnum. Bill Watts had a history for taking raw, unproven young grapplers and turning them into major stars. Some of the young guys who had really blossomed in the Mid-South area under Watts' guidance were Ted DiBiase, Paul Orndorff, The Junkyard Dog, Butch Reed, Jim Duggan, The Freebirds and many, many more. Watts and his bookers had a knack for seeing what a wrestler's true talents were, and showcasing them. Watts had taken some pure babyfaces in Orndorff, DiBiase, and Reed, and really let them take it to the next level by turning them heel. And, he had taken a couple of guys who started as heels in JYD and Jim Duggan, and pushed them toward stardom by turning them face. He had seen the value of Michael Hayes not as a wrestler, but as a talker, and brought in Buddy Roberts to handle the tag-team wrestling with Terry Gordy, and turned Michael Hayes loose on the mic. And, Magnum was a friend of Dusty Rhodes who was an old friend of Bill Watts. So, he probably got a little consideration there as well. I remember Dusty made quite a few appearances in the area once Magnum showed up. And I have to wonder now if he wasn't there to help keep an eye on his young protégé. But, without some talent of his own, Magnum still wouldn't have made it in Watts' area. Bill Watts was a stern taskmaster and a man who valued the guys who respected the wrestling business in general, and Mid-South wrestling in particular.
More...
If you'd like to discuss the Mid-South region with other fans, please visit the KM Message Board

KM DVD/VHS Store 4
Click here to purchase DVD or VHS products direct from the official distributors.
KM Replica Masks 4
Click here to purchase pro quality replica wrestling masks of all your favorite old school masked wrestlers.
KM Store 4
The KM Store now features products featuring the GCW logo as well as some other very cool images. To see what's new and to purchase T-Shirts, ball caps, mouse pads and more, click here.
KM Message Board 4
Want to chat with other fans of regional wrestling? This message board has forums for over two dozen promotions. Click here.
KM Belt Gallery 4
This section contains an extensive title belt gallery... images of heavyweight, tag, U.S. and various regional title belts. To view it, click here.
Old School Tape Review 4
Reviews of various PPV's, commercial tapes and regional wrestling TV shows are available in this section. To read more, click here.
Website designed & maintained by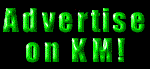 Thanks for visiting!