Regional Territories 4
This section contains monthly articles on over two dozen territories. To relive those wonderful days of old, click here.
Wrestlers 4
Enter this section for bios/profiles of various wrestlers from the regional days. To find more out about your favorite pro wrestler, click here.
Stories 4
This section contains stories from the pros themselves told exclusively to Kayfabe Memories. Want to know more as told from the wrestlers themselves? Click here.
Old School Book Reviews4
Click here to find various book reviews from old school wrestlers.
KM Links 4
For tons of links to old school related sites, click
here
.
KM Micro Wrestlers4
What are Micro Wrestlers? Click here
to find out.
KM Interviews... 4
Click here to read exclusive interviews with stars from the regional territories.
www.kayfabememories.com is © 2004 AtomDesigns. All promotional art, characters, logos and other depictions are © their respective owners. All Rights Reserved.
All contents save Wrestler Stories are © Kayfabe Memories.
Website designed and maintained by AtomDesigns © 2004 . If you experience any problems with this site or have any questions, please contact the Webmaster.
- Max Levy
Professional wrestling is built on feuds. In fact, there are so many feuds that they often blend together, each one indistinguishable from the last. However, every so often fans are treated to a feud that is not only special, but also legendary. The Magnum TA vs. Mr. Wrestling II feud fits that description to the letter. This feud shows just how important strong psychology and patience are to booking. Nothing was rushed. The story was allowed to unfold at a careful pace. No detail was left unchecked. The classic story of the teacher betraying the student and the student gaining revenge was played to perfection. This epic feud enthralled Mid-South fans in late 1983 and early 1984. Watching the tapes these past weeks, I can testify that this feud still holds up as a compelling, exciting, dramatic action packed story even now, seventeen years later.
In 1983 Magnum TA and Mr. Wrestling II founded their relationship in the Mid-South territory. It seemed like a perfect match. For more than a decade the veteran Mr. Wrestling II had delighted fans in both Georgia and Mid-South with his combination of fine scientific wrestling and great honor and sportsmanship. Magnum TA on the other hand was in the early stages of his far too brief career and already showing enormous promise. Magnum had a fine run in Florida and was really establishing himself as a rising star. He already held the Mid-South tag team title with Hacksaw Jim Duggan and was quickly becoming a big favorite of Mid-South fans. When Mr. Wrestling II offered to train him for stardom, the sky seemed to be the limit. For awhile anyway, that was true.
Over the course of several weeks, video highlights showed viewers first hand the tough training regimen II had designed for Magnum. Roadwork, mat work, cardiovascular and weight training all made up the intensive program. II was definitely a strict taskmaster, but a caring one and the results showed immediately. Magnum seemed more fluid, more skillful, more confident in the ring. With II enhancing and refining Magnum's natural talent, the TA and Duggan team began to click. They had a tremendous feud with Butch Reed and Jim Neidhart for the Mid-South Tag Team Titles, warring throughout the Mid-South area.
The feud between the two teams took an interesting turn at a TV taping in Shreveport on October 12, 1983. With Butch Reed and Jim Neidhart scheduled to face to face TA and Duggan for the tag titles, Reed magnanimously offered to defend his North American Title on the very same TV program. Reed even said he'd let the fans pick his opponent.
More...
If you'd like to discuss the Mid-South region with other fans, please visit the KM Message Board

KM DVD/VHS Store 4
Click here to purchase DVD or VHS products direct from the official distributors.
KM Replica Masks 4
Click here to purchase pro quality replica wrestling masks of all your favorite old school masked wrestlers.
KM Store 4
The KM Store now features products featuring the GCW logo as well as some other very cool images. To see what's new and to purchase T-Shirts, ball caps, mouse pads and more, click here.
KM Message Board 4
Want to chat with other fans of regional wrestling? This message board has forums for over two dozen promotions. Click here.
KM Belt Gallery 4
This section contains an extensive title belt gallery... images of heavyweight, tag, U.S. and various regional title belts. To view it, click here.
Old School Tape Review 4
Reviews of various PPV's, commercial tapes and regional wrestling TV shows are available in this section. To read more, click here.
Website designed & maintained by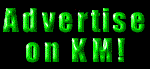 Thanks for visiting!