Regional Territories 4
This section contains monthly articles on over two dozen territories. To relive those wonderful days of old, click here.
Wrestlers 4
Enter this section for bios/profiles of various wrestlers from the regional days. To find more out about your favorite pro wrestler, click here.
Stories 4
This section contains stories from the pros themselves told exclusively to Kayfabe Memories. Want to know more as told from the wrestlers themselves? Click here.
Old School Book Reviews4
Click here to find various book reviews from old school wrestlers.
KM Links 4
For tons of links to old school related sites, click
here
.
KM Micro Wrestlers4
What are Micro Wrestlers? Click here
to find out.
KM Interviews... 4
Click here to read exclusive interviews with stars from the regional territories.
www.kayfabememories.com is © 2004 AtomDesigns. All promotional art, characters, logos and other depictions are © their respective owners. All Rights Reserved.
All contents save Wrestler Stories are © Kayfabe Memories.
Website designed and maintained by AtomDesigns © 2004 . If you experience any problems with this site or have any questions, please contact the Webmaster.
- Greg Mosorjak
This month I want to take a closer look at Bruno Sammartino's first run as WWWF Champion and how he faired in his home area in Pittsburgh. Bruno won the WWWF Title from Buddy Rogers in New York at Madison Square Garden on May 17, 1963. He made his first defense of the title in Pittsburgh on June 3, 1963 against the hated German heel Hans Mortier. In July he turned back Baron Gattoni, a much over-looked but cagey heel. In late July Bruno teamed with the young and upcoming Jumping Johnny DeFazio to defeat the Kangaroos. In September he began a program against the top emerging heel Crusher Reggie Liskowski, known to fans worldwide as Da Crusher! In the first encounter The Crusher was DQ'ed. In November Bruno turned back the challenge of Killer Kowalski, a wrestler who would get shots at Bruno all over the WWWF and especially in Pittsburgh and the surrounding towns. In December Gorilla Monsoon scored the first win over Bruno, when Sammartino was disqualified. In the beginning of January 1964, Bruno wrestled for the first time on Studio Wrestling, easily beating Ron Cummings. In a January rematch with Gorilla Monsoon, again Bruno was disqualified, setting up a third match at the end of January that went to a time limit draw. Bruno in his fourth meeting with Monsoon in February finally defeated him. In April of 1964, Bruno gave Hans Mortier a rematch and beat him. In May Gorilla Monsoon tried again and again Bruno was disqualified. In June Bruno appeared on TV beating Frank Hickey and Lou Albano, and teaming with Cowboy Bill Watts to stop Monsoon & Kowalski. In July 1964 Bruno stopped Professor Boris Malenko and started a program with a young up and coming heel named Johnny Powers! In August of that year Bruno faced Freddie Blassie and was beaten once when the match was stopped due to Bruno's bleeding. October saw Johnny Powers try twice to beat Sammartino but was stopped each time. In November a young Waldo von Erich entered the territory and in his first match with Bruno, went to a draw. Waldo was DQ'ed in the rematch.
In 1965, Von Erich teamed with Dr. Bill Miller to defeat Bruno & Cowboy Bill Watts. Later that year Cowboy Bill Watts would turn on Bruno and start a feud there. In May, Watts teamed with Bill Miller to defeat Bruno & Bobo Brazil in Pittsburgh. In between Bruno had started into a program with Bill Miller that saw 4 Pittsburgh main events from February to June (the May show still saw Bruno and Miller against each other in the tag). Bruno was DQ'ed in the first match, and then won by Dq in the second. The next 2 were wins for Sammartino. In July, the feud with Cowboy Bill Watts was kicked off in classic fashion, with a bloody brawl between Bruno and Watts that the ref stopped because both wrestlers were too bloody to continue. In the August rematch Bruno was so hot after Watts that he ignored the ref and was disqualified. In The September rematch, Bruno finally got the advantage and defeated his former tag partner, Cowboy Bill Watts. The next month Bruno teamed with Johnny Valentine to defeat watts & Bill Miller. In November Tarzan Tyler got a one shot deal and was beaten. An interesting TV match in late November saw Bruno beat a young up and comer named Orwell Paris, Paris would go on to become Ivan Koloff and a major thorn in the side of the champ. 1965 ended with a match against The Beast that was ruled a no contest.
The January 1966 show saw Bruno defeat the Beast in a rematch. Bill Miller got a Feb shot but was unsuccessful. The next few months saw a new program against a young heel named Prince Iaukea, who would gain fame later on as King Curtis. Bruno would twice get disqualified against Iaukea before finally stopping him in June in a Strap match. The summer of 1966 saw Johnny Valentine turn heel and gain a win over Bruno but not the belt. In the rematch, Bruno stopped Johnny Valentine. The rest of 1966 were one shot deals in Pittsburgh with Bruno stopping Smasher Sloan, Bulldog Brower, Baron Scicluna, The Crusher and Brower again to close the year.
1967 started with the arrival of Tony Marino as Battman teaming with Bruno to defeat Bill Miller & The Crusher. After a one shot deal for Bull Ortega, Bill Miller got a televised match in February against Bruno but was not successful. In March George Steele teamed with Bill Miller to beat Bruno & Battman. Then in April George Steele defeated Bruno when he could not beat the count back into the ring. The May rematch saw Bruno win a Texas Death Match. Gorilla Monsoon would alternate with George Steele over the next few months, with no clear winners, Steele even scored a DQ win in June. Crazy Luke Graham got a one shot deal in July and lost. Then in October Prof. Toru Tanaka arrived and started a long program with Bruno Sammartino that would see Tanaka score a win over Bruno when the ref stopped the match due to Bruno being too bloody. After a draw in the rematch, Bruno won the third match, as the formula for Bruno's feuds continued. During the fall of 1967, Bruno teamed with the Battman on the spot shows against various teams including Luke Graham & Bill Miller and Smasher Sloan & Tanaka. The December show in 1967 saw Bruno win a 2 out of 3 falls match against George Steele that saw Steele win a pin fall victory to win one of the falls.
More...
If you'd like to discuss the Pittsburgh/Buffalo/Cleveland region with other fans, please visit the
KM Message Board

KM DVD/VHS Store 4
Click here to purchase DVD or VHS products direct from the official distributors.
KM Replica Masks 4
Click here to purchase pro quality replica wrestling masks of all your favorite old school masked wrestlers.
KM Store 4
The KM Store now features products featuring the GCW logo as well as some other very cool images. To see what's new and to purchase T-Shirts, ball caps, mouse pads and more, click here.
KM Message Board 4
Want to chat with other fans of regional wrestling? This message board has forums for over two dozen promotions. Click here.
KM Belt Gallery 4
This section contains an extensive title belt gallery... images of heavyweight, tag, U.S. and various regional title belts. To view it, click here.
Old School Tape Review 4
Reviews of various PPV's, commercial tapes and regional wrestling TV shows are available in this section. To read more, click here.
Website designed & maintained by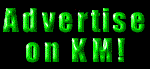 Thanks for visiting!