Regional Territories 4
This section contains monthly articles on over two dozen territories. To relive those wonderful days of old, click here.
Wrestlers 4
Enter this section for bios/profiles of various wrestlers from the regional days. To find more out about your favorite pro wrestler, click here.
Stories 4
This section contains stories from the pros themselves told exclusively to Kayfabe Memories. Want to know more as told from the wrestlers themselves? Click here.
Old School Book Reviews4
Click here to find various book reviews from old school wrestlers.
KM Links 4
For tons of links to old school related sites, click
here
.
KM Micro Wrestlers4
What are Micro Wrestlers? Click here
to find out.
KM Interviews... 4
Click here to read exclusive interviews with stars from the regional territories.
www.kayfabememories.com is © 2004 AtomDesigns. All promotional art, characters, logos and other depictions are © their respective owners. All Rights Reserved.
All contents save Wrestler Stories are © Kayfabe Memories.
Website designed and maintained by AtomDesigns © 2004 . If you experience any problems with this site or have any questions, please contact the Webmaster.
- Greg Mosorjak
On June 26, 1971 I attended another great show in Johnstown, PA at the War Memorial Arena. Just 5 days after my 10th Birthday, this was not a gift from my dad, as we attended every match in Johnstown we could, based on his work schedule, but was a treat in the summertime. I recall this was the summer we delayed our family summer vacation, so I could attend the matches. A few days later we would take off for Atlantic City and a week in the sun (long before the casinos came in).
Most of the time there was never a mention of who was on the card. On TV the commentator Chilly Billy Cardille, would list a few names of who would be there this time. Unless an angle was set up from a previous show I would go in happy with whoever was there. Sometimes the Johnstown Tribune would have a photo and a few matches listed a week or so before the show. In this case I knew the International Tag team Champions the Mongols would be there, also George Steele, but not much else. For a few weeks prior on TV a new wrestler named Java Ruuk, who was a wild man, destroying everyone in sight, I hoped he would be there that night. My dad took my cousin Joey Martin and me as usual. We had seats about midway up off the floor, our usual spot. We went to the ring before the matches and noticed lots of graffiti written on the mat, names, the Battman symbol and things like Bruno is still the champ. We wrote our names on the mat as well. The first wrestler came to the ring, he was an older guy we never remembered seeing before, veteran Jack Vansky. He signed autographs in the corner, not knowing who he was we weren't interested. Then walking briskly in his Arab headdress came Java Ruuk. Ruuk was a mad man, jerking around as he walked. The lights went down and the national anthem played. As soon as the lights came back on Ruuk was all over the older Vansky. He took his headdress and choked Vansky with it. Ruuk used a foreign object to batter the old veteran. Vansky would get a few moments of offense in but eventually succumbed to the evil Java Ruuk (who is better known to most wrestling fans as Johnny Rodz)
The second match was a two out of three tag team match. Apparently a lot of wrestlers didn't show up to Johnstown this night, as there would only be 3 matches. Out first came the popular duo of Jumping Johnny DeFazio & John L Sullivan (later Johnny Valiant). They signed autographs in the corner as usual, I already had DeFazio's autograph but got a wrestling magazine I brought with me signed again and also got John L Sullivan's. Their opponents were the International Tag team Champions The Mongols, Beepo & Geeto. The Mongols were masters at getting the crowd to hate them. They wore sheep wool wraps to the ring and Geeto carried a metal chain he slammed on the mat and swung around. The Mongols were too devious and powerful for DeFazio & Sullivan. They worked over both wrestlers without much resistance. Their illegal tactics and double-teaming really started getting the fans angry. While battering John L Sullivan outside the ring the fans pelted the Mongols with trash, pop corn boxes, drink cups, etc. Finally after to many illegal tactics that ref Izzie Model did not see a fan tried to help. A cop removed him before he had a chance. After pinning Sullivan in the first fall, they continued this onslaught. While in the next fall they were again outside the ring stomping on Johnny DeFazio, several unruly fans went after them. They quickly tossed DeFazio in the ring pinned him and left. They were bombarded by cups, boxes and other items and several more fans had to be removed. They took a brief intermission to clean up the ring and made an announcement that anyone trying to interfere with the wrestlers would be ejected and arrested. My dad pointed out to us why we shouldn't throw things like the others were, as much as we really wanted to. The main event was next: the hated duo of George "The Animal " Steele & Baron Mikel Scicluna met the popular team of Dominic DeNucci & Tony Parisi. When I first started watching wrestling on TV, Parisi went by the name Antonio Pugleise, and was billed as Bruno Sammartino's cousin. This was an exciting bout I recall with lots of back and forth advantages for both teams. George Steele had his trusty foreign object that the ref Izzie Model never seemed to see. The Baron also used a hidden object on both Parisi & DeNucci. The worked over Parisi most of the match and when he finally tagged in DeNucci he cleaned house. He held Scicluna in the corner and wound his arm around many times to get velocity on his punches, the crowd counted every time. Steele came in the ring and Parisi caught his wind as all four wrestlers brawled, they went outside the ring were the crowd began tossing more trash at the team of Scicluna and Steele. DeNucci climbed back in the ring and the bell rang. The ref counted out Steele & Scicluna, though I may believe that they just wanted to end it and get them out of there before they were attacked. No one attacked them that I knew of on the way back to the ring. I think most of the crowd was legitimately afraid of the crazy Animal George Steele. It wasn't the biggest card to ever come to Johnstown, but it certainly wasn't dull. On the way home we got another lecture from my dad why to never throw cups at the wrestlers.
NEXT MONTH:
I will do an in depth look at George Steele in the Pittsburgh territory based on a recent interview I did with him.

KM DVD/VHS Store 4
Click here to purchase DVD or VHS products direct from the official distributors.
KM Replica Masks 4
Click here to purchase pro quality replica wrestling masks of all your favorite old school masked wrestlers.
KM Store 4
The KM Store now features products featuring the GCW logo as well as some other very cool images. To see what's new and to purchase T-Shirts, ball caps, mouse pads and more, click here.
KM Message Board 4
Want to chat with other fans of regional wrestling? This message board has forums for over two dozen promotions. Click here.
KM Belt Gallery 4
This section contains an extensive title belt gallery... images of heavyweight, tag, U.S. and various regional title belts. To view it, click here.
Old School Tape Review 4
Reviews of various PPV's, commercial tapes and regional wrestling TV shows are available in this section. To read more, click here.
Website designed & maintained by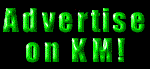 Thanks for visiting!