Regional Territories 4
This section contains monthly articles on over two dozen territories. To relive those wonderful days of old, click here.
Wrestlers 4
Enter this section for bios/profiles of various wrestlers from the regional days. To find more out about your favorite pro wrestler, click here.
Stories 4
This section contains stories from the pros themselves told exclusively to Kayfabe Memories. Want to know more as told from the wrestlers themselves? Click here.
Old School Book Reviews4
Click here to find various book reviews from old school wrestlers.
KM Links 4
For tons of links to old school related sites, click
here
.
KM Micro Wrestlers4
What are Micro Wrestlers? Click here
to find out.
KM Interviews... 4
Click here to read exclusive interviews with stars from the regional territories.
www.kayfabememories.com is © 2004 AtomDesigns. All promotional art, characters, logos and other depictions are © their respective owners. All Rights Reserved.
All contents save Wrestler Stories are © Kayfabe Memories.
Website designed and maintained by AtomDesigns © 2004 . If you experience any problems with this site or have any questions, please contact the Webmaster.
- Greg Mosorjak
What separates wrestling today from the territory days was that there was once a clear line between baby faces and heels. The good versus evil formula worked for wrestling. Fans loved the babies and hated the heels, villains and rule breakers. It was a rare occurrence when a wrestler changed his style and went from heel to baby or baby to heel. The Pittsburgh Territory and NWF of Cleveland and Buffalo were no different. Today from week to week there is no clear line of who is a baby or heel, fans identify with personalities instead. What made us fans, were the heroes that we cheered and the villains we feared and hated. This month I will take a look at the baby faces that defined these territories.
Pittsburgh was Bruno Sammartino. Bruno was the man, he was the World Champ, the unbeatable force that stood for what was right in wrestling. Bill Cardille did a great job putting over the heels, so fans believed that Killer Kowalski, George Steele or Waldo von Erich could beat Bruno at any given show. Bruno was a power wrestler, maybe not the most gifted on the mic, and maybe not the greatest mat wrestler, but he was a champ who the fans rallied behind. He could brawl with the best and unlike the wrestlers of today, work a long match for 60 minutes. When people think back on wrestling of the 1960's and early 1970's, they think Bruno Sammartino. Bruno used the bear hug as his finisher.
Johnny Powers was to the lesser degree nationally, Bruno's equivalent in the NWF. Johnny unlike Bruno, had a few heel runs, first in the mid 1960's (which included the Pittsburgh territory), while be managed by Bobby Davis, and later in the NWF when he turned on Ernie Ladd. Powers held the NWF title twice and the NWF North American title 7 times. His feuds with Ladd, Bulldog Brower, and Waldo von Erich were some of the highlights of the NWF history. Powers used the Power lock (his own version of the Figure 4) to win his matches.
Tony Marino wrestled in Pittsburgh as the Battman, from 1966 to 1970 Marino was the number 2 baby behind Bruno in Pittsburgh. Marino would lose the Battman mask and costume and return later still working as Batman. Marino would also see action in the NWF in the 1970's, as well as WWWF and Detroit. Marino used the Batt Rack (a abdominal stretch as his finisher).
Dominic DeNucci would replace Marino as the number 2 baby in Pittsburgh. Upon the NWF takeover of Pittsburgh, DeNucci would enjoy success in the Cleveland-Buffalo territory as well in the early 1970's. DeNucci would beat Waldo von Erich in December 1971 in Buffalo to win the NWF title only to lose it there to Von Erich in Jan 1972. DeNucci would also hold the NWF North American Title (the only title really recognized by both Pittsburgh and NWF Buffalo), and also the NWF tag titles with Tony Parisi. DeNucci would feud with Baron Scicluna, Stan Stasiak, and Waldo von Erich. Another wrestler with a similar style to Bruno, DeNucci used the Gondola as a finisher, a move where his opponent would be sitting on the mat, DeNucci would straddle him head and left both the opponents legs up. DeNucci would continue his success in the WWWF and later open a wrestling school that produced Mick Foley, Shane Douglas and Mark Curtis. In 2000 DeNucci still wrestled an occasional match.
Tony Parisi started out as Antonio Pugliese, and then changed his name to Parisi, billed as Bruno Sammartino's cousin. Parisi would see success in both Pittsburgh and Buffalo. In the NWF Parisi would win the tag titles with DeNucci and later Luis Martinez. Parisi had excellent battles with Baron Scicluna, Eric the Red and the Fargo Brothers.
By now the Italian Connection in Pittsburgh is evident (Bruno, Marino, DeNucci, Parisi), the last of these in Pittsburgh was Jumping Johnny DeFazio. DeFazio chose to stay close to Pittsburgh, rather than move from territory to territory like the others. DeFazio enjoyed success as a prelim-mid carder and occasional main eventer in Pittsburgh. Johnny held the WWWF Jr. Heavyweight title from the early 1960's from Paul DeGalles, last defending it in 1966. DeFazio would team with Geeto Mongol to beat Crazy Luke Graham & Tarzan Tyler for the International tag titles. DeFazio worked full time in the local Steel mills and was a labor leader, today he is active as a Allegheny County Councilman. Known for his flying moves, Johnny would usually finish his matches with a sunset flip. His feuds included Baron Scicluna, Jim Grabmire and Tony Altimore. More...

KM DVD/VHS Store 4
Click here to purchase DVD or VHS products direct from the official distributors.
KM Replica Masks 4
Click here to purchase pro quality replica wrestling masks of all your favorite old school masked wrestlers.
KM Store 4
The KM Store now features products featuring the GCW logo as well as some other very cool images. To see what's new and to purchase T-Shirts, ball caps, mouse pads and more, click here.
KM Message Board 4
Want to chat with other fans of regional wrestling? This message board has forums for over two dozen promotions. Click here.
KM Belt Gallery 4
This section contains an extensive title belt gallery... images of heavyweight, tag, U.S. and various regional title belts. To view it, click here.
Old School Tape Review 4
Reviews of various PPV's, commercial tapes and regional wrestling TV shows are available in this section. To read more, click here.
Website designed & maintained by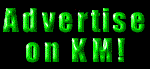 Thanks for visiting!