Regional Territories 4
This section contains monthly articles on over two dozen territories. To relive those wonderful days of old, click here.
Wrestlers 4
Enter this section for bios/profiles of various wrestlers from the regional days. To find more out about your favorite pro wrestler, click here.
Stories 4
This section contains stories from the pros themselves told exclusively to Kayfabe Memories. Want to know more as told from the wrestlers themselves? Click here.
Old School Book Reviews4
Click here to find various book reviews from old school wrestlers.
KM Links 4
For tons of links to old school related sites, click
here
.
KM Micro Wrestlers4
What are Micro Wrestlers? Click here
to find out.
KM Interviews... 4
Click here to read exclusive interviews with stars from the regional territories.
www.kayfabememories.com is © 2004 AtomDesigns. All promotional art, characters, logos and other depictions are © their respective owners. All Rights Reserved.
All contents save Wrestler Stories are © Kayfabe Memories.
Website designed and maintained by AtomDesigns © 2004 . If you experience any problems with this site or have any questions, please contact the Webmaster.
- Greg Mosorjak
This month I am looking at my ten most memorable bouts from The Pittsburgh Studio Wrestling era. Since I lived in Johnstown, and this was the only place I attended matches then these memories mainly come from here as well as from the Channel 11 Studio Wrestling TV Show hosted by Chilly Billy Cardille.
#10 Battman & Bruno Sammartino vs. Ivan Koloff & Prof. Toru Tanaka (Johnstown, PA-Feb 1969/1970)
I always seemed to think this was in Feb 1969 but everyone on the KM board agrees Ivan Koloff didn't get to this region until late 1969. Anyway, this was the main event from the very first live card I attended. And whatever the year was I still remember this match very vividly. Bruno took the heat for most of the match. Ivan Koloff and Tanaka worked well as a team, though I don't remember them teaming much after this. Battman made the hot tag and cleared house, Bruno came back in and pinned Tanaka for the win. Maybe not a match that involved a lot of angles but my first show and I went home happy because Bruno won (though I must admit I was a huge Ivan Koloff mark).
#9 Dominic DeNucci, Johnny DeFazio & Billy Red Lyons vs. Stan Stasiak, Mr. Fuji & Baron Scicluna (Johnstown Sept 1974)
DeNucci took the heat and a real pounding, and after Red Lyons made the hot tag, the match turned into a free for all with all six men in the ring, Stasiak brought a chair in the ring and opened up DeNucci. This was one of the most bloody matches I saw live in Johnstown in this era.
#8 Victor Rivera vs. Jos Leduc (TV match 1971)
An excellent TV match, Leduc was just steam rolling opponents on TV at this time and had not met any real competition. Rivera surprised Leduc by drop kicking him out of the ring. Leduc was bleeding in this, which was a rarity on Channel 11 TV at this time.
#7 Billy Red Lyons vs. Stan Stasiak (Aug 1974 TV/Johnstown)
A real surprise as Billy Red Lyons had Stasiak going the entire match. This was for the North American Title and Stasiak's belt looked to be in jeopardy. As the time was running out Billy Red Lyons caught Stasiak in the sleeper hold right in the middle of the ring... Stasiak was out and the bell sounded, but only because the time limit had expired. The fans felt that Red Lyons was ripped off. That night on a house show in Johnstown, Red Lyons won a battle royal for the right to fight Stasiak for the belt.
Almost the same finish, Red Lyons had Stasiak beaten with the sleeper hold in the middle of the ring, just as the ref was getting ready to call for the bell, Mr. Fuji ran in and attacked Red Lyons causing Stasiak to be disqualified and able to keep the belt.
#6 Geeto Mongol & Johnny DeFazio vs. Crazy Luke Graham & Tarzan Tyler (TV Dec 1971)
A memorable TV match as the newly turned face Geeto teamed with long time Pittsburgh favorite Johnny DeFazio, this was a major upset as Geeto & DeFazio won the International Tag team titles (I think Graham & Tyler had already lost the WWWF tag titles to Rene Goulet & Karl Gotch) There was no real story line on these tag titles, they seemed to appear and disappear. I don't quite recall the finish but I think it was Defazio cradling Graham for the pin. I recall dissention between Tyler and Graham after the match.
#5 Bruno Sammartino vs. Killer Kowalski (Johnstown, PA April 1970)
A classic match that went to a curfew draw. They battled for close to an hour. Excellent match, great match psychology, lots of back and forth brawling and many near falls. Bruno had caught Kowalski in his bear hug just before time ran out, but Kowalski got to the ropes and the ref had to break it. Kowalski was great at working the ref and getting crowd heat in this match.
More...
If you'd like to discuss the Pittsburgh/Buffalo/Cleveland region with other fans, please visit the
KM Message Board

KM DVD/VHS Store 4
Click here to purchase DVD or VHS products direct from the official distributors.
KM Replica Masks 4
Click here to purchase pro quality replica wrestling masks of all your favorite old school masked wrestlers.
KM Store 4
The KM Store now features products featuring the GCW logo as well as some other very cool images. To see what's new and to purchase T-Shirts, ball caps, mouse pads and more, click here.
KM Message Board 4
Want to chat with other fans of regional wrestling? This message board has forums for over two dozen promotions. Click here.
KM Belt Gallery 4
This section contains an extensive title belt gallery... images of heavyweight, tag, U.S. and various regional title belts. To view it, click here.
Old School Tape Review 4
Reviews of various PPV's, commercial tapes and regional wrestling TV shows are available in this section. To read more, click here.
Website designed & maintained by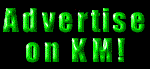 Thanks for visiting!