Regional Territories 4
This section contains monthly articles on over two dozen territories. To relive those wonderful days of old, click here.
Wrestlers 4
Enter this section for bios/profiles of various wrestlers from the regional days. To find more out about your favorite pro wrestler, click here.
Stories 4
This section contains stories from the pros themselves told exclusively to Kayfabe Memories. Want to know more as told from the wrestlers themselves? Click here.
Old School Book Reviews4
Click here to find various book reviews from old school wrestlers.
KM Links 4
For tons of links to old school related sites, click
here
.
KM Micro Wrestlers4
What are Micro Wrestlers? Click here
to find out.
KM Interviews... 4
Click here to read exclusive interviews with stars from the regional territories.
www.kayfabememories.com is © 2004 AtomDesigns. All promotional art, characters, logos and other depictions are © their respective owners. All Rights Reserved.
All contents save Wrestler Stories are © Kayfabe Memories.
Website designed and maintained by AtomDesigns © 2004 . If you experience any problems with this site or have any questions, please contact the Webmaster.
- Greg Mosorjak
This month I take a look at the Studio Wrestling TV show that appeared on Pittsburgh's Channel 11. The Studio Wrestling era began in 1958 when the show debuted on WIIC Channel 11 in Pittsburgh, from what I am able to put together Mal Alberts was the original host of the show but was quickly followed by its long time voice Bill Cardille. Cardille also hosted Channel 11's late night horror movie show, Chiller Theatre and was nicknamed Chilly Billy. Cardille and channel 11 would often run promos for those nights movies on Studio Wrestling.
The shows were show live every Saturday a ninety minute show in the early evening, they guys usually had to get out to work a house show on Sat. night in Johnstown, Altoona, Butler, etc. Cardille would welcome the fans each week for 90 minutes of unorganized mayhem, where anything could happen usually does and probably will. Bill Cardille was doing double duty in the 1960's when he was the commentator on WWWF Capitol Wrestling. Cardille was an entertaining commentator full of wrestling cliques like "Whoa Nelly" or "Let it all hang out."
Cardille sat at ringside at a table and commentated, occasionally joined by a heel manager or wrestler or promoter Rudy Miller. At his table was an oak nameplate that always ended up being a weapon used by George "The Animal" Steele or Waldo von Erich. The studio audience consisted of an adult crowd, (you had to be at least 18 to get in the studio), usually packed but in later years they resorted to card board cutouts of people (I think they were a fixture from the start as part of the studio. When there was time left at the end of a broadcast Chilly Billy would have the crowd come up and say their name and where they were from, i.e. Stush Stanolowski, Penn Hills "go Bruno." Bill Cardille made a star of a little old woman who came every Sat and sat in the front row, Ringside Rosie. She would be very animated and jeer the heels while pulling for the fan favorites. She was not afraid to get in a heels face and let him know how she felt.
The commercials were always a memorable part of the show, from the old Duquesne Beer ads, to later the classic Iron City Beer ads, to Jumping Johnny DeFazio doing spots for Champion Laundry and Dry Cleaners. Probably the ads most remembered are the American Plumbing and Heating commercials done by Baseball Fall of Famer Pie Traynor, they'd ask him "who can?" "American," was the answer. George Steele often would scare Pie, causing him to shake whenever Steele was in the building. Traynor did these ads from the 1960's until his death in 1972.
The matches were standard jobber matches of the day with an occasional main event. Many of the enhancement guys would come in from Canada for a shot of TV (Bull Johnson, Terry Yorkston, Al Hayes, Al Schiller, Doc Beach, Rujack Woods, ect) WWWF champion Bruno Sammartino was a frequent competitor in the 1960's but appeared less after he lost the belt in 1971 and upon winning it back in 1973 wrestled even fewer times on TV.
There were fans on three sides of the ring. Cardille's table was located at the right side. The timekeeper and doctor were also on the right side, in the corner furthest from the camera. Wrestlers entered and exited through a door on the left side of the studio. There was a ramp that led into the studio for them. There were no locker rooms. They used to change in a couple of dressing rooms at the station. Ace Freeman, who ran things, would usually stand out of camera range on the left side of the studio. He would sometimes give the guys subtle visual cues that it was time to wrap up either a match or an interview. Cardille did most of the interviews standing in front of the ring. Occasionally he'd jump up on the ring apron near his broadcast location for a post-match interview.
Some of the highlights from the Studio wrestling TV show included, a 1965 challenge that Dr. Bill Miller couldn't lift the 600 pound Haystacks Calhoun off the mat. Miller insisted he remove the heavy horseshoe around his neck, while he was doing so, Miller sneak attacked him and battered him with that horseshoe.
1965 also saw the year Chief White Owl was wrestling Frank Pickens and suffered a broke leg, Cowboy Bill Watts came to his aid and quickly pinned Pickens, then helped the injured White Owl out.
1966 saw Ronnie Etchison debut and Bill Cardille interviewing Ronnie introduces him to local star Johnny DeFazio, Ronnie shakes his hand, says it's a pleasure to meet you, then sucker punches him.
More...
If you'd like to discuss the Pittsburgh/Buffalo/Cleveland region with other fans, please visit the
KM Message Board

KM DVD/VHS Store 4
Click here to purchase DVD or VHS products direct from the official distributors.
KM Replica Masks 4
Click here to purchase pro quality replica wrestling masks of all your favorite old school masked wrestlers.
KM Store 4
The KM Store now features products featuring the GCW logo as well as some other very cool images. To see what's new and to purchase T-Shirts, ball caps, mouse pads and more, click here.
KM Message Board 4
Want to chat with other fans of regional wrestling? This message board has forums for over two dozen promotions. Click here.
KM Belt Gallery 4
This section contains an extensive title belt gallery... images of heavyweight, tag, U.S. and various regional title belts. To view it, click here.
Old School Tape Review 4
Reviews of various PPV's, commercial tapes and regional wrestling TV shows are available in this section. To read more, click here.
Website designed & maintained by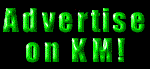 Thanks for visiting!