Regional Territories 4
This section contains monthly articles on over two dozen territories. To relive those wonderful days of old, click here.
Wrestlers 4
Enter this section for bios/profiles of various wrestlers from the regional days. To find more out about your favorite pro wrestler, click here.
Stories 4
This section contains stories from the pros themselves told exclusively to Kayfabe Memories. Want to know more as told from the wrestlers themselves? Click here.
Old School Book Reviews4
Click here to find various book reviews from old school wrestlers.
KM Links 4
For tons of links to old school related sites, click
here
.
KM Micro Wrestlers4
What are Micro Wrestlers? Click here
to find out.
KM Interviews... 4
Click here to read exclusive interviews with stars from the regional territories.
www.kayfabememories.com is © 2004 AtomDesigns. All promotional art, characters, logos and other depictions are © their respective owners. All Rights Reserved.
All contents save Wrestler Stories are © Kayfabe Memories.
Website designed and maintained by AtomDesigns © 2004 . If you experience any problems with this site or have any questions, please contact the Webmaster.
- Greg Mosorjak
This month I will look at the top ten feuds of not only the Buffalo/Cleveland NWF but also Pittsburgh feuds that crossed over into these promotions. There was much sharing of the talent between these groups and once Pedro Martinez purchased the territory from Geeto Mongol, the lines remained forever blurred.
10. Baron Scicluna vs Dominic DeNucci
This one transcends the time lines of the promotions. By the early 1970's Dominic DeNucci emerged at Pittsburgh's number two baby face behind Bruno Sammartino. Baron Scicluna about this time was one of the few mainstays in Pittsburgh and emerged as usually the number two heel behind George Steele, Waldo von Erich, Killer Kowalski or Stan Stasiak. These guys would be a set match in Pittsburgh, Buffalo, Cleveland or any number of spot towns. When the promotions folded they ended up in the WWWF and continued their feud there. Going from main event of semi main events to the opening match in the Pittsburgh area house shows. A long running feud with no clear winner, however Scicluna often found himself disqualified which may have given DeNucci an upper hand in the win – loss column. Never the less, these were always good solid matches. Except for Denucci's run as North American Champion, in which Scicluna received many title shots, never able to win the belt, no titles were usually at stake, thus this feud ranks lower in importance.
9. Waldo von Erich vs Ernie Ladd
This was a short but hot feud in 1972. Ernie Ladd took the NWF title off Waldo Von Erich in June 1969 in Cleveland, Ohio. Ladd and Von Erich had great brawls, most matches would end up as disqualifications or count outs. Ladd getting the rare pin fall win when he took the NWF title. Not a very long feud but an important one that Ernie Ladd held the upper hand in.
8. Stan Stasiak vs Dominic DeNucci
This feud similar to Denucci's feud with Scicluna would transcend time and promotional lines, going into the WWWF after the demise of the territory. These two had some great matches in Pittsburgh, Buffalo, Rochester, and ECT. The centerpiece of this feud was the North American Title that DeNucci had won in April 1974 and lost to Stasiak in July 1974. The two met in singles as well as tag and six man tags during the feud. DeNucci often was left a bloody mess. With Stasiak winning the Title and the blood that was spilt, I have to give Stan Stasiak the upper hand in this feud.
7. Johnny Power's vs Ernie Ladd
An important feud as it pitted the most popular wrestler ever in the territory (Johnny Powers) against the new most popular wrestler in Ernie Ladd. This came about during a tag match between Ladd & Powers vs The Sheik and Pampero Firpo. The feud seemed to be out of a matter of convenience. They had run out of heels for Johnny Powers to wrestle and Ladd had recently been turned face and was super over with the Cleveland fans. The angle was that Powers was jealous over Ladd's popularity. Ladd took the NWF North American Title off Powers before he lost it himself to Ox Baker. Ladd appears to have the upper hand in this feud. The feud ended when the Ox Baker incident shifted Ladd in that direction.
6. Tony Marino vs Killer Brooks
This was a great mid card-semi main event feud that was played out primarily in Cleveland and Buffalo, but also extended into Detroit and Canada as well. But 1972-1973 these two met in almost every type of match, Texas Death Matches, Stretcher Matches and numerous bloody chain matches. One chain match involved both wrestlers not only chained at the wrist but having both ankles chained together. Eddie Creatchman managed Killer Tim Brooks at this time and was often a factor in the matches (getting Brooks Disqualified many times). Tony Marino had JB Psycho as his second and would have Creatchman handcuffed to him during many of the matches. Tony Marino came out on top most of the time in this feud that was one of the bloodiest in the territory
5. Johnny Powers vs Eric the Animal/ Red
This feud played out in early 1973 in the NWF. Eric the Red managed by Tony Angelo made his move to become a top heel in the territory. Johnny Powers the North American champ and top baby went at it tooth and nail. Eric was not opposed to bringing his bone into the ring to bust open Powers on more than one occasion. Tony Angelo would get involved as well. I remember a TV match that a very bloody Johnny Powers shoved the cigar in Angelo's mouth down his throat (it appeared). If February and March 1973 Powers would lose the belt to Eric and regain it back a short time later. Powers would eventually come out on top in this feud.
More...
If you'd like to discuss the Pittsburgh/Buffalo/Cleveland region with other fans, please visit the
KM Message Board

KM DVD/VHS Store 4
Click here to purchase DVD or VHS products direct from the official distributors.
KM Replica Masks 4
Click here to purchase pro quality replica wrestling masks of all your favorite old school masked wrestlers.
KM Store 4
The KM Store now features products featuring the GCW logo as well as some other very cool images. To see what's new and to purchase T-Shirts, ball caps, mouse pads and more, click here.
KM Message Board 4
Want to chat with other fans of regional wrestling? This message board has forums for over two dozen promotions. Click here.
KM Belt Gallery 4
This section contains an extensive title belt gallery... images of heavyweight, tag, U.S. and various regional title belts. To view it, click here.
Old School Tape Review 4
Reviews of various PPV's, commercial tapes and regional wrestling TV shows are available in this section. To read more, click here.
Website designed & maintained by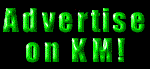 Thanks for visiting!