Regional Territories 4
This section contains monthly articles on over two dozen territories. To relive those wonderful days of old, click here.
Wrestlers 4
Enter this section for bios/profiles of various wrestlers from the regional days. To find more out about your favorite pro wrestler, click here.
Stories 4
This section contains stories from the pros themselves told exclusively to Kayfabe Memories. Want to know more as told from the wrestlers themselves? Click here.
Old School Book Reviews4
Click here to find various book reviews from old school wrestlers.
KM Links 4
For tons of links to old school related sites, click
here
.
KM Micro Wrestlers4
What are Micro Wrestlers? Click here
to find out.
KM Interviews... 4
Click here to read exclusive interviews with stars from the regional territories.
www.kayfabememories.com is © 2004 AtomDesigns. All promotional art, characters, logos and other depictions are © their respective owners. All Rights Reserved.
All contents save Wrestler Stories are © Kayfabe Memories.
Website designed and maintained by AtomDesigns © 2004 . If you experience any problems with this site or have any questions, please contact the Webmaster.
- Greg Mosorjak

Pittsburgh's Studio Wrestling debuted on Channel 11 in 1958. The Pittsburgh territory was resurrected by promoter Toots Mondt. Pittsburgh ran a monthly show at the Civic Arena usually on a Friday night. On Saturdays the TV show was done live at the Channel 11 studio in Pittsburgh and followed by a spot house show. Johnstown, Altoona, McKeesport and other smaller towns ran monthly. Ace Freeman and Rudy Miller worked with Toots in running the territory. In 1966, Toots sold the promotion to WWWF champion and Pittsburgh resident Bruno Sammartino.

Bruno acted as booker and got promotional help from Miller and Freeman. Bruno ran the territory as a separate entity from WWWF, using talent from the neighboring Cleveland/Buffalo territory, WWWF talent as well as a excellent core of local Pittsburgh stars including Johnny DeFazio, Frank Holtz, Bobby "Hurricane" Hunt, Frank Durso, Hangman Jim Grabmire, and others.

In 1970, Bruno sold the territory to Geeto Mongol, who continued to use the formula that Bruno used to make the territory successful. In 1972 Geeto sold out to Cleveland/Buffalo promoter Pedro Martinez and his NWF. Martinez tried to introduce talent from his promotion and lost the fan interest. He turned back to Bruno to help but by late 1974 the territory closed and the WWWF moved in and began running Pittsburgh and the surrounding towns. Pittsburgh recognized the WWWF champion as world champ but always called that title holder (largely Bruno) the World Champion and not WWWF champion.

Other titles were introduced on a sporadic basis. The Mongols were the International tag team champs. After Geeto Mongol & Johnny DeFazio won the International Tag titles from Crazy Luke Graham & Tarzan Tyler on Studio Wrestling, that title disappeared. The North American Title which was rooted with the NWF promotion appeared in Pittsburgh during 1974, with the title changing hands between Dominic DeNucci and Stan Stasiak.

But Pittsburgh Studio Wrestling was Bruno Sammartino. Bruno would defend against heels leaving the WWF, or still in programs with him in the WWWF (Blackjack Mulligan, Stasiak, Ivan Koloff) George Steele, Killer Kowalski, Waldo von Erich, Baron Scicluna always seemed to be around and were frequent Bruno opponents. The Bruno vs. George Steele feud has to be the prominent feud from the Pittsburgh Territory.

From the late 1960's and early 1970's Batman (Tony Marino) was the number two babyface and would headline when Bruno had other commitments.

Later Dominic DeNucci would be elevated to that position, especially for the smaller shows in Johnstown and Altoona. The Live TV show from Channel 11 each Sat was hosted by "Chilly Billy" Bill Cardille, a Pittsburgh icon in broadcasting, who also hosted the Sat late night horror movie show "Chiller Theatre". Billy was over animated and full of great lines, "Welcome to Studio Wrestling, where anything can happen, usually does and probably will."

Pittsburgh fans will remember the old Pittsburgh Pirates star Pie Traynor doing the American Heating Commercials live in the Studio, and the show concluded with Cardille interviewing the fans as the filed out of the studio. The local talent was enhanced, by bringing in jobbers from Canada like Terry Yorkston, Bull Johnson, Al Hayes, Al Schiller, Rujack Woods and others. Young stars like John L. Sullivan (Johnny Valiant) and Jos Leduc would get their first real pushes in Pittsburgh before moving on to the WWWF and other territories.

We are combining the Pittsburgh Territory with the Cleveland/Buffalo territory in the 1970's associated with Pedro Martinez. The obvious is that Martinez ran Pittsburgh until he folded promotions in 1974. (many

feel Pittsburgh could have survived with a different promoter). The NWF was recognized by some as a World Championship, it traces its title origin in 1970, where Johnny Powers beat Freddie Blassie in LA to win the title. More...

KM DVD/VHS Store 4
Click here to purchase DVD or VHS products direct from the official distributors.
KM Replica Masks 4
Click here to purchase pro quality replica wrestling masks of all your favorite old school masked wrestlers.
KM Store 4
The KM Store now features products featuring the GCW logo as well as some other very cool images. To see what's new and to purchase T-Shirts, ball caps, mouse pads and more, click here.
KM Message Board 4
Want to chat with other fans of regional wrestling? This message board has forums for over two dozen promotions. Click here.
KM Belt Gallery 4
This section contains an extensive title belt gallery... images of heavyweight, tag, U.S. and various regional title belts. To view it, click here.
Old School Tape Review 4
Reviews of various PPV's, commercial tapes and regional wrestling TV shows are available in this section. To read more, click here.
Website designed & maintained by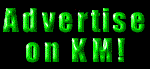 Thanks for visiting!