Regional Territories 4
This section contains monthly articles on over two dozen territories. To relive those wonderful days of old, click here.
Wrestlers 4
Enter this section for bios/profiles of various wrestlers from the regional days. To find more out about your favorite pro wrestler, click here.
Stories 4
This section contains stories from the pros themselves told exclusively to Kayfabe Memories. Want to know more as told from the wrestlers themselves? Click here.
Old School Book Reviews4
Click here to find various book reviews from old school wrestlers.
KM Links 4
For tons of links to old school related sites, click
here
.
KM Micro Wrestlers4
What are Micro Wrestlers? Click here
to find out.
KM Interviews... 4
Click here to read exclusive interviews with stars from the regional territories.
www.kayfabememories.com is © 2004 AtomDesigns. All promotional art, characters, logos and other depictions are © their respective owners. All Rights Reserved.
All contents save Wrestler Stories are © Kayfabe Memories.
Website designed and maintained by AtomDesigns © 2004 . If you experience any problems with this site or have any questions, please contact the Webmaster.
- Jeff Luce

Good Things Come in Small Packages

The last time out I said I would write about guys who made a difference, but do not get the recognition they deserve. I will save that for a later time, because I have something else I would like to offer up. Southeastern Championship Wrestling had some of the best junior heavyweights, in fact, one could say the best all around roster of junior heavies of any territory. From top to bottom, Southeastern had quite an impressive roster of 225 lbs and less wrestlers. So with that, I bring to you, Southeastern Championship Wrestling's best of the best junior heavyweights. I am not ranking these men, as it would be unfair, since each of these wrestler's impact can not be overshadowed by another.

Jerry Stubbs: Before he was "Mr. Olympia", Jerry Stubbs was the top junior heavyweight in Southeastern Wrestling up through the end of 1981. He had multiple reigns as the United States Junior Heavyweight Champion, and for five days at the end of January 1981, he was the NWA World Junior Heavyweight Champion. He defeated Les Thornton in Mobile, AL and lost it back to Thornton in Dothan I believe. Jerry even had the chance to bring the belt to TV. He feuded with Brad Armstrong over the US Jr. Championship. I am not 100 percent certain, but as certain as certain can get that Jerry brought the US Jr. title with him from Ron Fuller's Knoxville promotion to Fuller's Dothan promotion. Stubbs is also the longest reigning US Jr. champ.

Brad Armstrong: From the longest reigning US Jr. champ to the youngest, Brad Armstrong won a tournament in Mobile, AL to lay claim to the title. Although the records are sketchy at best, the tournament included Roy Lee Welch, Robert Gibson and one other wrestler. I am not in the know on who Armstrong defeated in that tournament, but he won nonetheless. Armstrong's first program as champion was of course against Jerry Stubbs. The premise is that Stubbs, the longest reigning US Jr. champ, was never defeated for the belt, and Armstrong, as the youngest US Jr. champ, had to defeat Stubbs to legitimize his title reign. Another aspect of their feud was that Stubbs taught Armstrong everything he knew, but not everything Stubbs knew. Armstrong was still green as grass in early 1981, but anyone could see that he was a star in the making, and it was to Armstrong's benefit that he was wrestling against a ring general in Stubbs. Armstrong's reign didn't last forever, in fact, about four weeks into his run, Stan Lane upended Armstrong for the US Jr. title.

Tony Charles: One of the best pure wrestlers the world over, Charles was a very popular wrestler in Southeastern. The former NWA World Jr. Heavyweight Champion, was a force in the area when it came to the US Jr. Heavyweight Championship. For a guy who could beat just about anyone in wrestling in a straight up match, Tony did not let his shooting skills prevent him from being a solid professional. Tony could, in my opinion, make a Broadway with a broomstick, and probably has. J I have a match on tape between Charles and Les Thornton, which is one of my favorite matches to watch. This match was a TV match, and went about eight minutes, which for these two grapplers, was a walk in the park. Charles was able to upend Thornton in a non-title match for the NWA World Jr. Heavyweight Championship. This, of course, set up for the title match later that night in Dothan, which I believe Thornton won, since there was no announcement of Charles winning the belt on TV. Anyway, Tony Charles is perhaps my most favorite wrestler of this division, although the next guy I am going to discuss is right up there. More...

If you'd like to discuss the SECW region with other fans, please visit the KM Message Board

KM DVD/VHS Store 4
Click here to purchase DVD or VHS products direct from the official distributors.
KM Replica Masks 4
Click here to purchase pro quality replica wrestling masks of all your favorite old school masked wrestlers.
KM Store 4
The KM Store now features products featuring the GCW logo as well as some other very cool images. To see what's new and to purchase T-Shirts, ball caps, mouse pads and more, click here.
KM Message Board 4
Want to chat with other fans of regional wrestling? This message board has forums for over two dozen promotions. Click here.
KM Belt Gallery 4
This section contains an extensive title belt gallery... images of heavyweight, tag, U.S. and various regional title belts. To view it, click here.
Old School Tape Review 4
Reviews of various PPV's, commercial tapes and regional wrestling TV shows are available in this section. To read more, click here.
Website designed & maintained by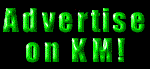 Thanks for visiting!