Regional Territories 4
This section contains monthly articles on over two dozen territories. To relive those wonderful days of old, click here.
Wrestlers 4
Enter this section for bios/profiles of various wrestlers from the regional days. To find more out about your favorite pro wrestler, click here.
Stories 4
This section contains stories from the pros themselves told exclusively to Kayfabe Memories. Want to know more as told from the wrestlers themselves? Click here.
Old School Book Reviews4
Click here to find various book reviews from old school wrestlers.
KM Links 4
For tons of links to old school related sites, click
here
.
KM Micro Wrestlers4
What are Micro Wrestlers? Click here
to find out.
KM Interviews... 4
Click here to read exclusive interviews with stars from the regional territories.
www.kayfabememories.com is © 2004 AtomDesigns. All promotional art, characters, logos and other depictions are © their respective owners. All Rights Reserved.
All contents save Wrestler Stories are © Kayfabe Memories.
Website designed and maintained by AtomDesigns © 2004 . If you experience any problems with this site or have any questions, please contact the Webmaster.
Southeastern Wrestling's Own Living Legend
- Jeff Luce
Many wrestlers have had the moniker "Living Legend." For some, like Bruno Sammartino, the name fits, and for others it was a way to get heat. While Ken Lucas never called himself a "Living Legend," he was our version of Bruno. Whenever the promotion needed to spike the crowds, you could bet Ken Lucas would be coming back. Whenever the bad guys were getting just a bit too big for their britches, you could bet Ken Lucas was coming back. If you were the top good guy in Southeastern, when Ken Lucas came back, you immediately jumped to number two. No questions asked: that was just the way it was.
I cannot comment on Ken Lucas prior to 1981, because I did not get to witness him. For my research and for what I've learned here on Kayfabe Memories, he was even better. He was a multi-time Gulf Coast Heavyweight Champion. He had many tremendous matches against NWA World Champions Jack Brisco, Dory Funk Jr. and Harley Race. In fact, Jack Brisco called Ken Lucas one of his most favorite opponents. While Ken Lucas never did win the NWA World Championship, he did boast of an undefeated record against the champs also. Most of their matches went to 60 minute time limit draws.
My first exposure to Ken Lucas was actually in 1983 when he returned to the area to feud with a heel Bob Armstrong. I did not know exactly who he was, but based on the reaction to the fans at the TV studio in Dothan and the excitement in the voices of Charlie Platt and Rick Stewart, I knew this guy was something special. Bob Armstrong just finished wrestling and was doing what bad guys do, when out of nowhere Ken Lucas came out of the good guy dressing room, making a quick impression on "Bullet" Bob. Within a week, Ken wrested the Southeastern Heavyweight Championship off Armstrong and all was good again in Southeastern.
Through the magic of video tape, I actually had the chance to relive another similar moment with Ken Lucas from 1981. Jimmy Golden had recently turned on his cousin Ron Fuller and was running roughshod over the territory. Several of Ron Fuller's friends came in to avenge him against Jimmy Golden, but with no success. Tony Atlas and Mr. Wrestling II came in from Atlanta, and the self proclaimed "Superstud" had dispatched them right back up East I-20 to Atlanta: mission not accomplished. But, there was another. Golden was sitting at the desk telling everyone how he ran the other "legends" out and that there was another legend coming back named Ken Lucas. Golden stood up, faced the crowd and ran his mouth some more, when out of the back came the legend. He tapped Golden on the shoulder and when Jimmy turned around, he caught a Lucas knuckle sandwich to the jaw. Within a week Ken had the Southeastern Heavyweight Championship, and all was good again in Southeastern.
One reason for Lucas getting the championship so quickly is because both time this happened, the NWA World Champion was set to come in to the area for a defense. In 1981 it was Harley Race; in 1983 it was Ric Flair. Now, I didn't know it then, but I know it now, this was a guarantee sell out throughout the Southeastern territory, Ken Lucas vs. NWA World Champion. It makes sense though when you think about it. If the Southeastern Champion was the number one contender, and Ken Lucas was the top draw when wrestling for the World's title, then make sure he is champion when the World Champ comes to town. More...
If you'd like to discuss the SECW region with other fans, please visit the KM Message Board

KM DVD/VHS Store 4
Click here to purchase DVD or VHS products direct from the official distributors.
KM Replica Masks 4
Click here to purchase pro quality replica wrestling masks of all your favorite old school masked wrestlers.
KM Store 4
The KM Store now features products featuring the GCW logo as well as some other very cool images. To see what's new and to purchase T-Shirts, ball caps, mouse pads and more, click here.
KM Message Board 4
Want to chat with other fans of regional wrestling? This message board has forums for over two dozen promotions. Click here.
KM Belt Gallery 4
This section contains an extensive title belt gallery... images of heavyweight, tag, U.S. and various regional title belts. To view it, click here.
Old School Tape Review 4
Reviews of various PPV's, commercial tapes and regional wrestling TV shows are available in this section. To read more, click here.
Website designed & maintained by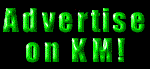 Thanks for visiting!