Regional Territories 4
This section contains monthly articles on over two dozen territories. To relive those wonderful days of old, click here.
Wrestlers 4
Enter this section for bios/profiles of various wrestlers from the regional days. To find more out about your favorite pro wrestler, click here.
Stories 4
This section contains stories from the pros themselves told exclusively to Kayfabe Memories. Want to know more as told from the wrestlers themselves? Click here.
Old School Book Reviews4
Click here to find various book reviews from old school wrestlers.
KM Links 4
For tons of links to old school related sites, click
here
.
KM Micro Wrestlers4
What are Micro Wrestlers? Click here
to find out.
KM Interviews... 4
Click here to read exclusive interviews with stars from the regional territories.
www.kayfabememories.com is © 2004 AtomDesigns. All promotional art, characters, logos and other depictions are © their respective owners. All Rights Reserved.
All contents save Wrestler Stories are © Kayfabe Memories.
Website designed and maintained by AtomDesigns © 2004 . If you experience any problems with this site or have any questions, please contact the Webmaster.
Jerry Stubbs & Arn Anderson: Nothing Fancy, Just Great
- Jeff Luce
I would like to thank everyone, especially Vince Fahey, for their patience while awaiting the latest Kayfabe Memories Southeastern article. I did have some problems with my Microsoft Office program that I have finally straightened out. So, without further ado, I present to you, for your reading pleasure, this month's Kayfabe Memories Southeastern article.
One of professional wrestling's best tag teams that does not receive the credit it deserves is Jerry Stubbs and Arn Anderson. They had some hellacious battles with and against each other. I do not remember how long their entire program lasted together, but it was long by wrestling standards, maybe just over a year or so. I can not say for certain that the entire episode was planned out from start to finish, or if the Southeastern bookers played it out by fan reaction. Nonetheless, what we received was perfect in every sense of the word.
The Beginning
Mr. Olympia (Jerry Stubbs) was a long time fan favorite in Southeastern, but he turned bad during a series of bouts with Col. Buck "The Man from Drop in U.S.A" Robley. It started with a good guy vs. good guy match on TV. They wrestled cleanly, but as the match wore on, things got more intense and they began throwing the rules out the window. If memory serves me well, I believe Robley may have partially torn Olympia's mask, which precipitated Olympia to go off. Anyway, the fans seemed to side with Robley. Robley's goal from that point forward was to expose Olympia's "chrome dome." It did not happen that way. Within a span of about three weeks, Olympia was thoroughly entrenched as the number one bad guy, and Robley was gone. This is the only time I can think of that Stubbs, as Olympia was a heel. Like I have stated before, when Stubbs went bad, the mask came off.
Meanwhile, another masked man calling himself Super Olympia came into the area. The fans were a bit leery of him at first, but eventually he caught on. He was a good guy. There was not any interaction between Super Olympia and Mr. Olympia at first, but this would soon change.
Mr. Olympia began a feud with Robert Fuller, in which he blinded Fuller. Mr. Olympia was aligned with Jos Leduc at this time. With Fuller out, friends of Robert Fuller began to come in. The masked El Lobo came in to team with another Fuller ally, Jacques Rougeau. El Lobo turned on Rougeau and joined up with Mr. Olympia and Leduc. This led to Rougeau teaming up with Super Olympia. Rougeau and Mr. Olympia even had some outstanding singles bouts. Super Olympia began joining Rougeau in his corner for these matches.
One particularly outstanding moment came when Robert Fuller came out of nowhere on TV and jumped Mr. Olympia while Leduc and Mr. Olympia were double teaming Jacques Rougeau. In the midst of the altercation, Fuller was able to pull off Mr. Olympia's mask. It was to no surprise he was Jerry Stubbs. Everyone knew that already.
Somehow, and for the life of me I can not remember the angle exactly, Mr. Olympia was able to use an imposter Super Olympia in an attempt to soil Super O's good name. It worked, and Super Olympia had to work really hard to clear his good name.
Eventually Super Olympia turned on Jacques Rougeau and joined up with Stubbs. Super O and Rougeau went around the horn, with Rougeau eventually unmasking him and revealing him to be Arn Anderson.
Now with Super Olympia turning bad and being exposed as Arn Anderson, one of, if not the best tag team in Southeastern wrestling's history was born. More...
If you'd like to discuss the SECW region with other fans, please visit the KM Message Board

KM DVD/VHS Store 4
Click here to purchase DVD or VHS products direct from the official distributors.
KM Replica Masks 4
Click here to purchase pro quality replica wrestling masks of all your favorite old school masked wrestlers.
KM Store 4
The KM Store now features products featuring the GCW logo as well as some other very cool images. To see what's new and to purchase T-Shirts, ball caps, mouse pads and more, click here.
KM Message Board 4
Want to chat with other fans of regional wrestling? This message board has forums for over two dozen promotions. Click here.
KM Belt Gallery 4
This section contains an extensive title belt gallery... images of heavyweight, tag, U.S. and various regional title belts. To view it, click here.
Old School Tape Review 4
Reviews of various PPV's, commercial tapes and regional wrestling TV shows are available in this section. To read more, click here.
Website designed & maintained by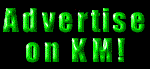 Thanks for visiting!