Regional Territories 4
This section contains monthly articles on over two dozen territories. To relive those wonderful days of old, click here.
Wrestlers 4
Enter this section for bios/profiles of various wrestlers from the regional days. To find more out about your favorite pro wrestler, click here.
Stories 4
This section contains stories from the pros themselves told exclusively to Kayfabe Memories. Want to know more as told from the wrestlers themselves? Click here.
Old School Book Reviews4
Click here to find various book reviews from old school wrestlers.
KM Links 4
For tons of links to old school related sites, click
here
.
KM Micro Wrestlers4
What are Micro Wrestlers? Click here
to find out.
KM Interviews... 4
Click here to read exclusive interviews with stars from the regional territories.
www.kayfabememories.com is © 2004 AtomDesigns. All promotional art, characters, logos and other depictions are © their respective owners. All Rights Reserved.
All contents save Wrestler Stories are © Kayfabe Memories.
Website designed and maintained by AtomDesigns © 2004 . If you experience any problems with this site or have any questions, please contact the Webmaster.
Southeastern Wrestling 1985
- Mike Calloway
The year of 1985 proved to be a bittersweet time for the fans in Dothan, Alabama of Southeastern Championship Wrestling. As had been the case not only in 1984, but since 1978 when Ron Fuller brought his exciting brand of wrestling to the Alabama-Florida panhandle, Southeastern brought plenty of action to the fans in the area. In 1985 men such as Austin Idol, Bob Armstrong, Mr. Olympia, Bobby Cash, Jimmy Golden, Ron Fuller and more continued to provide hot action on both television and in the arenas. However, in the late summer of 1985 Ron Fuller made a change in the direction of the company. For many years WTVY Ch. 4 from Dothan had not only been the home of studio wrestling for Southeastern Wrestling, but before that Gulf Coast Wrestling. The decision was made for a change from studio wrestling to an arena type show that was already popular with other promotions across the country such as WWF, Crockett, UWF and others. With the change in format came a change in location as well. Rather than the small studio's of WTVY Fuller decided on using Boutwell Auditorium in Birmingham, Alabama instead. At the time Bíham was a hot town for Southeastern, so with large crowds in the 5000 seat arena it looked big time on television. Ron also brought in veteran announcer Gordon Solie to do the new TV show to replace longtime host Charlie Platt. Also during this period Southeastern Wrestling had began appearing in the Knoxville, Tennessee area after many years absent. With the larger area covering from Tennessee through the Florida panhandle, the name Southeastern just didn't seem to fit either, so the name of the promotion was changed to Continental Championship Wrestling. This also meant that Dothan was no longer the host to weekly Saturday night house shows at the Houston County Farm Center, rather every other Saturday. For us fans that had backed the promotion every Saturday since 1978, it was a bitter pill to take, but business IS business.
Now with that out of the way, lets get down to the nuts and bolts of the action of Southeastern / Continental in 1985.
United States Jr. Heavyweight Championship
As was the case in late 1984, 2 men were the focal point in the battles for this title. Bill Ash and Scott Armstrong. When Armstrong suffered a legit broken wrist in the spring of '85 veteran Ted Oates was brought into the area as his replacement to battle Ash. Once Armstrong had clearance to compete he was once again the top challenger for Ash's title. NWA World Jr. Heavyweight Champion Denny Brown also made several title defenses in the area as well. More...
If you'd like to discuss the SECW region with other fans, please visit the KM Message Board

KM DVD/VHS Store 4
Click here to purchase DVD or VHS products direct from the official distributors.
KM Replica Masks 4
Click here to purchase pro quality replica wrestling masks of all your favorite old school masked wrestlers.
KM Store 4
The KM Store now features products featuring the GCW logo as well as some other very cool images. To see what's new and to purchase T-Shirts, ball caps, mouse pads and more, click here.
KM Message Board 4
Want to chat with other fans of regional wrestling? This message board has forums for over two dozen promotions. Click here.
KM Belt Gallery 4
This section contains an extensive title belt gallery... images of heavyweight, tag, U.S. and various regional title belts. To view it, click here.
Old School Tape Review 4
Reviews of various PPV's, commercial tapes and regional wrestling TV shows are available in this section. To read more, click here.
Website designed & maintained by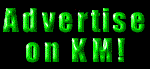 Thanks for visiting!