Regional Territories 4
This section contains monthly articles on over two dozen territories. To relive those wonderful days of old, click here.
Wrestlers 4
Enter this section for bios/profiles of various wrestlers from the regional days. To find more out about your favorite pro wrestler, click here.
Stories 4
This section contains stories from the pros themselves told exclusively to Kayfabe Memories. Want to know more as told from the wrestlers themselves? Click here.
Old School Book Reviews4
Click here to find various book reviews from old school wrestlers.
KM Links 4
For tons of links to old school related sites, click
here
.
KM Micro Wrestlers4
What are Micro Wrestlers? Click here
to find out.
KM Interviews... 4
Click here to read exclusive interviews with stars from the regional territories.
www.kayfabememories.com is © 2004 AtomDesigns. All promotional art, characters, logos and other depictions are © their respective owners. All Rights Reserved.
All contents save Wrestler Stories are © Kayfabe Memories.
Website designed and maintained by AtomDesigns © 2004 . If you experience any problems with this site or have any questions, please contact the Webmaster.
- Edward Pardue
The year was 1995 and a war between promotions was setting Tennessee on fire. Smoky Mountain Wrestling, based in Knoxville, Tn. had to defend their honor against Memphis based USWA. Jerry Lawler, " King " of Memphis wrestling came in in February of 1995 and won the SMW title. His run in SMW was short lived (Thank God!) but it was a omen of things to come. Not happy to ruin there OWN federation, Randy Hales ( aka Ichabod Crane ) brought his smelly crew to Knoxville to try and destroy SMW.
PG-13 arrived first. Right from the start they copped an attitude. Jamie Dundee and Wolfie D. came to Knoxville to fight for their organization's honor. These jerks from the USWA came in and shot their mouths off and still walked away with their titles? Hell no, baby... that don't play here in the Smoky Mountains. Papa Smurf and Smurfette ignited a full fledged war.
The Rock and Roll Express went to Memphis to meet PG-13. While no giants themselves, they proved to Dundee and Wolfie that Rock and Roll was for real and maybe the USWA should try to fight another promotion, because SMW was legit. If there were any justice in the world, Ricky and Robert would've brought home the gold belts for an extended period, but apparently the local junk yard needed their tin back that Hales and crew used to make those gawdy things.
Did Randy stop there? Nope. He came in himself and raised hell on the SMW TV show, to the point where the late Mark Curtis, SMW head referee, took it upon himself to shut Randy Hales up. Curtis trained for the business alongside such workers as Shane Douglas and Mick Foley while Hales didn't know a karate chop from a pork chop. Curtis stretched Randy's butt so far you would've thought he was giving him an enema and while Randy still talked trash after their encounters , it was NEVER when Mark Curtis was anywhere with in earshot.
By this point, the SMW were pretty much ticked off. They had seen Brad Armstrong robbed of the USWA title he won from Billy Jack Haynes at the Superbowl of Wrestling. A few guys from Cornette's crew decided they would take matters into their own hands and finish what the USWA started.
More...
If you'd like to discuss the SMW region with other fans, please visit the KM Message Board

KM DVD/VHS Store 4
Click here to purchase DVD or VHS products direct from the official distributors.
KM Replica Masks 4
Click here to purchase pro quality replica wrestling masks of all your favorite old school masked wrestlers.
KM Store 4
The KM Store now features products featuring the GCW logo as well as some other very cool images. To see what's new and to purchase T-Shirts, ball caps, mouse pads and more, click here.
KM Message Board 4
Want to chat with other fans of regional wrestling? This message board has forums for over two dozen promotions. Click here.
KM Belt Gallery 4
This section contains an extensive title belt gallery... images of heavyweight, tag, U.S. and various regional title belts. To view it, click here.
Old School Tape Review 4
Reviews of various PPV's, commercial tapes and regional wrestling TV shows are available in this section. To read more, click here.
Website designed & maintained by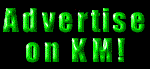 Thanks for visiting!