Regional Territories 4
This section contains monthly articles on over two dozen territories. To relive those wonderful days of old, click here.
Wrestlers 4
Enter this section for bios/profiles of various wrestlers from the regional days. To find more out about your favorite pro wrestler, click here.
Stories 4
This section contains stories from the pros themselves told exclusively to Kayfabe Memories. Want to know more as told from the wrestlers themselves? Click here.
Old School Book Reviews4
Click here to find various book reviews from old school wrestlers.
KM Links 4
For tons of links to old school related sites, click
here
.
KM Micro Wrestlers4
What are Micro Wrestlers? Click here
to find out.
KM Interviews... 4
Click here to read exclusive interviews with stars from the regional territories.
www.kayfabememories.com is © 2004 AtomDesigns. All promotional art, characters, logos and other depictions are © their respective owners. All Rights Reserved.
All contents save Wrestler Stories are © Kayfabe Memories.
Website designed and maintained by AtomDesigns © 2004 . If you experience any problems with this site or have any questions, please contact the Webmaster.
- Edward Pardue
1994, from a fan's perspective at least, was a good year for SMW. Good solid wrestling action. Prince Kharis? Ok... you've got me there. Even Jim Cornette, a true wrestling genius, would probably admit that the idea of a mummy was a little far fetched and then even the outstanding ability of Jim Mitchell (Daryl Van Horn) to cut a great promo couldn't carry the "abortion" of a gimmick called Prince Kharis.
Louie Spicolli, Lord rest him, had a "cup of coffee" in SMW in early 1994, as he challenged Chris Candido for the Jr. Heavyweight Title. The matches between these young workers were great ones, but within a month or so, Louie was gone from Cornette-Land, and the Jr. Heavyweight title was dropped from the programs. If memory serves me correctly, this was the first major wrestling promotion in the U.S. to give Louie a decent push, and his star shone extremely bright during his matches with Candido. Extremely exciting matches, with Candido keeping the title.
The Moondogs, Rex and Spot, did battle with The Bruise Brothers. (NOTE: Rex was NOT Randy Culley. According to Ken Carson on the KM message board, this was Lanny Keene, known in Memphis as Moondog Splat ). These guys aren't exactly on the par of Ric Flair when it comes to their wrestling, however, they did put on some great brawls all over the arenas, with everything, short of a gun or knife, being used. The last match these four wild and wooly individuals had was at the first Sunday, Bloody Sunday... a match so violent, it had to be held inside a steel cage.
The Heavenly Bodies did battle with not only the Rock and Roll Express (more on that in a minute) but also with Doug and Mike Furnas. Doug Furnas (real name Dwayne Feely) was a legitimate powerlifter with a leg press of almost 1,000 pounds. Doug honed his skills in Japan and was extremely good in the ring. Mike Furnas? He tried hard... that's all I will say. The Bodies were just too good and experienced for the Furnas Brothers to take the belts from, and this feud was quickly over, as Doug went back to Japan, where he was a top star, and Mike went... uh... well, I haven't seen Mike Furnas since his days in SMW, so I'm not real sure where he ended up.
A " newcomer " debuted in SMW in the spring of 1994 named Bruiser Bedlam. Looking at this man on television, I got the impression he wasn't one to be trifled with. Jim Cornette had found the man to beat Bob Armstrong, and beat him he did. Johnny "Bruiser Bedlam" K-9 even got a pinfall victory over Randy Savage. There was no stopping Bruiser Bedlam in SMW... he simply left in pursuit of other territories to conquer. All I know is, if I ever had to fight Tyson in a street fight, that is one guy I would want to back me up! Bruiser Bedlam also defeated the aforementioned Mike Furnas for his BEAT THE CHAMP TV title and waged violent wars with Tracy Smothers in several coal miner's glove matches, in which a lead-lined, diamond studded glove is placed on a pole above the ring and the first wrestler to get it can use it. Bruiser Bedlam was also picked by The Funk Brothers as the third member of their team for The Night of Legends and Fire on the Mountain 1994 to take on Bob Armstrong, Tracy Smothers and Road Warrior Hawk. An all around tough competitor.
More...
If you'd like to discuss the SMW region with other fans, please visit the KM Message Board

KM DVD/VHS Store 4
Click here to purchase DVD or VHS products direct from the official distributors.
KM Replica Masks 4
Click here to purchase pro quality replica wrestling masks of all your favorite old school masked wrestlers.
KM Store 4
The KM Store now features products featuring the GCW logo as well as some other very cool images. To see what's new and to purchase T-Shirts, ball caps, mouse pads and more, click here.
KM Message Board 4
Want to chat with other fans of regional wrestling? This message board has forums for over two dozen promotions. Click here.
KM Belt Gallery 4
This section contains an extensive title belt gallery... images of heavyweight, tag, U.S. and various regional title belts. To view it, click here.
Old School Tape Review 4
Reviews of various PPV's, commercial tapes and regional wrestling TV shows are available in this section. To read more, click here.
Website designed & maintained by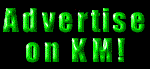 Thanks for visiting!