Regional Territories 4
This section contains monthly articles on over two dozen territories. To relive those wonderful days of old, click here.
Wrestlers 4
Enter this section for bios/profiles of various wrestlers from the regional days. To find more out about your favorite pro wrestler, click here.
Stories 4
This section contains stories from the pros themselves told exclusively to Kayfabe Memories. Want to know more as told from the wrestlers themselves? Click here.
Old School Book Reviews4
Click here to find various book reviews from old school wrestlers.
KM Links 4
For tons of links to old school related sites, click
here
.
KM Micro Wrestlers4
What are Micro Wrestlers? Click here
to find out.
KM Interviews... 4
Click here to read exclusive interviews with stars from the regional territories.
www.kayfabememories.com is © 2004 AtomDesigns. All promotional art, characters, logos and other depictions are © their respective owners. All Rights Reserved.
All contents save Wrestler Stories are © Kayfabe Memories.
Website designed and maintained by AtomDesigns © 2004 . If you experience any problems with this site or have any questions, please contact the Webmaster.
- Edward Pardue
My column this month is about Jim Cornette. It is no secret to anyone familiar with Kayfabe Memories that I feel Jim Cornette is a true visionary in the wrestling world. A walking, talking "heat machine." Sadly, this column has to begin on a terrible note. I was informed this morning on the message board that Jim Cornette's mother passed away.
For those too young to remember, Jim Cornette's mother was a constant nuisance in the lives of the top babyfaces of Jim Crockett Promotions. She was (in story lines, at least) a rich woman who financed Jim Cornette's managerial career (The Midnight Express and Big Bubba Rogers) with the sole purpose of destroying Dusty Rhodes and his friends. The odd thing was... she had more heat than just about anyone... and she was NEVER on television. I mourn the death of a woman who raised Jim Cornette. I also mourn a piece of my childhood being lost. "MAMA" CORNETTE... your son has lived his dream and done very well. I shall touch more on "MAMA" Cornette (I believe her given name is Thelma, though I am not sure) in my column for JCP. God Bless you, ma'am... rest easy.
Jim Cornette was the most controversial manager ever in Smoky Mountain Wrestling. Tammy Fytch was hotter and Daryl Van Horn was... well, weirder (lol), but no one could generate a good old fashion feud like Corny. Case in point, Bob Armstrong and The Rock and Roll Express.
Bob Armstrong was a man of old school law and order. To the "Bullet" if a man couldn't fight his own fights, he wasn't a man at all. Jim Cornette annoyed Armstrong (among other people) to no end. Cornette's Criminals injured Bob Armstrong severely by tying him to a cage at the Volunteer Slam, with Cornette administering repeated tennis racket shots to Armstrong's torso. So badly injured was "Bullet" Bob, he had to pull out of WCW's SLAMBOREE PPV that year, to be replaced by his son Brad.
Would Bob Armstrong allow that to go unpunished? Sure he would... he would just forgive and forget everything like it hadn't happened. Armstrong was a kind and gentle soul who wouldn't harm a fly... well, except for that neck brace Cornette wore to a WWF PPV. Forgive and forget, hell! It was ON in the Smoky Mountains!!!
I think Jim Cornette went through every "name" veteran he could get ahold of to take Armstrong out. Kevin Sullivan, Terry Funk, Dick Murdoch, Bruiser Bedlam... all tried to take "The Bullet" out, but none of them succeeded. Oh, sure, they got their licks in, but Armstrong was still there... hating Cornette at every turn. Cornette, through legal maneuvers cost Armstrong the commissionership of Smoky Mountain Wrestling. Bob Armstrong, after handing several defeats to Cornette's forces, was prepared to resume duties as the commissioner once again, when Cornette begged for another chance to get even. Armstrong agreed, provided that IF Bob defeated Cornette's mystery man, then Jim Cornette had to kiss Bob Armstrong's feet. This would be the last time they could face each other though, so Cornette said he would make this a doozy. IT WAS. (Well, almost...)
Cornette named the man he had chose to challenge Bob Armstrong. It would be none other than ABDULLAH THE BUTCHER! Video footage was shown of Butcher's bloody and violent ways. But even with the threat of the Butcher coming in, Armstrong would simply not quit.
More...
If you'd like to discuss the SMW region with other fans, please visit the KM Message Board

KM DVD/VHS Store 4
Click here to purchase DVD or VHS products direct from the official distributors.
KM Replica Masks 4
Click here to purchase pro quality replica wrestling masks of all your favorite old school masked wrestlers.
KM Store 4
The KM Store now features products featuring the GCW logo as well as some other very cool images. To see what's new and to purchase T-Shirts, ball caps, mouse pads and more, click here.
KM Message Board 4
Want to chat with other fans of regional wrestling? This message board has forums for over two dozen promotions. Click here.
KM Belt Gallery 4
This section contains an extensive title belt gallery... images of heavyweight, tag, U.S. and various regional title belts. To view it, click here.
Old School Tape Review 4
Reviews of various PPV's, commercial tapes and regional wrestling TV shows are available in this section. To read more, click here.
Website designed & maintained by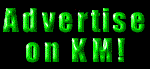 Thanks for visiting!