Regional Territories 4
This section contains monthly articles on over two dozen territories. To relive those wonderful days of old, click here.
Wrestlers 4
Enter this section for bios/profiles of various wrestlers from the regional days. To find more out about your favorite pro wrestler, click here.
Stories 4
This section contains stories from the pros themselves told exclusively to Kayfabe Memories. Want to know more as told from the wrestlers themselves? Click here.
Old School Book Reviews4
Click here to find various book reviews from old school wrestlers.
KM Links 4
For tons of links to old school related sites, click
here
.
KM Micro Wrestlers4
What are Micro Wrestlers? Click here
to find out.
KM Interviews... 4
Click here to read exclusive interviews with stars from the regional territories.
www.kayfabememories.com is © 2004 AtomDesigns. All promotional art, characters, logos and other depictions are © their respective owners. All Rights Reserved.
All contents save Wrestler Stories are © Kayfabe Memories.
Website designed and maintained by AtomDesigns © 2004 . If you experience any problems with this site or have any questions, please contact the Webmaster.
- Barry Allen
Ah, Smokey Mountain Wrestling, the last true territory wrestling outfit.
Hello wrestling fans, Barry Allen here with your new SMW column. Wow, new writer, new column, and a new, yet old school way of looking at everything wrestling related today.
Vince asked me to write this column, and to make it different than the previous writer's columns before me. I took a look at some of his older work, and really realized that he had more or less covered everything really, yet, didn't get the detail that I would want in a column talking about one of my favorite territories (second only to Memphis). I decided the best thing to really do here, is at least start with a really well put together article about the main faces in SMW from 1992-1995.
Jim Cornette
Obviously the founder and promoter of the group, but also one of the best managers and talkers that ever came through SMW. Most all main even angles had something to do with James E., and you couldn't get away from the Louisville Slugger's promos on every episode of SMW. His continuing feud with the Rock N Roll Express, all the way to ridding SMW of the Gangstas and siding with everyone you never thought he would, into the less memorable General Jim days of the last 6 months of the fed.
The Heavenly Bodies
Whether it was Sweet Stan and Dr. Tom, or Dr. Tom and Gigolo Jimmy, it was still the best team in SMW, arguably of course. This team, always managed by Jim Cornette held the SMW Tag Team Titles a remarkable 8 times beating such teams as the Rock n Roll Express, The Fantastics, and the THUGZ. They were involved in feuds with those said teams, as well as a wonderfully cross promotional feud with a tag team of two nobodies called the....um Thrillseekers or something like that (Whatever happened to those two anyway?).
The Rock N Roll Express
Ricky Morton of course wasn't in the original lineup of SMW. Although Robert Gibson, if my memory serves was in the first SMW TV match, if not definitely the first taping. As a singles star Robert was excelling, but had been beaten on weekly basis by the Stud Stable. Ricky came in to help and bury the hatchet with his 'brother' and former tag team partner. From there to the bloody lengthy feud with both sets of Bodies, to Candido/Lee and The Gangstas, the Rock N Rolls continued to make their mark in the wrestling history books, until madness happened with Ricky, and he subsequently left the fold, leaving Robert again, with bad guy tendencies and a new manager, Gen. James E Cornette. The Rock N Roll Express did reunite the last night in SMW history.
Dirty White Boy Tony Anthony
The First and pretty well prominent SMW heavyweight champion. The Dirty White Boy, had a string of success in the old Continental fed in Alabama a few years earlier, and was a proven draw, and a great pick for Cornette to have on the roster. His feud with Brian Lee for his first SMW title was greatness. The angle was set so well that you really could have sworn that Anthony was going to lose it all, and he was such a good bad guy doing so, that while you wanted to see him lose everything, you would have probably felt sorry afterwards for wishing harm on him (especially after seeing his home on Down and Dirty with Dutch).
He came out of the match with the title, and held onto it until losing it to his future THUGZ partner Tracy Smothers. In a rematch, an insane finish was in the making, causing the title to be held up more or less, and then DWB went for it all again, only losing this time. He won the title BACK from Brian Lee, and held onto it, until coming across the path of the Snake. In a series of events that really, have to be told in a 3 hour story from Cornette, DWB won the title again and kept it for a little while before losing it to Jerry Lawler.
In late 95, DWB became a tag team wrestler with Tracey Smothers in an outfit called the T.H.U.G.Z .
More...

KM DVD/VHS Store 4
Click here to purchase DVD or VHS products direct from the official distributors.
KM Replica Masks 4
Click here to purchase pro quality replica wrestling masks of all your favorite old school masked wrestlers.
KM Store 4
The KM Store now features products featuring the GCW logo as well as some other very cool images. To see what's new and to purchase T-Shirts, ball caps, mouse pads and more, click here.
KM Message Board 4
Want to chat with other fans of regional wrestling? This message board has forums for over two dozen promotions. Click here.
KM Belt Gallery 4
This section contains an extensive title belt gallery... images of heavyweight, tag, U.S. and various regional title belts. To view it, click here.
Old School Tape Review 4
Reviews of various PPV's, commercial tapes and regional wrestling TV shows are available in this section. To read more, click here.
Website designed & maintained by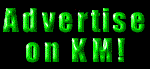 Thanks for visiting!