Regional Territories 4
This section contains monthly articles on over two dozen territories. To relive those wonderful days of old, click here.
Wrestlers 4
Enter this section for bios/profiles of various wrestlers from the regional days. To find more out about your favorite pro wrestler, click here.
Stories 4
This section contains stories from the pros themselves told exclusively to Kayfabe Memories. Want to know more as told from the wrestlers themselves? Click here.
Old School Book Reviews4
Click here to find various book reviews from old school wrestlers.
KM Links 4
For tons of links to old school related sites, click
here
.
KM Micro Wrestlers4
What are Micro Wrestlers? Click here
to find out.
KM Interviews... 4
Click here to read exclusive interviews with stars from the regional territories.
www.kayfabememories.com is © 2004 AtomDesigns. All promotional art, characters, logos and other depictions are © their respective owners. All Rights Reserved.
All contents save Wrestler Stories are © Kayfabe Memories.
Website designed and maintained by AtomDesigns © 2004 . If you experience any problems with this site or have any questions, please contact the Webmaster.
- Edward Pardue
On Aug. 5, 1994, Smoky Mountain Wrestling drew a sellout crowd of five thousand rabid fans for a night of wrestling that will go down in history. The event, dubbed "The Night of Legends" by SMW owner, Jim Cornette, paid homage to the superstars of yesteryear while allowing the current talent of SMW to shine.
One highlight of "The Night of Legends" was the six man "Coward waves the flag" match. With no disqualifications, no pinfalls, no submissions allowed, the only way to win was to beat the opposing team so badly that their appointed corner man could no longer bear to see his team in such agony that he waved a white flag of surrender to end the match. The "heel" team of Dory, Jr. and Terry Funk and Bruiser Bedlam chose as their corner man, manager extraordinaire, Jim Cornette. "Corny" promised he didn't care about the health of his men; he just wanted to win the match.
On the opposing team were "Bullet" Bob Armstrong and Tracy Smothers. Armstrong and Smothers knew Cornette was true to his word about not caring about the well being of his team, so they chose a man to be in their corner who, in the words of Cornette, had a " ... heart colder than a banker's smile ...", the "King of Kingsport" Ron Wright. Ron Wright didn't give a continental damn if the Funks tore off Tracy Smothers's right arm and beat Bob Armstrong to death with it, he wouldn't wave the white flag no matter what happened.
A third man was needed to round out the "babyface" team. Both Scott and Steve Armstrong volunteered to help their father in his quest for retribution. "Bullet" Bob declined both his sons, as he said that would be tantamount to picking a favorite son and ALL his sons were his favorite. When Armstrong announced who the third man was... well, let's just say thank God "Corny" wasn't wearing khakis!! Armstrong chose a man Cornette knew very well indeed, as Cornette took a twenty foot plunge from a scaffold due to this man and his partner years earlier. Armstrong chose Road Warrior Hawk.
Armstrong, Smothers and Hawk defeated the Funks and Bruiser Bedlam in one of the wildest matches Knoxville had seen in a long time. The match more than lived up to the hype as all six men went all out for the sellout crowd. A truly great match that will more than likely never happen again.
More...
If you'd like to discuss the SMW region with other fans, please visit the KM Message Board

KM DVD/VHS Store 4
Click here to purchase DVD or VHS products direct from the official distributors.
KM Replica Masks 4
Click here to purchase pro quality replica wrestling masks of all your favorite old school masked wrestlers.
KM Store 4
The KM Store now features products featuring the GCW logo as well as some other very cool images. To see what's new and to purchase T-Shirts, ball caps, mouse pads and more, click here.
KM Message Board 4
Want to chat with other fans of regional wrestling? This message board has forums for over two dozen promotions. Click here.
KM Belt Gallery 4
This section contains an extensive title belt gallery... images of heavyweight, tag, U.S. and various regional title belts. To view it, click here.
Old School Tape Review 4
Reviews of various PPV's, commercial tapes and regional wrestling TV shows are available in this section. To read more, click here.
Website designed & maintained by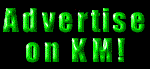 Thanks for visiting!