Regional Territories 4
This section contains monthly articles on over two dozen territories. To relive those wonderful days of old, click here.
Wrestlers 4
Enter this section for bios/profiles of various wrestlers from the regional days. To find more out about your favorite pro wrestler, click here.
Stories 4
This section contains stories from the pros themselves told exclusively to Kayfabe Memories. Want to know more as told from the wrestlers themselves? Click here.
Old School Book Reviews4
Click here to find various book reviews from old school wrestlers.
KM Links 4
For tons of links to old school related sites, click
here
.
KM Micro Wrestlers4
What are Micro Wrestlers? Click here
to find out.
KM Interviews... 4
Click here to read exclusive interviews with stars from the regional territories.
www.kayfabememories.com is © 2004 AtomDesigns. All promotional art, characters, logos and other depictions are © their respective owners. All Rights Reserved.
All contents save Wrestler Stories are © Kayfabe Memories.
Website designed and maintained by AtomDesigns © 2004 . If you experience any problems with this site or have any questions, please contact the Webmaster.
Things I Knew... and Didn't Know
- John Edwards
Back in the good old St. Louis Wrestling Club days, and before the advent of cable television in my community (1981), my knowledge of the wrestling world was essentially limited to what I heard from Larry Matysik on Channel 11 every Sunday at 11:00 am and what I could read in the "Apter Mags" at the drugstore. I understood that the NWA Champion traveled from territory to territory defending his belt (the "ten pounds of gold" as Larry Matysik called it). I understood that some areas of the country were "AWA" or "WWWF" (though I did not understand how or why). And finally, not being a total "mark" I understood that matches were worked, but had no clue as to booking or how the workers were instructed to do their job. This months' article takes a look back from a young "mark's eye view" of the world, circa 1979. The format of the article is "What I Knew......and Didn't Know".
What I Knew #1: Harley Race and Pat O'Connor were frequently featured in matches on Wrestling at the Chase (WATC) and at the Kiel Auditorium. Harley Race was a perennial Missouri State Champion, headlining major feuds and getting many a NWA title shot (and title reign).
What I Didn't Know #1: Both Harley Race and Pat O'Connor were part owners of the St. Louis promotion, along with majority owner, spokesman, and decision-maker Sam Muchnick. This resulted in many Missouri Title reigns and main events for Harley. To be fair, Race deserved everything he earned. He constantly filled the seats and put on a fantastic show. The other NWA promoters must have agreed with Sam, resulting in many title reigns.
What I Knew #2: I had heard and read of the NWA Championship Committee. Being the "smart" that I was, I figured it was a bunch of hooey. I guessed somebody, somewhere decided who got the belt and that it was a fairly smooth process.
What I Didn't Know #2: Championship decisions as to who would wear the belt were actually made by the member NWA promoters in a formalized process. For many years, it was a fairly smooth process, getting more contentious later in the NWA years. For example, there was a big push for David Von Erich to get the strap, before his untimely death in Japan (see a later point for more on the Von Erichs).
What I Knew #3: The Von Erich boys were nice, clean-cut fan favorites. They were polite and courteous to Larry during interviews and scientific in the ring. They could and would brawl, but only once the heel had started it. They loved the fans and the fans loved them back.
What I Didn't Know #3: The Von Erichs were actually the Adkissons. Their father owned the Dallas NWA promotion and constantly pushed his sons, both personally, and in the eyes of the other promoters. Politely put, the boys had a number of personal and chemical-related problems.
More...
If you'd like to discuss the St. Louis region with other fans, please visit the KM Message Board

KM DVD/VHS Store 4
Click here to purchase DVD or VHS products direct from the official distributors.
KM Replica Masks 4
Click here to purchase pro quality replica wrestling masks of all your favorite old school masked wrestlers.
KM Store 4
The KM Store now features products featuring the GCW logo as well as some other very cool images. To see what's new and to purchase T-Shirts, ball caps, mouse pads and more, click here.
KM Message Board 4
Want to chat with other fans of regional wrestling? This message board has forums for over two dozen promotions. Click here.
KM Belt Gallery 4
This section contains an extensive title belt gallery... images of heavyweight, tag, U.S. and various regional title belts. To view it, click here.
Old School Tape Review 4
Reviews of various PPV's, commercial tapes and regional wrestling TV shows are available in this section. To read more, click here.
Website designed & maintained by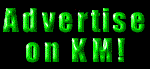 Thanks for visiting!