Regional Territories 4
This section contains monthly articles on over two dozen territories. To relive those wonderful days of old, click here.
Wrestlers 4
Enter this section for bios/profiles of various wrestlers from the regional days. To find more out about your favorite pro wrestler, click here.
Stories 4
This section contains stories from the pros themselves told exclusively to Kayfabe Memories. Want to know more as told from the wrestlers themselves? Click here.
Old School Book Reviews4
Click here to find various book reviews from old school wrestlers.
KM Links 4
For tons of links to old school related sites, click
here
.
KM Micro Wrestlers4
What are Micro Wrestlers? Click here
to find out.
KM Interviews... 4
Click here to read exclusive interviews with stars from the regional territories.
www.kayfabememories.com is © 2004 AtomDesigns. All promotional art, characters, logos and other depictions are © their respective owners. All Rights Reserved.
All contents save Wrestler Stories are © Kayfabe Memories.
Website designed and maintained by AtomDesigns © 2004 . If you experience any problems with this site or have any questions, please contact the Webmaster.
Flashback - Kiel Auditorium May 24, 1971
- John Edwards
This month's article takes us back to May 1971 and another Friday night card at the "air conditioned" Kiel Auditorium, 14th and Market Streets (OK actually on Market, between 14th and 15th), St. Louis, Missouri. Unlike last month's entry, I was not personally at this one, as I was six years old. I do, however, remember this time frame and the names involved from Sunday mornings on "Wrestling at the Chase". I feel that this time period marks (no pun intended) Sam Muchick's peak period as a promoter and the strength of the NWA as a World Title and as an organization. There are a number of interesting quirks about this card, that I will explain as we go on....now, off to the matches! Match information courtesy of ChiTown Rich (thanks Rich!) – sorry, no notes on who beat who or how.
Curtain Raiser Australian Tag Team Action pits Ronnie Etchison and Steve Bolus vs. Don Fargo and Angelo Poffo (two out of three falls, 30 minute time limit). This match featured a long time St. Louis and Kansas City favorite (Etchison) vs. the father of Leapin' Lanny and the "Macho Man" Randy Savage and a Tennessee favorite. This speaks to the mobility in the territorial days – Kansas City, Kentucky, and Tennessee were all a relatively short drive to St. Louis. This was a two out of three falls affair, giving the stragglers time to get in their seats. I miss tag ropes!
2. "Rip" Tyler vs. Greg Valentine (one fall, 20 minute time limit). Another interesting matchup. Greg was, at this time, being billed as the "younger brother" of Johnny Valentine (see the main event). Hard to believe Greg is still occasionally working indies today. He must have either started very young in the business or has preserved himself very well! As a precursor to this match, on a previous card (April 16th) Greg and Johnny Valentine were the sole survivors of a 10-man (!) Wrestle Royal, each splitting the $5,000 purse and going home with $2,500. In the spirit of family, they split the purse rather than wrestle each other.
3. Special Attraction: Terry Funk vs. Baron Von Heisinger (one fall, 20 minute time limit). Ample mention was made in the May 8, 1971 edition of "Wrestling" – the official St. Louis program – of how Terry was biding his time while his older brother, Dory Jr., was the NWA Champion. The program included a picture of a VERY young Terry Funk, complete with cowboy hat, smiling away. At this time, I assume he was working as a face in St. Louis. Quite a difference from seeing him in ECW with Joey Styles screaming about the "57 year old hardcore legend". Von Heisinger was mentioned as an "ambitious 270-pounder who would wink at the rulebook to get a win".
4. "Big Bill" Miller and Hans Schmidt vs. "Sweet Daddy" Siki and Jack Brisco (two out of three falls, 30 minute time limit) Sounds like a great match for the upper midcard. By this time, Big Bill was a well-established veteran and one of my first St. Louis favorites. He did not go by the "Doctor" moniker that he used in other areas. (ala Von Raschke not being a "Baron" in St. Louis) Jack Brisco was again being exposed to the tough and knowledgeable St. Louis audience as he continued on his path to the NWA title. Sam Muchnick took a similar path a decade later with the Von Erichs – building them on the midcard and in tag matches before booking them for NWA and Missouri title shots.
More...
If you'd like to discuss the St. Louis region with other fans, please visit the KM Message Board

KM DVD/VHS Store 4
Click here to purchase DVD or VHS products direct from the official distributors.
KM Replica Masks 4
Click here to purchase pro quality replica wrestling masks of all your favorite old school masked wrestlers.
KM Store 4
The KM Store now features products featuring the GCW logo as well as some other very cool images. To see what's new and to purchase T-Shirts, ball caps, mouse pads and more, click here.
KM Message Board 4
Want to chat with other fans of regional wrestling? This message board has forums for over two dozen promotions. Click here.
KM Belt Gallery 4
This section contains an extensive title belt gallery... images of heavyweight, tag, U.S. and various regional title belts. To view it, click here.
Old School Tape Review 4
Reviews of various PPV's, commercial tapes and regional wrestling TV shows are available in this section. To read more, click here.
Website designed & maintained by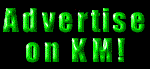 Thanks for visiting!