Regional Territories 4
This section contains monthly articles on over two dozen territories. To relive those wonderful days of old, click here.
Wrestlers 4
Enter this section for bios/profiles of various wrestlers from the regional days. To find more out about your favorite pro wrestler, click here.
Stories 4
This section contains stories from the pros themselves told exclusively to Kayfabe Memories. Want to know more as told from the wrestlers themselves? Click here.
Old School Book Reviews4
Click here to find various book reviews from old school wrestlers.
KM Links 4
For tons of links to old school related sites, click
here
.
KM Micro Wrestlers4
What are Micro Wrestlers? Click here
to find out.
KM Interviews... 4
Click here to read exclusive interviews with stars from the regional territories.
www.kayfabememories.com is © 2004 AtomDesigns. All promotional art, characters, logos and other depictions are © their respective owners. All Rights Reserved.
All contents save Wrestler Stories are © Kayfabe Memories.
Website designed and maintained by AtomDesigns © 2004 . If you experience any problems with this site or have any questions, please contact the Webmaster.
Great St. Louis Referees
- John Edwards
The referee in a professional wrestling match is a key participant, along with the grapplers. The "third man in the ring" monitors the action, ensures the match stays on time, calls for the finish, relays information from the booker in the back, might pass a blade or a foreign object, and might even help "call" the match. The referee accomplishes all this while staying out of the action and making sure the talent is the focus of the match. In some cases, the referee might even "take a bump" (see "Dusty Finish") Some referees are former wrestlers or wanted to be wrestlers (such as Bronko Lubich in World Class and Nick Patrick in WCW), some are bookers and office types, and some are career referees.
The St. Louis NWA promotion had all of these types at one time or another during the glory years of the promotion. In addition, we had many times where we were treated to a "Special Guest Referee" when a feud had to be settled or the action was so intense that a special referee had to be called upon the ensure a fair match and a clean finish.
As mentioned in earlier articles, the referee had a special place in Sam Muchnick's NWA promotion. Unlike today, referees were totally respected. The few (and I mean very few) times a referee was touched resulted in an immediate disqualification. (And, of course, the money drawing rematch.) The few grapplers I ever saw touch the referee were Dick The Bruiser and Ox Baker. This is not to say there were not more cases of this in St. Louis. It was, however, an uncommon occurrence compared to today's product.
Regular St. Louis Referees
I would like to pay tribute to the great referees who kept the action at the Chase and the Kiel on the level in the squared circle. They were, for the most part, local St. Louis personalities, who had long-time association with Sam Muchnick and the St. Louis Wrestling Club. I have researched to the extent possible for any information I could come up with on these legends of the squared circle. Sadly, due to to history and the keeping of kayfabe, there is not much information available. The following listing of St. Louis referees is mostly from my memory and reading what is available on the internet or working with others, such as ChiTown Rich.
Here is my listing (with comments) of the referees that worked in the St. Louis NWA promotion in the late 1970s and early 1980s. In some cases, these men had worked in St. Louis going back to the 1940s or 1950s.
ü Joe Tangaro - A 1971 Kiel Program described Joe as a "former Army physical training instructor".
ü Charles Venater - One of my favorites that would give it right back to the heels when they would challenge him.
ü Terry Garvin - Worked with the SLWC in the early 1980s.
ü Sonny Myers - I seem to recall him actively refereeing in St. Louis. While I know he had a long time association with the Central States region, this would make sense, since Bob Geigel worked closely with Sam Muchnick.
ü Ed Warren - A longtime fixture on Wrestling At The Chase and the Kiel Auditorium shows.
ü Lee Warren - Assume he was related to Ed
ü Joe Schoenberger - Another long time referee. I don't know too much about him, but I know I saw him hundred of times on Sunday morning.
ü Eddie Smith - Another referee regular on St. Louis TV.
More...
If you'd like to discuss the St. Louis region with other fans, please visit the KM Message Board

KM DVD/VHS Store 4
Click here to purchase DVD or VHS products direct from the official distributors.
KM Replica Masks 4
Click here to purchase pro quality replica wrestling masks of all your favorite old school masked wrestlers.
KM Store 4
The KM Store now features products featuring the GCW logo as well as some other very cool images. To see what's new and to purchase T-Shirts, ball caps, mouse pads and more, click here.
KM Message Board 4
Want to chat with other fans of regional wrestling? This message board has forums for over two dozen promotions. Click here.
KM Belt Gallery 4
This section contains an extensive title belt gallery... images of heavyweight, tag, U.S. and various regional title belts. To view it, click here.
Old School Tape Review 4
Reviews of various PPV's, commercial tapes and regional wrestling TV shows are available in this section. To read more, click here.
Website designed & maintained by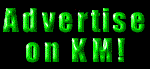 Thanks for visiting!