Regional Territories 4
This section contains monthly articles on over two dozen territories. To relive those wonderful days of old, click here.
Wrestlers 4
Enter this section for bios/profiles of various wrestlers from the regional days. To find more out about your favorite pro wrestler, click here.
Stories 4
This section contains stories from the pros themselves told exclusively to Kayfabe Memories. Want to know more as told from the wrestlers themselves? Click here.
Old School Book Reviews4
Click here to find various book reviews from old school wrestlers.
KM Links 4
For tons of links to old school related sites, click
here
.
KM Micro Wrestlers4
What are Micro Wrestlers? Click here
to find out.
KM Interviews... 4
Click here to read exclusive interviews with stars from the regional territories.
www.kayfabememories.com is © 2004 AtomDesigns. All promotional art, characters, logos and other depictions are © their respective owners. All Rights Reserved.
All contents save Wrestler Stories are © Kayfabe Memories.
Website designed and maintained by AtomDesigns © 2004 . If you experience any problems with this site or have any questions, please contact the Webmaster.
Flashback: 1977
- John Edwards
In 1977, the SLWC was stronger than ever. Harley Race was at or near the top of the NWA for much of the year. The Missouri State Title continued to be one of the leading regional belts. Kiel Auditorium was at or near capacity for the St. Louis Wrestling Club's twice-monthly cards. Apparently the NWA and the WWWF had reached enough peace to have a working agreement in place, with Superstar Billy Graham and Harley Race squaring off in Miami the next year. In 1977, I was 12 years old and could not get enough of Wrestling at the Chase, Sunday mornings at "11 on 11". (KPLR-TV Channel 11 in St. Louis) My wrestling knowledge was supplemented by reading the "Apter Mags" at the drugstore. Due to the kindness of relatives and friends parents, I was attending 3-4 cards a year in person at the Kiel.
My observances of 1977 are boosted by snippets from an excellent newsletter for its time, "The Squared Circle", which was put out by the "Wrestling Fans International Association". It was strictly kayfabe in nature, but fun reading now 25 years later. Major contributors were Larry Matysik and Roger Deem, among others. Here now, in no particular order, are some of the major stories from some 1977 issues:
September 1977 Issue:
ü Superstar Billy Graham recently topped Jimmy Valiant in St. Louis. This is a case of the WWWF belt being defended outside of the northeast, in (arguably) the hometown of the NWA. Odd that the match was only #3 on the card.
ü The issue had a "Rolling Around the Mats" column by Larry Matysik describing, in detail, the NWA rule that a challenger had to win two out of three falls by pinfall or submission to capture the title. The final fall had to be by pinfall or submission, NOT by DQ. (a fact that Ric Flair would take much advantage of later in the 1980s)
ü Dick Slater recently captured the Missouri State Title from Jack Brisco. The fall was in 9:45 with a shoulder breaker. Wow! A clean finish with a shoulder breaker! Dick Slater was a clear-cut bad guy, who was already making heelish comments.
ü In Kansas City, Bruiser Bob Sweetan was recently disqualified for "attempting to end young Ted DiBiase's career by using four piledrivers on the young DiBiase."
ü Recent results were given for TV and house show cards in St. Louis and Kansas City.
ü Rufus R. Jones won $3,000 from Bob Slaughter (later Sergeant Slaughter) in the "Cobra Clutch" Challenge in Kansas City. This, of course, led to a feud between the two in the Central States region.
ü A feature article on a recent NWA title defense in St. Louis. Harley Race and Dory Funk Jr. went the full hour at one fall apiece. Race got the first fall in 20:04 with the Indian Deathlock (I loved that hold!). Funk got the second fall with a Front Headlock in 21:05. The battle see-sawed for the remaining 18:51, with the bell sounding as Funk had Race locked in a Boston Crab. Just a comment, can you imagine today's fans sitting through that match? Without chanting "Boooo-riiiing"?
More...
If you'd like to discuss the St. Louis region with other fans, please visit the KM Message Board

KM DVD/VHS Store 4
Click here to purchase DVD or VHS products direct from the official distributors.
KM Replica Masks 4
Click here to purchase pro quality replica wrestling masks of all your favorite old school masked wrestlers.
KM Store 4
The KM Store now features products featuring the GCW logo as well as some other very cool images. To see what's new and to purchase T-Shirts, ball caps, mouse pads and more, click here.
KM Message Board 4
Want to chat with other fans of regional wrestling? This message board has forums for over two dozen promotions. Click here.
KM Belt Gallery 4
This section contains an extensive title belt gallery... images of heavyweight, tag, U.S. and various regional title belts. To view it, click here.
Old School Tape Review 4
Reviews of various PPV's, commercial tapes and regional wrestling TV shows are available in this section. To read more, click here.
Website designed & maintained by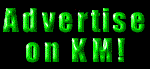 Thanks for visiting!