Regional Territories 4
This section contains monthly articles on over two dozen territories. To relive those wonderful days of old, click here.
Wrestlers 4
Enter this section for bios/profiles of various wrestlers from the regional days. To find more out about your favorite pro wrestler, click here.
Stories 4
This section contains stories from the pros themselves told exclusively to Kayfabe Memories. Want to know more as told from the wrestlers themselves? Click here.
Old School Book Reviews4
Click here to find various book reviews from old school wrestlers.
KM Links 4
For tons of links to old school related sites, click
here
.
KM Micro Wrestlers4
What are Micro Wrestlers? Click here
to find out.
KM Interviews... 4
Click here to read exclusive interviews with stars from the regional territories.
www.kayfabememories.com is © 2004 AtomDesigns. All promotional art, characters, logos and other depictions are © their respective owners. All Rights Reserved.
All contents save Wrestler Stories are © Kayfabe Memories.
Website designed and maintained by AtomDesigns © 2004 . If you experience any problems with this site or have any questions, please contact the Webmaster.
Black Jack Lanza Headlines in
St. Louis 1970 & 1971
- John Edwards
My source information for this month's article is mostly from old back copies of the wonderful kayfabe newsletter/program "Wrestling" which was sold at every Kiel/Arena card and also available through the mail via subscription. "Wrestling" was the official voice of the St. Louis Wrestling Club and was beautifully simple and kayfabe in nature. Unlike today's dirt sheets, web sites, and newsletters, that admit story lines, angles, and who is refusing to job to who, "Wrestling" presented the matches as official news. Upcoming lineups were announced and "quotes" from wrestlers were inserted. Local TV results were announced, along with ticket prices and information. "Wrestling" was essentially a program for the upcoming card and much more. Thanks to friends of Kayfabe Memories and fans of St. Louis old school, such as Rich Tito, I have a number of back issues of "Wrestling" from the 70s and early 80s that I frequently reference for these monthly articles. In addition to the old back issue information, I use my memories of the St. Louis scene, 20+ years ago.

Black Jack Lanza Headlines in St. Louis! – 1970 & 1971
Black Jack Lanza was a huge name throughout the major federations in the 1970s and 1980s. He headlined throughout the NWA, AWA, and WWWF. He had many a match in St. Louis (accompanied by Bobby Heenan) during this time. The focus of this months' article is on a number of matches Lanza had during a 1970-71 run at the Kiel, Arena, and "Championship Wrestling" (the forerunner of Wrestling At The Chase).
February 6, 1970 – Lanza takes two out of three falls (remember those matches?) from an up-and-coming contender named Jack Brisco. Interesting that a few years later, Jack would be one of the best NWA Champions ever, yet in 1970 was "doing the honors" at the Kiel. On an unrelated aside, Jack wrestled a lot in St. Louis during the years prior to his NWA title. It seems like Sam liked to take the potential future NWA contenders and have them work St. Louis to see how the crowd reacted to them. He did the same with a young Ric Flair, the Von Erichs, the Funks, and so forth.
February 20, 1970 – Two weeks later, Lanza teamed with Bob Geigel to take on the team of Dick the Bruiser and Ernie "The Cat" Ladd in the finale of the card. All I can say is Wow! I would have loved to have seen this one. Interesting on many levels – especially with the rare appearances of the "Big Cat" and Bob Geigel, and Bruiser's known aversion to "doing the job". Sorry, no result on this one.
April 2, 1971 – Lanza has a title shot against strap holder Dory Funk, Jr. at the Arena, inside a steel cage! (well, OK, a seven foot high chain link fence). This was important for several reasons. One, as a rule, Sam Muchnick did not like "gimmick matches". Two, Lanza was well-regarded enough for a NWA Title shot. Three, this match marked the return of Bobby Heenan to ringside after a December 1970 "indefinite suspension" from Sam Muchnick. Dory Funk, Jr. won the match and retained the title.
Also noteworthy on this card: The Central States Title (KC regional belt) was defended in St. Louis for the first time, as Harley Race (hailing from "Hollywood, California") defeated Ronnie Etchison. Also on this card, Dory Funk, Sr. defeated Don Fargo in the third match.
More...
If you'd like to discuss the St. Louis region with other fans, please visit the KM Message Board

KM DVD/VHS Store 4
Click here to purchase DVD or VHS products direct from the official distributors.
KM Replica Masks 4
Click here to purchase pro quality replica wrestling masks of all your favorite old school masked wrestlers.
KM Store 4
The KM Store now features products featuring the GCW logo as well as some other very cool images. To see what's new and to purchase T-Shirts, ball caps, mouse pads and more, click here.
KM Message Board 4
Want to chat with other fans of regional wrestling? This message board has forums for over two dozen promotions. Click here.
KM Belt Gallery 4
This section contains an extensive title belt gallery... images of heavyweight, tag, U.S. and various regional title belts. To view it, click here.
Old School Tape Review 4
Reviews of various PPV's, commercial tapes and regional wrestling TV shows are available in this section. To read more, click here.
Website designed & maintained by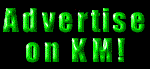 Thanks for visiting!