Regional Territories 4
This section contains monthly articles on over two dozen territories. To relive those wonderful days of old, click here.
Wrestlers 4
Enter this section for bios/profiles of various wrestlers from the regional days. To find more out about your favorite pro wrestler, click here.
Stories 4
This section contains stories from the pros themselves told exclusively to Kayfabe Memories. Want to know more as told from the wrestlers themselves? Click here.
Old School Book Reviews4
Click here to find various book reviews from old school wrestlers.
KM Links 4
For tons of links to old school related sites, click
here
.
KM Micro Wrestlers4
What are Micro Wrestlers? Click here
to find out.
KM Interviews... 4
Click here to read exclusive interviews with stars from the regional territories.
www.kayfabememories.com is © 2004 AtomDesigns. All promotional art, characters, logos and other depictions are © their respective owners. All Rights Reserved.
All contents save Wrestler Stories are © Kayfabe Memories.
Website designed and maintained by AtomDesigns © 2004 . If you experience any problems with this site or have any questions, please contact the Webmaster.
Sunday May 19, 1981 - Wrestling At the Chase, 11:00 AM on KPLR-TV Channel 11
- John Edwards
As mentioned many times in my past articles and throughout the St. Louis board, Wrestling At the Chase was a St. Louis institution for nearly a quarter of a century (1959-1983). The show dominated its 11:00 am timeslot on Sunday for many years against all comers on Channel 2, 4, and 5 (the major networks). I saw for myself how WATC dominated the competition in 1983 when I had an internship in the promotions department at KPLR (as a sophomore at Washington University). Larry Matysik and Mickey Garigiola were welcomed into thousands of homes in the St. Louis area every week, as they presented the best of the NWA and the St. Louis Wrestling Club.
Today I will take a look back at a specific episode of WATC: May 19, 1981. To set the scene:
ü Harley Race is the defending NWA champion. Ted DiBiase, Dusty Rhodes, Ric Flair, and a host of others are hot on his heels. Race is, as usual, over huge in St. Louis as a credible brawling champ who could also wrestle an hour or so, when called upon.

ü Ted DiBiase is the defending Missouri State Champion, and is also over huge, as a face. At this time, at least to me, he had future NWA champion written all over him.

ü Dusty Rhodes is making more St. Louis appearances, including interview time on WATC. In-ring interviews with Larry were infrequent, making them a "big deal" when they did occur. Seeing as how Dusty was about to receive a short-term "transitional" NWA title reign, prior to Flair winning the belt in Kansas City in September 1981, I think Sam Muchnick was bringing in Dusty to see how the always-tough St. Louis crowds would react to him.

ü Ric Flair was also making frequent St. Louis appearances. Same logic. If it looked like Ric Flair was the "long term guy" for the NWA belt, it made sense to get him exposed to all the NWA regions: Georgia, Florida, Texas, St. Louis, Mid-Atlantic, Memphis, Canada, Mexico, Japan, Continental, Central States, Portland, and so on.

ü Dick the Bruiser (in addition to owning/booking/running his own WWA company four hours from St. Louis) was over huge as the brawling anti-hero who took on all comers.
The Show:
Here are the matches (with my commentary) from May 19, 1981:
OPENING BOUT, One fall with a 10-minute time limit
"American Dream" Dusty Rhodes, 266, Austin, TX defeated David Oswald, 230, Union City, TN, referee Chuck Riley (flying elbow drop in 4:09)
Interesting, with an ego to match his size , Dusty was in the opening bout of a TV taping. Not the main event or the special attraction, but the opener. Pretty standard stuff. I totally respect anyone who ever stepped between the ropes and into the squared circle - that being said, the jobbers/enhancement talent/carpenters/jabronis, or whatever term you prefer that Sam Muchnick used were pretty awful. God bless David Oswald, but he had no body, no look, no offense, no nothing. I often wondered where Sam found these guys?
Larry spent most of the match putting over Dusty, his record, his previous NWA title reign, and the upcoming bout on June 12, 1981 at the Checkerdome (see the card later in this article). Dusty would team with Dick the Bruiser to meet Ric Flair and Ken Patera near the top of the card at the Checkerdome. Larry also put over that Dusty would be at the top of the list of Harley's future challengers. Also interesting about this bout was that Dusty seemed almost subdued as compared to his antics in Mid-Atlantic and Georgia. He did not do the signature spot where he would wiggle his butt to escape the side headlock.
More...
If you'd like to discuss the St. Louis region with other fans, please visit the KM Message Board

KM DVD/VHS Store 4
Click here to purchase DVD or VHS products direct from the official distributors.
KM Replica Masks 4
Click here to purchase pro quality replica wrestling masks of all your favorite old school masked wrestlers.
KM Store 4
The KM Store now features products featuring the GCW logo as well as some other very cool images. To see what's new and to purchase T-Shirts, ball caps, mouse pads and more, click here.
KM Message Board 4
Want to chat with other fans of regional wrestling? This message board has forums for over two dozen promotions. Click here.
KM Belt Gallery 4
This section contains an extensive title belt gallery... images of heavyweight, tag, U.S. and various regional title belts. To view it, click here.
Old School Tape Review 4
Reviews of various PPV's, commercial tapes and regional wrestling TV shows are available in this section. To read more, click here.
Website designed & maintained by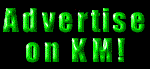 Thanks for visiting!