Regional Territories 4
This section contains monthly articles on over two dozen territories. To relive those wonderful days of old, click here.
Wrestlers 4
Enter this section for bios/profiles of various wrestlers from the regional days. To find more out about your favorite pro wrestler, click here.
Stories 4
This section contains stories from the pros themselves told exclusively to Kayfabe Memories. Want to know more as told from the wrestlers themselves? Click here.
Old School Book Reviews4
Click here to find various book reviews from old school wrestlers.
KM Links 4
For tons of links to old school related sites, click
here
.
KM Micro Wrestlers4
What are Micro Wrestlers? Click here
to find out.
KM Interviews... 4
Click here to read exclusive interviews with stars from the regional territories.
www.kayfabememories.com is © 2004 AtomDesigns. All promotional art, characters, logos and other depictions are © their respective owners. All Rights Reserved.
All contents save Wrestler Stories are © Kayfabe Memories.
Website designed and maintained by AtomDesigns © 2004 . If you experience any problems with this site or have any questions, please contact the Webmaster.
A Look at Dick the Bruiser
- John Edwards
This month's article will be a little different in look and feel that the norm. I wanted to take a look at Dick the Bruiser, an absolute legend whose career in the sport spanned 30 years. Dick's career also cut across the NWA, the AWA, and of course, his own WWA promotion based in Indianapolis. He was a mainstay in St. Louis from the mid-60s to the mid-80s. This look back could not be done in the normal 1000-1200 word essay. So, for your enjoyment, I have brought in some of the best DTB information from across the wrestling universe (and, of course, give full credit to the original authors and links to their sites). I finish up this month's article with my personal recollections of DTB.
FULL CREDIT TO: http://www.wrestlingmuseum.com (Wrestling Museum.com)
Dick the Bruiser By Steve Slagle (Note: This is a great overview)
Richard "Dick The Bruiser" Afflis was an early NFL football star turned pro wrestling legend...one of the key wrestlers during wrestling's incredible boom after World War II, and with out a doubt one of the most influential brawlers ever. Dick the Bruiser originated, and personified, wrestling's beer guzzling, cigar chomping, tough-as-nails Bar Room Brawler tough guy character. From the 1950's and 1960's, through the 1970's and early 1980's Bruiser was a force like few others within pro wrestling. Quite simply, he faced off in some form or another against virtually every wrestling superstar for over 30 years. In the past, it was once joked in wrestling locker rooms that no matter where you had wrestled during your career...until you'd faced off against Dick the Bruiser, you couldn't really call yourself a true pro wrestler...
At 260 lbs. of solid muscle, with his crew cut and trademark gravely, barreling voice (the result of a crushed esophagus sustained during his NFL career) and a neck thicker than his head, Dick The Bruiser was, along with Buddy Rogers, perhaps the single most hated villain in wrestling after he began his career in the early 1950's. But unlike the sophisticated Rogers, The Bruiser was known and feared for being a merciless juggernaut inside the ring, brutally punishing his opponents before finishing them off, usually with his famous top-rope knee drop. And his bulldozer, beer-swilling persona was both hated and, at the same time, incredibly popular with the fans. His famous name from his football days, combined with his nationwide notoriety gained by "bustin' brains" (as he would say) inside the squared circle, Dick The Bruiser was easily one of the best-known wrestling personalities and a true cross-over media celebrity.
One of his first major championships was the nationally prestigious N.W.A. United States Heavyweight title, which he won in 1957. For the next 5 years he dominated the title, winning 5 U.S. championships between 1957 through 1962, and at the same time, he also ruled the tag team division. In 1960, he and Gene Kiniski teamed to win the NWA World Tag Team (Chicago) title, just months before several Midwestern promoters broke away from the NWA, and the championship was renamed the A.W.A. World Tag Team title. Dick The Bruiser would go on to win the A.W.A. World Tag Team title 5 times between 1963 through 1975, with both Wilber Snyder, and Bruiser's longtime fighting partner The Crusher. Dick the Bruiser also won the A.W.A. World Heavyweight championship in 1966, and dominated the W.W.A. World Heavyweight title, winning it 9 times between 1964-1984.
After a decade or so of being one of wrestling's most feared villains, yet being cheered by a large section of the audience (especially in Bruiser-strongholds like Chicago, Minneapolis, and Missouri), The Bruiser eventually became a complete, and incredibly popular, fan favorite. He still guzzled beer and chewed on his trademark cigar, but now he -- along with his longtime fighting partner The Crusher -- were stomping all over the "bad guys" instead of trying to cripple the "good guys." The two similar brawlers seemed as though they were brothers separated at birth, and they absolutely dominated tag team wrestling in the Midwest.
More...
If you'd like to discuss the St. Louis region with other fans, please visit the KM Message Board

KM DVD/VHS Store 4
Click here to purchase DVD or VHS products direct from the official distributors.
KM Replica Masks 4
Click here to purchase pro quality replica wrestling masks of all your favorite old school masked wrestlers.
KM Store 4
The KM Store now features products featuring the GCW logo as well as some other very cool images. To see what's new and to purchase T-Shirts, ball caps, mouse pads and more, click here.
KM Message Board 4
Want to chat with other fans of regional wrestling? This message board has forums for over two dozen promotions. Click here.
KM Belt Gallery 4
This section contains an extensive title belt gallery... images of heavyweight, tag, U.S. and various regional title belts. To view it, click here.
Old School Tape Review 4
Reviews of various PPV's, commercial tapes and regional wrestling TV shows are available in this section. To read more, click here.
Website designed & maintained by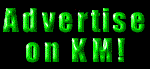 Thanks for visiting!