Regional Territories 4
This section contains monthly articles on over two dozen territories. To relive those wonderful days of old, click here.
Wrestlers 4
Enter this section for bios/profiles of various wrestlers from the regional days. To find more out about your favorite pro wrestler, click here.
Stories 4
This section contains stories from the pros themselves told exclusively to Kayfabe Memories. Want to know more as told from the wrestlers themselves? Click here.
Old School Book Reviews4
Click here to find various book reviews from old school wrestlers.
KM Links 4
For tons of links to old school related sites, click
here
.
KM Micro Wrestlers4
What are Micro Wrestlers? Click here
to find out.
KM Interviews... 4
Click here to read exclusive interviews with stars from the regional territories.
www.kayfabememories.com is © 2004 AtomDesigns. All promotional art, characters, logos and other depictions are © their respective owners. All Rights Reserved.
All contents save Wrestler Stories are © Kayfabe Memories.
Website designed and maintained by AtomDesigns © 2004 . If you experience any problems with this site or have any questions, please contact the Webmaster.
A Look at Pat O'Connor
- John Edwards
What kind of a wrestler and businessman was Pat O'Connor? Von Raschke recalls the beginnings of his version of the clawhold:
"I wound up wrestling against Pat O'Connor at the Kiel Auditorium. He was a master, just excellent. During the match, he said, "Put the claw on me." I asked, (whispers) "What's the claw?" He guided me through it and it seemed to get over pretty good. We had a real good match."– credit: http://baronvonraschke.com/history/
This month's article is a combination of personal memories and articles I found while researching the life and career of Pat O'Connor. I give full credit to the authors of any material referenced.
By the time I was old enough to enjoy Wrestling at the Chase and the twice-monthly cards at the Kiel, (mid-70s thru 1984) Pat's best days were behind him. Even then, though, I could tell he was something special. Even into his 50s, Pat could still go. Even at the twilight of his career he could carry others to good matches and put on a good 7-10 minute match on television. Working with him held the cachet of competing against a "Former World's Champion". Every time a Lou Thesz, Gene Kiniski, Jack Brisco, Dory Funk, Jr, Harley Race and so on worked (as a wrestler or referee) St. Louis TV at the Chase, the Kiel, or the Arena, they always got introduced as a "Former World's Champion" on the program and by the ring announcer. Even though by this time Pat was carrying and putting others over, he never came across as a "jobber" or "enhancement talent" – even until the final match at Sam Muchnick's retirement card – January 1, 1982 where (at the age of 58!) he defeated Bob Sweetan at the Arena in front of 19,000 fans.
On the business end, Pat was heavily involved in both the Central States (Bob Geigel) promotion and, later on, the St. Louis promotion. Pat was part of the group that bought out Sam Muchnick and took over in 1982 and owned/ran Central States and St. Louis until the promotions closed.
Pat had many career highlights which will be looked at more in depth below. The crowning moment of his career was his NWA Title reign which began in St. Louis (where else?) in 1959 and ended in Chicago in 1961 in the "Match of the Century" against "Nature Boy" Buddy Rogers in front of 30,000 people at Comiskey Park. Buddy Rogers reign would eventually result in the NWA/WWWF split in 1963.
CREDIT TO: Steve Slagle and The Wrestling Musuem
Pat O'Connor
Real Name: Patrick O'Connor
Stats: 6' 230 lbs.
Born: 1924
By Steve Slagle
"Pat O`Connor was one of the absolute best wrestlers on the planet (as well as one of the most famous and popular) during the 1940's, 1950's, and through the 1960's. His time in the ring actually lasted until the mid-1970's, marking a career spanning some 30 years! Throughout his career, the athletic New Zealander was a loved hero known worldwide for his skill and sportsmanship, not to mention being renowned as a multi-time World Champion and regional titleholder. Always the consummate champion, O`Connor -- with his friendly New Zealander accent -- was known as a true professional, both in and out of the ring. His reputation proceeded him, and through his worldwide travels, he established himself as unquestionably one of pro wrestling's biggest attractions during his day.
O`Connor won one of his first championships, the Florida Heavyweight title, in 1944. He also won the prestigious AWA/IWA (Montreal) World Heavyweight title twice -- both by defeating his longtime nemesis Killer Kowalski, once in 1954 and again in 1955. Among other titles O`Connor won throughout his illustrious career were two Central States Heavyweight championships in 1962 and 1963, two Missouri Heavyweight titles in 1962 and 1967, and the A.W.A. World Tag Team title on November 11, 1967 in Chicago with partner Wilber Snyder.
More...
If you'd like to discuss the St. Louis region with other fans, please visit the KM Message Board

KM DVD/VHS Store 4
Click here to purchase DVD or VHS products direct from the official distributors.
KM Replica Masks 4
Click here to purchase pro quality replica wrestling masks of all your favorite old school masked wrestlers.
KM Store 4
The KM Store now features products featuring the GCW logo as well as some other very cool images. To see what's new and to purchase T-Shirts, ball caps, mouse pads and more, click here.
KM Message Board 4
Want to chat with other fans of regional wrestling? This message board has forums for over two dozen promotions. Click here.
KM Belt Gallery 4
This section contains an extensive title belt gallery... images of heavyweight, tag, U.S. and various regional title belts. To view it, click here.
Old School Tape Review 4
Reviews of various PPV's, commercial tapes and regional wrestling TV shows are available in this section. To read more, click here.
Website designed & maintained by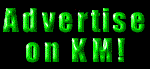 Thanks for visiting!