Regional Territories 4
This section contains monthly articles on over two dozen territories. To relive those wonderful days of old, click here.
Wrestlers 4
Enter this section for bios/profiles of various wrestlers from the regional days. To find more out about your favorite pro wrestler, click here.
Stories 4
This section contains stories from the pros themselves told exclusively to Kayfabe Memories. Want to know more as told from the wrestlers themselves? Click here.
Old School Book Reviews4
Click here to find various book reviews from old school wrestlers.
KM Links 4
For tons of links to old school related sites, click
here
.
KM Micro Wrestlers4
What are Micro Wrestlers? Click here
to find out.
KM Interviews... 4
Click here to read exclusive interviews with stars from the regional territories.
www.kayfabememories.com is © 2004 AtomDesigns. All promotional art, characters, logos and other depictions are © their respective owners. All Rights Reserved.
All contents save Wrestler Stories are © Kayfabe Memories.
Website designed and maintained by AtomDesigns © 2004 . If you experience any problems with this site or have any questions, please contact the Webmaster.
Enhancement Talent - 1981
- John Edwards
I, for one, miss the good old-fashioned TV "squash" match. You fans of the kayfabe days all remember the basic formula. A one-hour TV show, including four matches, all name players in the local promotion against (insert your favorite term here)...."jobbers", "ham 'n eggers", "carpenters" (because they built up the opponent), and so forth. In today's environment, you have name grappler versus name grappler on the weekly TV product. The primary purpose of today's TV shows is to build up interest in the next pay-per-view event. In fact, sometimes the WWE (and former WCW) would go too far and "hot book" a potential PPV match to "spike" a TV rating. Essentially giving away something for free that could have been sold (via PPV) later.
Back in the day, the formula was different. The local TV show existed to promote the next local house show. St. Louis was no different. "Wrestling at the Chase" on Channel 11 existed to promote and sell tickets to the next Kiel or Arena event. The matches and interviews served to generate interest and sell tickets. And to give the faces and heels a forum to showcase their talents.
Now, to get the faces over as faces and the heels over as heels, the "name" talent needed opponents who would readily bump for them, and ultimately, after 5-10 minutes in the ring on camera, "do the job". The focus of this months' article is on these largely unknown heroes of the squared circle, the "jobbers".
Before I go on, I must say that I had seen many a TV taping in person at the Chase. I mean no disrespect with the term "jobber". My travels around the KM board have given me a great respect for these gentleman. I, for one, would never want to take a Harley Race suplex, a Dick The Bruiser piledriver, a Crusher Blackwell giant splash, a Ric Flair figure four leglock, a Dory Funk Jr. spinning toe hold, or a King Kong Brody flying kneedrop! I give credit to these athletes and miss what they brought to the ring. For every one of the stars just mentioned to shine in the ring, they needed a willing and talented partner. It does, in fact, take two to tango. And to put on a great wrestling match.
Before I go on, I have questions I still wonder about to this day. Today, we know that most of the younger, lesser known talent generally comes from wrestling schools and work their way up from the independent promotions. By the time someone reaches the WWE, we know who they are and their history. I have long wondered about some of these guys I am about to describe. How did Sam and Larry find them? Who were they? Did any of them actually go on to have successful careers?
The focus of this month's article is on a classic TV episode of Wrestling at the Chase, dated May 31, 1981. I will focus on my observations of the lesser known "enhancement" talent in the matches. Without further ado, here goes: (jobbers underlined)
May 31, 1981 – Wrestling at the Chase
Opener: (one fall, 10 minute time limit)
David Oswald, 242, Union City, TN vs. Dusty Rhodes
David Oswald was pretty terrible. Pale skin, concave chest – just no "look" whatsoever. His entire offensive repertoire consisted of some weak forearms. Dusty takes this one with a flying elbow in 4:09.
Second Match: (first main event, one fall, 20 minute time limit)
Ron Sexton, 230, Knoxville, TN vs. Harley Race (NWA Champ)
This was probably the only time the words "Ron Sexton" and "main event" were used in the same sentence. More of the same. Ron Sexton was pretty darn awful. (I hope nobody tells me he put on a mask and went to Japan and became a Triple Crown Champion...) Like his fellow Volunteer, Ron was pale, skinny, and decidedly lacking on talent. He did, however, bump well for Harley Race, and did his duty at 6:02 when Harley dropped him with a vertical suplex.
More...
If you'd like to discuss the St. Louis region with other fans, please visit the KM Message Board

KM DVD/VHS Store 4
Click here to purchase DVD or VHS products direct from the official distributors.
KM Replica Masks 4
Click here to purchase pro quality replica wrestling masks of all your favorite old school masked wrestlers.
KM Store 4
The KM Store now features products featuring the GCW logo as well as some other very cool images. To see what's new and to purchase T-Shirts, ball caps, mouse pads and more, click here.
KM Message Board 4
Want to chat with other fans of regional wrestling? This message board has forums for over two dozen promotions. Click here.
KM Belt Gallery 4
This section contains an extensive title belt gallery... images of heavyweight, tag, U.S. and various regional title belts. To view it, click here.
Old School Tape Review 4
Reviews of various PPV's, commercial tapes and regional wrestling TV shows are available in this section. To read more, click here.
Website designed & maintained by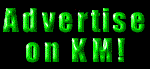 Thanks for visiting!