Regional Territories 4
This section contains monthly articles on over two dozen territories. To relive those wonderful days of old, click here.
Wrestlers 4
Enter this section for bios/profiles of various wrestlers from the regional days. To find more out about your favorite pro wrestler, click here.
Stories 4
This section contains stories from the pros themselves told exclusively to Kayfabe Memories. Want to know more as told from the wrestlers themselves? Click here.
Old School Book Reviews4
Click here to find various book reviews from old school wrestlers.
KM Links 4
For tons of links to old school related sites, click
here
.
KM Micro Wrestlers4
What are Micro Wrestlers? Click here
to find out.
KM Interviews... 4
Click here to read exclusive interviews with stars from the regional territories.
www.kayfabememories.com is © 2004 AtomDesigns. All promotional art, characters, logos and other depictions are © their respective owners. All Rights Reserved.
All contents save Wrestler Stories are © Kayfabe Memories.
Website designed and maintained by AtomDesigns © 2004 . If you experience any problems with this site or have any questions, please contact the Webmaster.
Bruiser's WWA and How It Fit With
Sam Muchnick in St. Louis
- John Edwards
Richard Afflis, better known for most of his adult life by his professional wrestling ring name, Dick the Bruiser, was quite successful - both in the ring as a brawling legend, and on the business end as a booker, promoter, and matchmaker in Indianapolis, Indiana.
As mentioned many times prior in these pages, part of the beauty of the "kayfabe era" was how the average fan/TV viewer did not know the real workings of the business. Without the internet or "dirt sheets", who in St. Louis knew what was happening in Kansas City, Chicago, or even Indianapolis, a mere four hour drive away? Well, apparently quite a bit was happening, including many of the same stars we saw each week on "Wrestling at the Chase" or at the Kiel Auditorium.
A few months back, I took a look at Dick the Bruiser and his achievements from the mid-50s thru the mid-80s. This month, I would like to take a brief look at the relationship between Bruiser and his World Wrestling Alliance (WWA) promotion, based in Indianapolis and Sam Muchnick in St. Louis .
Bruiser realized, early on, like many other giants of the business (Race, Sheik, Funk, Gagne, Fritz Von Erich, and Bob Geigel among them) that the real money was not just in main eventing for big paydays, but also in promoting your own successful events. In the mid 1960s, Bruiser, along with Wilbur Snyder (another ring legend - ironically, usually Bruiser's nemesis) received the opportunity to go into business together when the Indianapolis territory opened up.
To give the newfound promotion some legitimacy, Bruiser won a version of the WWA-Los Angeles World Title from Fred Blassie (RIP) in early 1964 and showed clips of the match on his local Indianapolis television, along with wearing the belt. This became the WWA-Indianapolis version of the World Heavyweight Title. In addition, the promotion also boasted tag-team champions. Here now, are some thoughts and comments about Bruiser's WWA and how the promotion fit with St. Louis .
What towns did Bruiser run over the years? - "So, the whole territory that was the original WWA included Chicago , Indianapolis , Detroit , Louisville , and possibly parts of Ontario . It also included such towns as Champaign , Danville , Peoria , and Springfield , Ill. , Evansville , Ft. Wayne , Hammond and Elkhart , Indiana ." (courtesy of the WWA Region page - kayfabememories.com)
Notice that some of these towns were very close geographically to St. Louis and might even have received St. Louis television. This did not seem to be a problem, as Sam Muchnick ran St. Louis as a one-town territory and apparently did not mind Bruiser doing business in his backyard.
WWA Towns - More: "They leased Louisville and Evansville to Nick Gulas, who eventually lost the licensing to Jerry Jarrett in the 70's. Hammond and the Illinois towns became AWA, while Elkhart and Ft. Wayne remained WWA. After that, Indianapolis basically became a farm league for the AWA and St. Louis . What Bruiser and Snyder lost in territory, they gained in power, and they had a lot of stroke in the wrestling business for most of the remainder of their careers." (courtesy of the WWA Region page - kayfabememories.com)
What about Detroit ? - "In 1971, Bruiser and Snyder, along with Lincoln Cavaleri, started running shows in Detroit again in the aging Olympia Stadium. This seemed like a strange move at the time, as Sheik's promotion was an NWA promotion, and usually if you opposed the NWA, you were blacklisted. During this time, several of Dick's stars as well as himself were appearing in St. Louis , the home of the NWA." (courtesy of the WWA Region page - kayfabememories.com)

This comment raises an interesting point about the power of the NWA at this time. The conventional wisdom was always that the NWA member promoters would band together against non-members and that this strength was an advantage of being in the Alliance . It is also ironic that St. Louis, the crown jewel of the NWA, headed by Sam Muchnick, the biggest proponent and multi-time NWA President, did frequent and regular (big) business with the following:
ü Verne Gagne's AWA (Von Raschke, Jerry Blackwell, the High Flyers, & more)
ü Vince MacMahon Sr's WWWF (Appearances by Superstar Graham & Bob Backlund)
ü Bruiser's WWA (See below)
More...
If you'd like to discuss the St. Louis region with other fans, please visit the KM Message Board

KM DVD/VHS Store 4
Click here to purchase DVD or VHS products direct from the official distributors.
KM Replica Masks 4
Click here to purchase pro quality replica wrestling masks of all your favorite old school masked wrestlers.
KM Store 4
The KM Store now features products featuring the GCW logo as well as some other very cool images. To see what's new and to purchase T-Shirts, ball caps, mouse pads and more, click here.
KM Message Board 4
Want to chat with other fans of regional wrestling? This message board has forums for over two dozen promotions. Click here.
KM Belt Gallery 4
This section contains an extensive title belt gallery... images of heavyweight, tag, U.S. and various regional title belts. To view it, click here.
Old School Tape Review 4
Reviews of various PPV's, commercial tapes and regional wrestling TV shows are available in this section. To read more, click here.
Website designed & maintained by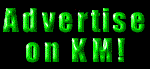 Thanks for visiting!