Regional Territories 4
This section contains monthly articles on over two dozen territories. To relive those wonderful days of old, click here.
Wrestlers 4
Enter this section for bios/profiles of various wrestlers from the regional days. To find more out about your favorite pro wrestler, click here.
Stories 4
This section contains stories from the pros themselves told exclusively to Kayfabe Memories. Want to know more as told from the wrestlers themselves? Click here.
Old School Book Reviews4
Click here to find various book reviews from old school wrestlers.
KM Links 4
For tons of links to old school related sites, click
here
.
KM Micro Wrestlers4
What are Micro Wrestlers? Click here
to find out.
KM Interviews... 4
Click here to read exclusive interviews with stars from the regional territories.
www.kayfabememories.com is © 2004 AtomDesigns. All promotional art, characters, logos and other depictions are © their respective owners. All Rights Reserved.
All contents save Wrestler Stories are © Kayfabe Memories.
Website designed and maintained by AtomDesigns © 2004 . If you experience any problems with this site or have any questions, please contact the Webmaster.
Looking Back: Greater St. Louis Wrestling - September 3, 1983
- John Edwards
Summer 1983 - Confusing times to be a wrestling fan. In St. Louis , I think the St. Louis Wrestling Club still had the coveted "11 at 11" on KPLR-TV. There were still decent crowds at the Kiel Auditorium. Bob Backlund was still the WWF Champion - we knew that by watching the WWF on the USA Network on Cable - or on WOR-TV, also on our cable. There were all kinds of feuds and bloodbaths on "Southwest Championship Wrestling" also on USA Network - I remember Eric Embry bleeding gushers in San Antonio . We had great feuds and angles from Atlanta "Georgia Championship Wrestling" via WTBS, also compliments of the cable company. The great WWF expansion had not happened - yet.
Yet the winds of change were beginning to blow. Earlier in 1983, Larry Matysik had split with the consortium that ran the St. Louis Wrestling Club (NWA St. Louis Promotion) after Larry's long-time boss and m entor , Sam Muchnick, retired. After Sam's retirement the office was purchased and run by Harley Race, Pat O'Connor, Bob Geigel, and Verne Gagne. I am not sure of the details behind Larry's split with the group: was it money? booking? content, angles? power? decision making? Well, for whatever reason, the split did occur and Larry ventured off on his own in 1983.
Larry formed his Greater St. Louis Wrestling (GSLW) promotion and began running shows at the Checkerdome (aka The Arena) and had TV on KDNL Channel 30. TV was taped at the "Checkerdome Sports Studio" - which was a curtained off portion of the Checkerdome, reduced capacity. It looked good on TV, always a good crowd.
Unusual for those days, Larry was not affiliated with any major promotion; for example, GSLW was not affiliated with the NWA, the AWA, the WWF, or even the WWA in Indianapolis . The GSLW promotion was known as an "outlaw" promotion - using talent that did not stay long in one area, or who had "issues" with bookers and promoters. There also seemed to be a strong influx of Texas-based talent. Some of the talent working for Larry in September 1983:
King Kong Brody

Adrian Adonis

Professor Toru Tanaka

Cowboy Scott Casey

Brian Madden (local St. Louis boy)

Spike Huber

Nikolai Volkoff

Jerry Oates

Tully Blanchard

"Enhancement" Talent - Ali Bey, Cocoa Samoa, Jesse Ortega, Mike Milton - Looks like they got alot of their job talent from the same place WATC got theirs!
With all that being said, in September 1983, the following card was presented on KDNL Channel 30 (not sure of the timeslot). As usual in the kayfabe days, the TV was used to hype the next Checkerdome show. At this time, GSLW was hyping the showdown between King Kong Brody and Nikolai Volkoff at an upcoming house show. Now, off to the matches!
First Match - One Fall - Jerry Oates, 240, Columbus , Georgia vs. Mike Milton , 246, Bayonne, New Jersey. Referee Eddie Smith.
I believe Jerry was the brother of Ted Oates, longtime St. Louis and Central States worker. This was a very basic TV match from 20 years ago, which is to say the workrate was night and day compared to today. During the match, Larry acknowledged and gave props to his old boss, Sam Muchnick. Also, Larry referred to Adrian Adonis as a "World Title Claimant" - Quite a switch from his WATC days and the constant references to the NWA Title as the most prestigious and the "Ten Pounds of Gold". Jerry Oates got the tapout win with the spinning toe hold in 5:19.
Interview Segment - Tully Blanchard and Larry Matysik. Young Tully was honing his promo skills here. This was not the Tully of the Four Horsemen, a few years later. Tully promo'd his matches with Spike Huber and referred to Adrian Adonis as the champion. He was somewhat a bit heelish, referring to his "lifestyle", his "jewelry" and always going for "first place money". At this time, Tully looked like a great young talent. You could see the seeds of 1986 being planted here. I think at this time, Tully's home base was Southwest Championship Wrestling, promoted by his father, Joe Blanchard.
More...
If you'd like to discuss the St. Louis region with other fans, please visit the KM Message Board

KM DVD/VHS Store 4
Click here to purchase DVD or VHS products direct from the official distributors.
KM Replica Masks 4
Click here to purchase pro quality replica wrestling masks of all your favorite old school masked wrestlers.
KM Store 4
The KM Store now features products featuring the GCW logo as well as some other very cool images. To see what's new and to purchase T-Shirts, ball caps, mouse pads and more, click here.
KM Message Board 4
Want to chat with other fans of regional wrestling? This message board has forums for over two dozen promotions. Click here.
KM Belt Gallery 4
This section contains an extensive title belt gallery... images of heavyweight, tag, U.S. and various regional title belts. To view it, click here.
Old School Tape Review 4
Reviews of various PPV's, commercial tapes and regional wrestling TV shows are available in this section. To read more, click here.
Website designed & maintained by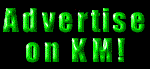 Thanks for visiting!