Regional Territories 4
This section contains monthly articles on over two dozen territories. To relive those wonderful days of old, click here.
Wrestlers 4
Enter this section for bios/profiles of various wrestlers from the regional days. To find more out about your favorite pro wrestler, click here.
Stories 4
This section contains stories from the pros themselves told exclusively to Kayfabe Memories. Want to know more as told from the wrestlers themselves? Click here.
Old School Book Reviews4
Click here to find various book reviews from old school wrestlers.
KM Links 4
For tons of links to old school related sites, click
here
.
KM Micro Wrestlers4
What are Micro Wrestlers? Click here
to find out.
KM Interviews... 4
Click here to read exclusive interviews with stars from the regional territories.
www.kayfabememories.com is © 2004 AtomDesigns. All promotional art, characters, logos and other depictions are © their respective owners. All Rights Reserved.
All contents save Wrestler Stories are © Kayfabe Memories.
Website designed and maintained by AtomDesigns © 2004 . If you experience any problems with this site or have any questions, please contact the Webmaster.
Looking Back: Greater St. Louis Wrestling - September 3, 1983
- John Edwards
This month's installment is a bit different. For the years (yes, 2 years since 2002) that I have been entertaining you with my St. Louis recollections, I have wanted some more updated information on the "inner workings" of the St. Louis Wrestling Club in both the Sam Muchnick era and the post Sam era. Well, today, thanks to Scott Williams and The Wrestling Observer Website, we have an interview with Larry Matysik, where Larry discusses several aspects of the SLWC.
Enjoy! See you on the KM St. Louis message board!
Scott Williams talks St. Louis Wrestling with Larry Matysik:
(100% Credit to Scott and the Wrestling Observer Website)
To be sure, Vince McMahon's World Wrestling Entertainment is the most financially successful pro wrestling company of all time. The international juggernaut took 17 years to do it, but it steamrolled every viable competitor and reigns supreme.

Still, what's good for Vince McMahon and WWE is not necessarily good for wrestling, or for its fans.

Many tuned out with the death of WCW in 2001, as it was, for many, the last link with the traditional wrestling action of the National Wrestling Alliance.

If you are one of these, a fan who remembers fondly the no-nonsense action of wrestling's great history, Larry Matysik has a deal for you.

Matysik spent years as Saint Louis wrestling promoter Sam Muchnick's right-hand man, when that city was one of the hottest wrestling towns in the nation, and Muchnick and Houston promoter Paul Boesch were the top two promoters in wrestling.
Matysik said he had been a wrestling fan since childhood, watching the matches on television with a father who regaled him with tales of Jim Londos and other 1930s stars.
"There's always been a sense of history here," he said. "I remember being 6, 7 years old, seeing guys like Gorgeous George and Lou Thesz, and this was before Wrestling at the Chase began in 1959. I really got hooked."

Matysik's involvement with the Saint Louis wrestling office came through his young start in writing about wrestling.

"I started writing for Ring Magazine in high school," he said. "This was before there was a separate Ring Wrestling publication. If it had been baseball or football, they would not have a 14-year-old kid working, but I just sent them on a match Whipper Watson and Gene Kiniski, and I was surprised when they published the darned thing. Eventually, I sent some samples to Sam, and told him I'd love to do some interviews. He drove me over to the office, and eventually offered me a full-time job. He said, 'I think you have an aptitude for this,' and the rest is history."

Saint Louis' forte was wrestling where the world championship was the ultimate goal and outrageous gimmicks were few and far between.

Matysik worked in the office through the 1970s and had assumed booking chores by the end of the decade.

"I got some courage up to start doing it in 1978," he said. "Pat O'Connor was still booking, but Pat had some problems that were distracting him. In 1979 and 1980, I got more involved, and we were bookers together. Eventually, he had some problems with taxes, so he moved back to New Zealand."

Even though Matysik had never wrestled, he said he never faced resistance from wrestlers who said that he did not know what he was doing because he had never laced up the boots.

"Keep in mind, Sam was not a wrestler," he said. The guys there had known me for years, and by the time I was in that position, I think there was some mutual respect. I have certainly heard that criticism used against people. 'You never took a bump, so how do you know?' Well, I guess my answer would have been , 'You've never negotiated with a TV station for a program, or written a program, so you must not know.'
More...
If you'd like to discuss the St. Louis region with other fans, please visit the KM Message Board

KM DVD/VHS Store 4
Click here to purchase DVD or VHS products direct from the official distributors.
KM Replica Masks 4
Click here to purchase pro quality replica wrestling masks of all your favorite old school masked wrestlers.
KM Store 4
The KM Store now features products featuring the GCW logo as well as some other very cool images. To see what's new and to purchase T-Shirts, ball caps, mouse pads and more, click here.
KM Message Board 4
Want to chat with other fans of regional wrestling? This message board has forums for over two dozen promotions. Click here.
KM Belt Gallery 4
This section contains an extensive title belt gallery... images of heavyweight, tag, U.S. and various regional title belts. To view it, click here.
Old School Tape Review 4
Reviews of various PPV's, commercial tapes and regional wrestling TV shows are available in this section. To read more, click here.
Website designed & maintained by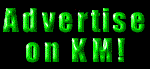 Thanks for visiting!