Regional Territories 4
This section contains monthly articles on over two dozen territories. To relive those wonderful days of old, click here.
Wrestlers 4
Enter this section for bios/profiles of various wrestlers from the regional days. To find more out about your favorite pro wrestler, click here.
Stories 4
This section contains stories from the pros themselves told exclusively to Kayfabe Memories. Want to know more as told from the wrestlers themselves? Click here.
Old School Book Reviews4
Click here to find various book reviews from old school wrestlers.
KM Links 4
For tons of links to old school related sites, click
here
.
KM Micro Wrestlers4
What are Micro Wrestlers? Click here
to find out.
KM Interviews... 4
Click here to read exclusive interviews with stars from the regional territories.
www.kayfabememories.com is © 2004 AtomDesigns. All promotional art, characters, logos and other depictions are © their respective owners. All Rights Reserved.
All contents save Wrestler Stories are © Kayfabe Memories.
Website designed and maintained by AtomDesigns © 2004 . If you experience any problems with this site or have any questions, please contact the Webmaster.
- Larry Riehl
First off I would like to thank Vince Fahey and kayfabememories.com, for giving me a chance at writing the monthly insert for the St. Louis Wrestling Club. I would also like to thank John Edwards for almost 3 years worth of wrestling history and memories about St. Louis Wrestling Club and Wrestling at the Chase. Thanks to CM, you know who you are.
I was born on November 23, 1963. When my mother calls to wish me a happy birthday, she reminds me of the famous day before my birthday--the day President Kennedy was killed. "That same evening Sam Muchnick knowing that he had to put on a program, had the forethought to have Monsignor Louis Meyer read a prayer, before the program, for John F. Kennedy and his family." Sam Muchnick has generated nothing but praise from anyone, let alone anyone related to the wrestling industry. Every wrestler that I have had any correspondence with mentions how well Sam Muchnick and his personnel treated them, not to mention how well he paid them.
Wrestling at the Chase, in the late 1950's started off televised from the Khorassan Room at the Chase Park Plaza Hotel. In the early 1970's it was moved to a television studio. Sam Muchnick used the Wrestling at the Chase television shows each week to setup his house shows usually 2 times a month, at the Kiel Auditorium. If he expected a large card, or if there was a special occasion than the shows were held in the St. Louis Arena, or Checkerdome depending who owned it at the time.
I grew up watching Wrestling at the Chase. Every weekend Sunday at 11am on KPLR Channel 11, and later on we could even catch an early preview of it at 1am on Saturdays. You could depend on a good product. From seeing some other products from that time frame, I think St. Louis had the best wrestling production. This also depends on what you want to see. Some people like the angles, the referee involvement, and even the rare show of color (blood). Others like it all combined. I enjoyed the wrestling.
Few people realize what Sam Muchnick accomplished for the sport of wrestling. First of all he started his promotion up against Tom Packs, who at the time was very secure in the business and held a stranglehold on the most popular wrestlers. Sam Muchnick had to bring in the older and often retired wrestlers in order to fill his card, since he was having trouble getting some of the better drawing wrestlers. Sam Muchnick caught a break though, Tom Packs lost a bunch of money in the stock market and was forced to sell his promotion to the Mississippi Valley Sports Club, Martin Thesz (Lou Thesz), Bill Longson (St. Louis), Bobby Managoff (Chicago), Eddie Quinn (Montreal) and Frank Tunney (Toronto), bought out Packs, and ran in opposition to Sam Muchnick. He then started up the National Wrestling Alliance. The NWA was a group of promoters who along with Sam Muchnick understood the advantage of working together. In a nutshell you were either part of the NWA or you were not. I hope to be able to get a lot more research together and give more in-depth accounts about these in other installments.
In closing I would like to tell you how I would like to write about the history of the St. Louis Wrestling Club. Feel free to PM me any type of story or any information you would like me to cover. My user name on the message board is (lriehl). Or even post a message, if it's a hot topic I try and do my best to cover it. I would like to start off writing about the wrestling scene before, during, and after Wrestling at the Chase. I know, I know, the before and after part has nothing to do with the main subject which is The St. Louis Wrestling Club, and Wrestling at the Chase, but it helps us understand the history of wrestling in the St. Louis area.
Hopefully I will be able to get some information together that will be news to you. It's difficult to write about specific historical events and not use information already at hand, especially wrestling history before you were born. If you think about it Wrestling at the Chase started up right at 50 years ago. It also lasted until January 1, 1982. Yeah, I know you history buffs will say that Wrestling at the Chase continued on after 1982, until 1985. But even the history buffs would not complain when I say that wrestling was not the same in St. Louis after Sam Muchnick retired in 1982.
Well I guess that's it for now. Thanks for reading, and thanks for keeping Wrestling at the Chase alive, even if it's only in our hearts and minds.
NEXT MONTH:
Who was Tom Packs?

KM DVD/VHS Store 4
Click here to purchase DVD or VHS products direct from the official distributors.
KM Replica Masks 4
Click here to purchase pro quality replica wrestling masks of all your favorite old school masked wrestlers.
KM Store 4
The KM Store now features products featuring the GCW logo as well as some other very cool images. To see what's new and to purchase T-Shirts, ball caps, mouse pads and more, click here.
KM Message Board 4
Want to chat with other fans of regional wrestling? This message board has forums for over two dozen promotions. Click here.
KM Belt Gallery 4
This section contains an extensive title belt gallery... images of heavyweight, tag, U.S. and various regional title belts. To view it, click here.
Old School Tape Review 4
Reviews of various PPV's, commercial tapes and regional wrestling TV shows are available in this section. To read more, click here.
Website designed & maintained by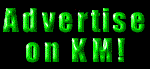 Thanks for visiting!