Regional Territories 4
This section contains monthly articles on over two dozen territories. To relive those wonderful days of old, click here.
Wrestlers 4
Enter this section for bios/profiles of various wrestlers from the regional days. To find more out about your favorite pro wrestler, click here.
Stories 4
This section contains stories from the pros themselves told exclusively to Kayfabe Memories. Want to know more as told from the wrestlers themselves? Click here.
Old School Book Reviews4
Click here to find various book reviews from old school wrestlers.
KM Links 4
For tons of links to old school related sites, click
here
.
KM Micro Wrestlers4
What are Micro Wrestlers? Click here
to find out.
KM Interviews... 4
Click here to read exclusive interviews with stars from the regional territories.
www.kayfabememories.com is © 2004 AtomDesigns. All promotional art, characters, logos and other depictions are © their respective owners. All Rights Reserved.
All contents save Wrestler Stories are © Kayfabe Memories.
Website designed and maintained by AtomDesigns © 2004 . If you experience any problems with this site or have any questions, please contact the Webmaster.
July 2001 - "A TV Taping in St. Louis, Circa 1981"
- John Edwards
The St. Louis NWA Promotion presented a weekly television program, "Wrestling At The Chase" (WATC) on KPLR-TV Channel 11 in St. Louis from the 1950s until 1983. The program aired on Sunday mornings at 11:00 am and was a perennial leader in its time slot, very similar to the success enjoyed by Memphis wrestling for years in its timeslot on WMC-TV in Tennessee.
What made the program so great (among many things) was the local flavor - when watching the show, local fans knew that the show was taped at the Channel 11 studios in west St. Louis, with "our" host Larry Matysik, "our" ring announcer Mickey Garigiola (brother of famous baseball player and TV personality Joe Garigiola), and "our" talent: Bulldog Bob Brown, Harley Race, the Von Erichs, Ric Flair; Funks, Briscoes, and many, many others. This is something I truly miss today - as great as Jim Ross is, I think the product loses something watching a WWF event taped from Boise, Idaho.
Around my house, as a kid, the Sunday morning routine was very familiar - 7:30 am mass, followed by breakfast, followed by chores, completed in time to tune in to Channel 11 at 11:00 am. I mean every Sunday for years, through high school. By the time the promotion was waning and the TV show ended I was in college, in the few years that I stopped following wrestling. At one point, in early 1984, I remember being home from college and turning on the TV at 11:00 Sunday. I saw Hulk Hogan et al and knew it was over. I remember being disappointed, then sad, then mad. Compared to the wrestling I was used to, it was WWF 1984-style crap, as far as I was concerned. But I digress, back to today's subject………..
During my formative years, I attended Christian Brothers High School (CBC) on Clayton Road in St. Louis. Being an all-male school, there was a large base of wrestling fans - and WATC being as popular as it was, the matches, interviews, and angles always made for popular discussion on Monday mornings in school. We weren't really "marks" back then - we knew that Ric Flair and Harley Race probably had a Budweiser after the matches - but back before dirt sheets, cable TV, and the internet, there was still some innocence regarding "our great sport" We didn't realize that many of the grapplers in St. Louis that Sunday afternoon had probably squared off in Bob Geigle's Central States shows at Memorial Hall in Kansas City Thursday night, or Bruiser's WWA in Indiana or Illinois, or even an AWA show in Chicago. And it didn't matter to us either.
More...
If you'd like to discuss the St. Louis region with other fans, please visit the KM Message Board

KM DVD/VHS Store 4
Click here to purchase DVD or VHS products direct from the official distributors.
KM Replica Masks 4
Click here to purchase pro quality replica wrestling masks of all your favorite old school masked wrestlers.
KM Store 4
The KM Store now features products featuring the GCW logo as well as some other very cool images. To see what's new and to purchase T-Shirts, ball caps, mouse pads and more, click here.
KM Message Board 4
Want to chat with other fans of regional wrestling? This message board has forums for over two dozen promotions. Click here.
KM Belt Gallery 4
This section contains an extensive title belt gallery... images of heavyweight, tag, U.S. and various regional title belts. To view it, click here.
Old School Tape Review 4
Reviews of various PPV's, commercial tapes and regional wrestling TV shows are available in this section. To read more, click here.
Website designed & maintained by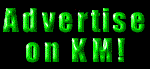 Thanks for visiting!