Regional Territories 4
This section contains monthly articles on over two dozen territories. To relive those wonderful days of old, click here.
Wrestlers 4
Enter this section for bios/profiles of various wrestlers from the regional days. To find more out about your favorite pro wrestler, click here.
Stories 4
This section contains stories from the pros themselves told exclusively to Kayfabe Memories. Want to know more as told from the wrestlers themselves? Click here.
Old School Book Reviews4
Click here to find various book reviews from old school wrestlers.
KM Links 4
For tons of links to old school related sites, click
here
.
KM Micro Wrestlers4
What are Micro Wrestlers? Click here
to find out.
KM Interviews... 4
Click here to read exclusive interviews with stars from the regional territories.
www.kayfabememories.com is © 2004 AtomDesigns. All promotional art, characters, logos and other depictions are © their respective owners. All Rights Reserved.
All contents save Wrestler Stories are © Kayfabe Memories.
Website designed and maintained by AtomDesigns © 2004 . If you experience any problems with this site or have any questions, please contact the Webmaster.
Famous Faces in St. Louis
- John Edwards
This month's article takes a look at the famous faces (good guys) in the St. Louis NWA promotion during the time 1977-1983. There were many, many wresters to work in St Louis during this time, and most adopted either a heel or face persona (as was the case, during the strict kayfabe days you were either a face or a heel – period).
Before going into this month's article, I would like to take a moment to thank "Chi-Town Rich", a frequent visitor to our message board, for a mother lode of information related to the St. Louis and Kansas City regions. This information will definitely be used to help develop future articles. Just as the same wrestlers worked AWA, St. Louis (NWA), Kansas City (NWA), Indianapolis (WWA), and Chicago (AWA) back in the regional days, we writers and board members seem to hop around regions as well!
Now, on to today's topic……..ah yes, the faces. The big names in St. Louis were either faces or heels back in the day. This facilitated booking and setting up matches, as well as kept up the timeless essence of professional wrestling: there is a "good guy" and a "bad guy". Plus, some of the fans in the greater St. Louis area were none too bright and this helped keep track of the action! (Hey, no knock here, I was one of them!)
Here are a few of my biggest recollections of huge faces who used to really "draw face heat" on Wrestling at the Chase TV (WATC) and shows at the Kiel Auditorium.
FACES: (In no particular order)
Rufus R. Jones: Master of the Freight Train, Head Butt, and using his "soup bones". Also a master of the almost completely unintelligible interview! In my time, RFJ was always a face. The fans loved him, especially when an opponent had him in a headlock and he would begin wiggling his butt to escape. Hilarious! Understand he had several NWA title shots in the past, before my time.
More...
If you'd like to discuss the St. Louis region with other fans, please visit the KM Message Board

KM DVD/VHS Store 4
Click here to purchase DVD or VHS products direct from the official distributors.
KM Replica Masks 4
Click here to purchase pro quality replica wrestling masks of all your favorite old school masked wrestlers.
KM Store 4
The KM Store now features products featuring the GCW logo as well as some other very cool images. To see what's new and to purchase T-Shirts, ball caps, mouse pads and more, click here.
KM Message Board 4
Want to chat with other fans of regional wrestling? This message board has forums for over two dozen promotions. Click here.
KM Belt Gallery 4
This section contains an extensive title belt gallery... images of heavyweight, tag, U.S. and various regional title belts. To view it, click here.
Old School Tape Review 4
Reviews of various PPV's, commercial tapes and regional wrestling TV shows are available in this section. To read more, click here.
Website designed & maintained by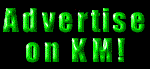 Thanks for visiting!