Regional Territories 4
This section contains monthly articles on over two dozen territories. To relive those wonderful days of old, click here.
Wrestlers 4
Enter this section for bios/profiles of various wrestlers from the regional days. To find more out about your favorite pro wrestler, click here.
Stories 4
This section contains stories from the pros themselves told exclusively to Kayfabe Memories. Want to know more as told from the wrestlers themselves? Click here.
Old School Book Reviews4
Click here to find various book reviews from old school wrestlers.
KM Links 4
For tons of links to old school related sites, click
here
.
KM Micro Wrestlers4
What are Micro Wrestlers? Click here
to find out.
KM Interviews... 4
Click here to read exclusive interviews with stars from the regional territories.
www.kayfabememories.com is © 2004 AtomDesigns. All promotional art, characters, logos and other depictions are © their respective owners. All Rights Reserved.
All contents save Wrestler Stories are © Kayfabe Memories.
Website designed and maintained by AtomDesigns © 2004 . If you experience any problems with this site or have any questions, please contact the Webmaster.
- Rich Tito
The International Amphitheatre located at 43rd and Halsted St. in Chicago was the home for Chicago's wrestling scene for years. It was located around the famous Chicago Stockyards area and beside the wrestling that was held there it also played host to the Chicago Bulls, Chicago Cougar WHL hockey team, outdoors shows, auto shows and the infamous 1968 Democratic National Convention. Big name music stars that played there included The Beatles, Elvis Presley, The Rolling Stones and Elvis Presley. We will only talk about the wrestling in this famous building in this column.
There were two entrances to the place, a west side and an east side. Halsted St. led to the east entrance and the west entrance went out to the huge parking lot. The west parking lot was where you parked and it was a gathering place for the many fans that used to wait to catch a glimpse of their favorite wrestlers coming to the building. They all parked in a designated area very close to the west entrance. In warmer weather you were always able to get an autograph or a picture from Pepper Gomez, Moose Cholak or Wilbur Snyder. The heels always played their role to the hilt and never signed anything in front of a crowd, but if alone you could get them to sign. All the years that I attended, I never saw Bruiser sign a single autograph.
The Sirloin Room was on the north end of the complex. This restaurant played host to Promoter Bob Luce's well attended pre-match steak dinner. These were held about two hours before bell time. For a set price you would receive a ringside ticket, a lucky number program and a great steak dinner. Luce would always be available to chat, pose for pictures and sign autographs. The big extra was that Luce would always bring a wrestler along to do the same thing.
Art Thomas, Bob Ellis, Wilbur Snyder, Paul Christy, Angelo Poffo, Reggie Parks and Billy Red Cloud were among the ones that I met at these dinners. After dinner you just had to make the trek up to Bob Luce's Pro Wrestling Hall of Fame, which was located on the 2nd floor of the arena. It was not just all the AWA and WWA stars of the time that were enshrined but wrestlers like Ray Gunkel, Freddie Blassie, Joe Blanchard and Dickie Steinborn, that hadn't appeared in years in Chicago.
More...
If you'd like to discuss the WWA-Indianapolis region with other fans, please visit the KM Message Board

KM DVD/VHS Store 4
Click here to purchase DVD or VHS products direct from the official distributors.
KM Replica Masks 4
Click here to purchase pro quality replica wrestling masks of all your favorite old school masked wrestlers.
KM Store 4
The KM Store now features products featuring the GCW logo as well as some other very cool images. To see what's new and to purchase T-Shirts, ball caps, mouse pads and more, click here.
KM Message Board 4
Want to chat with other fans of regional wrestling? This message board has forums for over two dozen promotions. Click here.
KM Belt Gallery 4
This section contains an extensive title belt gallery... images of heavyweight, tag, U.S. and various regional title belts. To view it, click here.
Old School Tape Review 4
Reviews of various PPV's, commercial tapes and regional wrestling TV shows are available in this section. To read more, click here.
Website designed & maintained by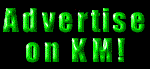 Thanks for visiting!