Regional Territories 4
This section contains monthly articles on over two dozen territories. To relive those wonderful days of old, click here.
Wrestlers 4
Enter this section for bios/profiles of various wrestlers from the regional days. To find more out about your favorite pro wrestler, click here.
Stories 4
This section contains stories from the pros themselves told exclusively to Kayfabe Memories. Want to know more as told from the wrestlers themselves? Click here.
Old School Book Reviews4
Click here to find various book reviews from old school wrestlers.
KM Links 4
For tons of links to old school related sites, click
here
.
KM Micro Wrestlers4
What are Micro Wrestlers? Click here
to find out.
KM Interviews... 4
Click here to read exclusive interviews with stars from the regional territories.
www.kayfabememories.com is © 2004 AtomDesigns. All promotional art, characters, logos and other depictions are © their respective owners. All Rights Reserved.
All contents save Wrestler Stories are © Kayfabe Memories.
Website designed and maintained by AtomDesigns © 2004 . If you experience any problems with this site or have any questions, please contact the Webmaster.
- Rich Tito
This month I am going to take a look at Chicago's Top 25 wrestlers in the period that I watched and attended matches in Chicago. The list is debatable and I'm sure everyone will not agree with my picks.
First of all, I am not including tag teams. We will do that another time. Wrestlers that came in for only a few shots will not be included. Andre the Giant, Bruno Sammartino, Lou Thesz, Mil Mascaras, The Sheik and Haystack Calhoun are all time greats but they only guest spotted in Chicago.
1. DICK THE BRUISER... No other wrestler dominated the Chicago scene like The Bruiser. He was always on top here as he was both an AWA and WWA wrestler. He was partners with Vern Gagne and Wilbur Snyder in ownership of The Chicago Wrestling Club. Teaming with Crusher Lisowski, they became Chicago's favorite sons. Sellouts were the norm when Bruiser and Crusher would team up to face the likes of The Chain Gang, The Vachons, The Blackjacks, Larry Hennig & Harley Race, The Assassins, Moto and Arakawa, Devils Duo and Dusty Rhodes and Dick Murdock. In later years when they slowed down, huge crowds still came out to see the boys do battle with The Valiants, The Legionairres, Lanza and Duncum and Bockwinkel and Stevens. In single matches, Bruiser feuded with The Sheik, Ernie Ladd, Ox Baker, Mad Dog Vachon, Dr.X, Nick Bockwinkel, Blackjack Lanza, Johnny Valentine, Gene Kiniski and Baron Von Rashcke. HIS FACE WAS ALL OVER Chicago TV and before there were Hulkamaniacs there were The Little Itty Bitty Bruiser Buddies. Also known as the force that would get the Chicago fans chanting "We Want Blood" at The Amphitheatre.
2. THE CRUSHER... Just about everything that was stated about Bruiser can also be said about "The Wrestler Who Made Milwaukee Famous", The Crusher. Besides teaming with Bruiser, Crusher also held the tag titles with Billy Robinson, Red Bastein and Baron Von Rashcke. Had re hot bloody feuds with Jerry Blackwell and Mad Dog Vachon. Involved in many bloodbaths and may have bled more than anyone in Chicago except for Bobby Heenan. Tremendous on the microphone, The Crusher would spin yarns about growing up in his father's saloon and also tell stories about the heavy women who danced with him. Even toward the end of his career, Crusher has great gimmick matches where he would put on the tuxedo or the Chippendale outfit. Crusher was one of the all time greats. More...
If you'd like to discuss the WWA-Indianapolis region with other fans, please visit the KM Message Board

KM DVD/VHS Store 4
Click here to purchase DVD or VHS products direct from the official distributors.
KM Replica Masks 4
Click here to purchase pro quality replica wrestling masks of all your favorite old school masked wrestlers.
KM Store 4
The KM Store now features products featuring the GCW logo as well as some other very cool images. To see what's new and to purchase T-Shirts, ball caps, mouse pads and more, click here.
KM Message Board 4
Want to chat with other fans of regional wrestling? This message board has forums for over two dozen promotions. Click here.
KM Belt Gallery 4
This section contains an extensive title belt gallery... images of heavyweight, tag, U.S. and various regional title belts. To view it, click here.
Old School Tape Review 4
Reviews of various PPV's, commercial tapes and regional wrestling TV shows are available in this section. To read more, click here.
Website designed & maintained by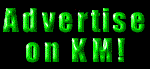 Thanks for visiting!