Regional Territories 4
This section contains monthly articles on over two dozen territories. To relive those wonderful days of old, click here.
Wrestlers 4
Enter this section for bios/profiles of various wrestlers from the regional days. To find more out about your favorite pro wrestler, click here.
Stories 4
This section contains stories from the pros themselves told exclusively to Kayfabe Memories. Want to know more as told from the wrestlers themselves? Click here.
Old School Book Reviews4
Click here to find various book reviews from old school wrestlers.
KM Links 4
For tons of links to old school related sites, click
here
.
KM Micro Wrestlers4
What are Micro Wrestlers? Click here
to find out.
KM Interviews... 4
Click here to read exclusive interviews with stars from the regional territories.
www.kayfabememories.com is © 2004 AtomDesigns. All promotional art, characters, logos and other depictions are © their respective owners. All Rights Reserved.
All contents save Wrestler Stories are © Kayfabe Memories.
Website designed and maintained by AtomDesigns © 2004 . If you experience any problems with this site or have any questions, please contact the Webmaster.
- Rich Tito
This month I'm going to look at the Top Ten Tag Teams, in my opinion, that wrestled in Chicago during my days of attending, which were 1966-1985.
1. Nick Bockwinkel and Ray Stevens... in my book they were the number one team that I ever saw. They were a great team when first put together and then they went out and got Bobby Heenan to manage them and they became an awesome team. Bock was great on the microphone and Heenan with his sarcasm only added to it. Stevens may have been the number one worker of all time and Bockwinkel was right there with him. Add in the greatest manager of all time and you have a trio that is just too hard to beat. They would wrestle the brawlers like Crusher and Bruiser or could go at it with Billy Robinson and Wilbur Snyder hold for hold, with a little chicanery thrown in. Some of their opponents in Chicago were Rhodes & Crusher, Bruiser & Vern Gagne, The High Flyers, Ernie Ladd & Vern Gagne, Andre the Giant and Dr. X and Bruiser & Billy Robinson.
2. The Crusher and Dick the Bruiser... don't expect too many wrestling holds when these two came into the ring. They weren't the smoothest of teams but when they appeared in the Amphitheatre the chants of "We Want Blood" immediately filled the arena. No other team in my years grabbed the fans' attention like these two brawlers. Always guaranteed great action when these two appeared together. AWA champions five times. Also WWA champions countless times. In Chicago, their greatest matches included bouts with The Vachon Brothers, Bockwinkel & Stevens, The Assassins, The Blackjacks Lanza and Mulligan, Dr. Moto & Mitsu Arakawa, The Valiant Brothers, The Legionnaires, The Big K & The Alaskan Jay York, The Devils Duo, Angelo Poffo & Chris Markoff, Bobby Duncum & Blackjack Lanza, The Chain Gang with Don Fargo teaming up with Jim or Frank Dillinger, The Road Warriors, Bockwinkel and Stan Hansen and probably their greatest feud, that with Larry Hennig and Harley Race.
3. Harley Race and Larry Hennig... before Race went on to greater fame as NWA World Champion, he and Larry Hennig made up one of the all time great tag teams. Their style was tough and tumble and they even had a heel versus heel match here with Poffo and Markoff challenging them for the AWA title. Their greatest Chicago matches were the bloodbaths with Bruiser and Crusher. Larry Hennig supposedly suffered a broken leg at the hands of Vern Gagne in a singles match in Minnesota and the AWA board told race to pick a partner. He picked Chris Markoff and Wilbur Snyder and Pat O'Connor promptly took the belts from them. Who know how longer Hennig and Race would have held the belts if Hennig wasn't injured.
4. The Vachon Brothers... were another team cut from the same mold as Bruiser & Crusher or Hennig & Race. They had brutal matches against B&C, which featured a cage match at Comiskey Park which saw The Vachons keep the title. The card drew nearly 30,000 fans.
More...
If you'd like to discuss the WWA-Indianapolis region with other fans, please visit the KM Message Board

KM DVD/VHS Store 4
Click here to purchase DVD or VHS products direct from the official distributors.
KM Replica Masks 4
Click here to purchase pro quality replica wrestling masks of all your favorite old school masked wrestlers.
KM Store 4
The KM Store now features products featuring the GCW logo as well as some other very cool images. To see what's new and to purchase T-Shirts, ball caps, mouse pads and more, click here.
KM Message Board 4
Want to chat with other fans of regional wrestling? This message board has forums for over two dozen promotions. Click here.
KM Belt Gallery 4
This section contains an extensive title belt gallery... images of heavyweight, tag, U.S. and various regional title belts. To view it, click here.
Old School Tape Review 4
Reviews of various PPV's, commercial tapes and regional wrestling TV shows are available in this section. To read more, click here.
Website designed & maintained by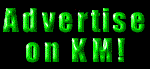 Thanks for visiting!