Regional Territories 4
This section contains monthly articles on over two dozen territories. To relive those wonderful days of old, click here.
Wrestlers 4
Enter this section for bios/profiles of various wrestlers from the regional days. To find more out about your favorite pro wrestler, click here.
Stories 4
This section contains stories from the pros themselves told exclusively to Kayfabe Memories. Want to know more as told from the wrestlers themselves? Click here.
Old School Book Reviews4
Click here to find various book reviews from old school wrestlers.
KM Links 4
For tons of links to old school related sites, click
here
.
KM Micro Wrestlers4
What are Micro Wrestlers? Click here
to find out.
KM Interviews... 4
Click here to read exclusive interviews with stars from the regional territories.
www.kayfabememories.com is © 2004 AtomDesigns. All promotional art, characters, logos and other depictions are © their respective owners. All Rights Reserved.
All contents save Wrestler Stories are © Kayfabe Memories.
Website designed and maintained by AtomDesigns © 2004 . If you experience any problems with this site or have any questions, please contact the Webmaster.
- Rich Tito
Bob Luce has been a part of the Chicago wrestling scene going all the way back to the mid 1950's. Before becoming promoter and general manager of The Chicago Wrestling Club, Bob was the ace photographer and writer for Wrestling Life magazine. Some of his articles and pictures were also used for The Wrestling Revue magazine. Bob was also used as a referee in the Midwestern wrestling area. Rumor has it that Bob met his future wife, pro woman wrestler Sharon Lass while working as a referee for one of her matches.
His best known work though, in my opinion, was as Chicago promoter and general manager of the old Chicago Wrestling Club. When Dick the Bruiser and Wilbur Snyder took over the Chicago promotion, Bob was brought in to run the show. Verne Gagne came in a short time later and Bob continued to be the figurehead of Chicago wrestling.
Bob had the talent to make a preliminary match sound like the beginning of World War III. His bombastic delivery and genuine enthusiasm made his TV shows work as they developed a cult following back in the 60's and 70's. Fans of those days remember very fondly all of Luce's interviews, studio skits and antics. Bob was truly ahead of his time. He was among the first, if not the first, to use background music while clips of his matches were shown on TV.
These were forerunners of today's music videos.
There was never a person who was more fan friendly than Bob. He was always approachable and took the time to talk to you and answer your questions. The International Amphitheatre, Hammond Civic Center, The Sirloin Room where his prematch dinners were held or any of his great spot shows were all places that Bob could be found just talking with the fans.
It was Bob's idea to open The Pro Wrestling Hall of Fame in the southeast corner of the Amphitheatre. This was a really interesting place for the fans to visit before the matches. He was always at home there as the old movie clips would run and he would narrate the matches and tell all kinds of stories as the film rolled on. Ox Baker, Moose Cholak, Jimmy Valiant, Pepper Gomez, Ray Stevens, Ernie Ladd, Red Bastein, Wilbur Snyder, Dr. X and Nick Bockwinkel were among the inductions that I attended and all were packed with fans as both faces and heels would drop their ring persona and sign autographs.
A personal story with Bob. In 1968, two friends and I bought Bob some kind of handkerchief set and gave it to him before the matches in the Amphitheatre. After some small talk and thanking us he took my name and address and said that he was going to send us front row tickets for the next show. Two weeks later, just as promised, 3 first row seats arrived in the mail and we were the envy of all the Itty Bitty Bruiser fans in the neighborhood. Front row seats compliments of Bob to see The Vachon Brothers take on Crusher and Bruiser. It doesn't get any better than that. I'm sure Bob would never remember that story but I will never forget it.
More...
If you'd like to discuss the WWA-Indianapolis region with other fans, please visit the KM Message Board

KM DVD/VHS Store 4
Click here to purchase DVD or VHS products direct from the official distributors.
KM Replica Masks 4
Click here to purchase pro quality replica wrestling masks of all your favorite old school masked wrestlers.
KM Store 4
The KM Store now features products featuring the GCW logo as well as some other very cool images. To see what's new and to purchase T-Shirts, ball caps, mouse pads and more, click here.
KM Message Board 4
Want to chat with other fans of regional wrestling? This message board has forums for over two dozen promotions. Click here.
KM Belt Gallery 4
This section contains an extensive title belt gallery... images of heavyweight, tag, U.S. and various regional title belts. To view it, click here.
Old School Tape Review 4
Reviews of various PPV's, commercial tapes and regional wrestling TV shows are available in this section. To read more, click here.
Website designed & maintained by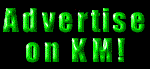 Thanks for visiting!