Regional Territories 4
This section contains monthly articles on over two dozen territories. To relive those wonderful days of old, click here.
Wrestlers 4
Enter this section for bios/profiles of various wrestlers from the regional days. To find more out about your favorite pro wrestler, click here.
Stories 4
This section contains stories from the pros themselves told exclusively to Kayfabe Memories. Want to know more as told from the wrestlers themselves? Click here.
Old School Book Reviews4
Click here to find various book reviews from old school wrestlers.
KM Links 4
For tons of links to old school related sites, click
here
.
KM Micro Wrestlers4
What are Micro Wrestlers? Click here
to find out.
KM Interviews... 4
Click here to read exclusive interviews with stars from the regional territories.
www.kayfabememories.com is © 2004 AtomDesigns. All promotional art, characters, logos and other depictions are © their respective owners. All Rights Reserved.
All contents save Wrestler Stories are © Kayfabe Memories.
Website designed and maintained by AtomDesigns © 2004 . If you experience any problems with this site or have any questions, please contact the Webmaster.
Slammin' Sammy Menacker and the Detroit Connection
- Mike Dupree
(Disclaimer:The following story was told to this writer by Stu Hart in December of 1983. As with anything anyone in wrestling tells you, you should take this story with a grain of salt. I thought it was amusing and have included it here.)
On a cold, wintery Canadian night back in the early to mid 1960's, Stu Hart and Gene Kiniski were flying back in Stu's private airplane from Edmonton back to Calgary, when the pilot informed Stu that the wings of the plane were icing up, and that the pilot would have to set the plane down at the nearest airfield until they unthawed. lest the plane would crash. The plane was able to land at an airstrip some distance from Calgary, and the pilot assured Stu that he would stay with the plane and fly it home when the weather conditions improved. Stu and Gene went on ahead, hitchhiking(!) home to Calgary. A few days had passed and Stu had not heard from his pilot, so he phoned the pilot's house, and the phone had been disconnected. Stu went over to the pilot's apartment, and found that it had been vacated, and all of the pilot's belongings were gone. Suspecting the worst, he went down to the local airstrip where his airplane was hangared, only to find that it too, had vanished. The pilot had taken his belongings and left with Stu's plane. The pilot was Sam Menacker.
Frank "Sam" Menacker was born in New York circa 1915,and was originally a baseball player in the New York Yankees organization, playing class A baseball as a catcher before turning to the mat. (He had his name changed from Frank to Sam because promoters at the time thought that Frank didn't sound Jewish enough.) Sam wrestled for several years until his career was brought to an abrupt halt by the war. Sam was discharged after 5 years in 1946, with the rank of Major. He returned to the mat game soon after that, but abandoned the tights and became a promoter/manager, and later a commentator on that new medium, television. He also found time to do bit parts in films such as: Abbott and Costello in the Foreign Legion, Mighty Joe Young, and Alias the Champ, which featured Sam's protege, the legendary Gorgeous George. (One story is that it was Sam who convinced journeyman George Wagner to bleach his hair and start wearing the flowing robes that were Gorgeous George's trademarks.) Another of Menacker's "proteges" was his wife, June Beyers, who was in her time the undisputed ladies wrestling champ. Sam and June were both licensed pilots, and used to fly to many of their bookings.
In the 1950's,Sam was promoting El Paso, Texas, but moved to the Detroit area during the late 50's to work with Johnny Doyle's office up there. It was up there that Sam met Dick the Bruiser.
TV tapings for that region originated from CKLW-TV in Windsor, Ontario, Canada. The formula was simple: Sam played the part of the crusading TV commentator, pointing out the flaws of the various heels, and working to rid the corruption from the wrestling game. His biggest target, of course,w as the Bruiser, who was a monster heel in his time, and probably the first to give "heel" interviews, which are a staple of today. It made him the perfect foil for Menacker's "crusade", and of course, much money was made for all participants. (On a side note, one unsubstantiated rumor from the time was that Bruiser and Menacker were co-owners of a hotel up in Ontario, but this writer has not been able to track down any more info pro or con on this.) Sam even came down to Indianapolis as a special "guest" announcer in the early 60's,in a match with the Shires vs. Bruiser and Kiniski, and Menacker and Bruiser had an altercation before the match. And Bruiser and Kiniski were the babyfaces in the match! Sam would also guest referee some of Dick's bouts, which would inevitably lead to Dick ripping off Menacker's shirt and throwing him out of the ring.
In the early 1960's,the climate of the game was changing. Eddie Farhat (the original Sheik) had secured his place as booker in Detroit for Doyle, finally buying Doyle out altogether. Bruiser and Snyder went on to push Balk Estes out of Indianapolis, and the territories became more at odds with each other. Bruiser tried to set up shop against Farhat's promotion in Detroit until giving it up in 1965, with all of these territories suffering damage. Sam, being edged out by Athol Layton as TV commentator, left and went to work for Stu Hart, before leaving there and going to work for Jim Barnett and Johnny Doyle in the land down under, Australia. More...

KM DVD/VHS Store 4
Click here to purchase DVD or VHS products direct from the official distributors.
KM Replica Masks 4
Click here to purchase pro quality replica wrestling masks of all your favorite old school masked wrestlers.
KM Store 4
The KM Store now features products featuring the GCW logo as well as some other very cool images. To see what's new and to purchase T-Shirts, ball caps, mouse pads and more, click here.
KM Message Board 4
Want to chat with other fans of regional wrestling? This message board has forums for over two dozen promotions. Click here.
KM Belt Gallery 4
This section contains an extensive title belt gallery... images of heavyweight, tag, U.S. and various regional title belts. To view it, click here.
Old School Tape Review 4
Reviews of various PPV's, commercial tapes and regional wrestling TV shows are available in this section. To read more, click here.
Website designed & maintained by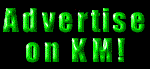 Thanks for visiting!