Regional Territories 4
This section contains monthly articles on over two dozen territories. To relive those wonderful days of old, click here.
Wrestlers 4
Enter this section for bios/profiles of various wrestlers from the regional days. To find more out about your favorite pro wrestler, click here.
Stories 4
This section contains stories from the pros themselves told exclusively to Kayfabe Memories. Want to know more as told from the wrestlers themselves? Click here.
Old School Book Reviews4
Click here to find various book reviews from old school wrestlers.
KM Links 4
For tons of links to old school related sites, click
here
.
KM Micro Wrestlers4
What are Micro Wrestlers? Click here
to find out.
KM Interviews... 4
Click here to read exclusive interviews with stars from the regional territories.
www.kayfabememories.com is © 2004 AtomDesigns. All promotional art, characters, logos and other depictions are © their respective owners. All Rights Reserved.
All contents save Wrestler Stories are © Kayfabe Memories.
Website designed and maintained by AtomDesigns © 2004 . If you experience any problems with this site or have any questions, please contact the Webmaster.
- Mike DuPree
Even though Dick the Bruiser's WWA is thought of by many "historians" as a minor promotion, it usually during its inception featured top name performers from top to bottom. Each year the promotion held annual holiday shows that were true treats for its fans. With the holiday season approaching, I thought it might be good to look back at some of the big cards the WWA featured in Indianapolis at their special Thanksgiving and Christmas shows.
The very first Thanksgiving show for the WWA way back in 1964 at the Northside Tyndall Armory on November 26th in Indianapolis (all shows in this article will have taken place in Indianapolis) featured the WWA tag team title match when the Von Brauners successfully defended their title against the challenge of Wilbur Snyder and Big Bill Miller, when the Germans double teamed Miller in the 3rd fall to take the win at the 4 minute mark. Johnny Valentine defended his U.S. title against WWWF and Montreal stalwart Tony Parisi in 38 minutes, Angelo Poffo stopped Guy Mitchell in 14 minutes, former champ Bobby Managoff got a disqualification win over Nicoli Volkoff (Steve Gob) in 15 minutes, and Cora Combs stopped Sandra (Sara?) Lee in 15 minutes.
Their first Christmas show was on Christmas night, again at the Armory, and they featured a main event between Johnny Valentine successfully defending his U.S. title by going to a no contest against Wilbur Snyder in 29 minutes. Boris and Nicoli Volkoff defeated the Scufflin Hillbillies 2 out of 3 falls in 18 minutes. Bobo Brazil beat Jack Wilson 9 minutes, Cal Pullins defeated Roger Kirby, 14 minutes, and Angelo Poffo drew with Luis "Rocky" Montero 20 minutes. Interesting to note that Dick the Bruiser didn't appear on either show, and actually was gone from mid-October until January 22nd, to be brought in as a special referee.
The following year, 1965, saw pro wrestling return to the Fairgrounds Coliseum on November 25th, and what a main event, Gene Kiniski lost a decision, but not the WWA title to the great Bobo Brazil. Gene lost the only fall in a 2 out of 3 falls title bout before the 60 minute time limit ran out, but the title couldn't change hands back then unless 2 falls were scored. The Masked Assassins stopped Bobby Managoff and Moose Cholak to retain their WWA tag team title in 16 minutes. Johnny Valentine was back at it for another year against Wilbur Snyder for the U.S. title, with Valentine winning in 22 minutes. Cora Combs and Jean Lane stopped Rita Crawford and Kathy O'Brien, 15 minutes, Masked Hercules stopped Tom Jones, and Sweet Daddy Long stopped Dennis Dolly 10 minutes.
The big Christmas show, also at the Coliseum on Christmas night, saw Dick the Bruiser stop Big Thunder Gene Kiniski to regain the WWA belt in 18 minutes. This night was a double title change because Wilbur Snyder and Moose Cholak upended the Assassins in 25 minutes to take the WWA belts. Johnny Valentine had a successful U.S. title defense when he stopped Bobo Brazil on a disqualification. Angelo Poffo drew with Huey Long 20 minutes, Ray Gordon stopped the Masked Hercules in 12 minutes, and in a midgets match, Jamaica Kid stopped Fuzzy Cupid in 14 minutes. Its interesting to note that gene Kiniski would go on a week and a half later to take Lou Thesz NWA belt and hold it for over 2 years. Kiniski came back several times to defend said NWA belt in the WWA territory. Attendance for this show was listed at 5,200.
Rolling into 1966, Mitsu Arakawa had taken the WWA belt from Dick the Bruiser, and in a non-title Texas Death Match on November 24th (Thanksgiving night), a reported 7,000 fans saw Bruiser stop Mitsu by breaking a chair over the champion's head. Angelo Poffo and Chris Markoff successfully defended their WWA trophy, stopping Wilbur Snyder and Jack Lanza (subbing for Red Lyons). Moose Cholak pinned Bobby Graham 20 minutes, Cora Combs stopped Sharon Lass (wife of Chicago promoter Bob Luce)10 minutes, Haru Sasaki (Odd Job in the James Bond movie Goldfinger) pinned Joe Tomasso 15 minutes, Prince Pullins drew with Igor Volkoff.
The December 28th (after) Christmas show saw the first WWA pairing of Dick the Bruiser and the Crusher, who had not appeared as a team in Indianapolis since 1958, went to a no contest with Poffo and Markoff in a challenge to the latter's WWA trophy, in a WWA title bout, Mitsu Arakawa went to no decision with Wilbur Snyder, Jack Lanza won/dq over Moose Cholak, Igor Volkoff went to a draw with Mario Milano, Joe Tomasso stopped Len Rossi in 8 minutes, Darling Dagmar and Betty Bouchette stopped Diamond Lil and Toni Rose in 14 minutes. More...
If you'd like to discuss the WWA-Indianapolis region with other fans, please visit the KM Message Board

KM DVD/VHS Store 4
Click here to purchase DVD or VHS products direct from the official distributors.
KM Replica Masks 4
Click here to purchase pro quality replica wrestling masks of all your favorite old school masked wrestlers.
KM Store 4
The KM Store now features products featuring the GCW logo as well as some other very cool images. To see what's new and to purchase T-Shirts, ball caps, mouse pads and more, click here.
KM Message Board 4
Want to chat with other fans of regional wrestling? This message board has forums for over two dozen promotions. Click here.
KM Belt Gallery 4
This section contains an extensive title belt gallery... images of heavyweight, tag, U.S. and various regional title belts. To view it, click here.
Old School Tape Review 4
Reviews of various PPV's, commercial tapes and regional wrestling TV shows are available in this section. To read more, click here.
Website designed & maintained by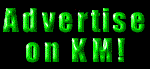 Thanks for visiting!