Regional Territories 4
This section contains monthly articles on over two dozen territories. To relive those wonderful days of old, click here.
Wrestlers 4
Enter this section for bios/profiles of various wrestlers from the regional days. To find more out about your favorite pro wrestler, click here.
Stories 4
This section contains stories from the pros themselves told exclusively to Kayfabe Memories. Want to know more as told from the wrestlers themselves? Click here.
Old School Book Reviews4
Click here to find various book reviews from old school wrestlers.
KM Links 4
For tons of links to old school related sites, click
here
.
KM Micro Wrestlers4
What are Micro Wrestlers? Click here
to find out.
KM Interviews... 4
Click here to read exclusive interviews with stars from the regional territories.
www.kayfabememories.com is © 2004 AtomDesigns. All promotional art, characters, logos and other depictions are © their respective owners. All Rights Reserved.
All contents save Wrestler Stories are © Kayfabe Memories.
Website designed and maintained by AtomDesigns © 2004 . If you experience any problems with this site or have any questions, please contact the Webmaster.
- Mike DuPree
Pro wrestling always played on TV when I was growing up, and I used to watch it, sometimes more intently than others, but it wasn't until 1972 that I became a "fan". My earliest memories of watching wrestling on the tube was sitting on my step-dad's lap after "Nightmare Theater" on Channel 4, hosted by Sammy Terry, who was in fact wrestling TV interview host Bob Carter. I, of course, knew all of the big stars by name if not always by face; Bruiser, Bobo Brazil, Cowboy Ellis, Wilbur Snyder, Angelo Poffo, Moose Cholak. These names and images were indelibly branded into my psyche from a very early age, but still, I wasn't a "fan". I remember the Devil's Duo, the Assassins (Joe Tomasso's name always struck me as amusing, and I remember the big deal that was made when the Assassin was "unmasked"). Later, I remember George Cannon, manager of the Fabulous Kangaroos, beating incessantly on the ring apron with a boomerang while blowing this nerve-racking whistle. I can recall Dick the Bruiser teaming with a midget against the Chain Gang, and then bringing the thoroughly beaten little guy out on a promo, holding him like a ventriloquist dummy lamenting how they "beat up his midget". I remember my grandmother's boyfriend Jake telling me about the match he saw at Bush Stadium, a cage match, between Baron Von Raschke and Dick the Bruiser. He took great relish in the apparent beating the Baron received after failing in his bid to climb over the wire mesh. I can remember how scary I thought Mitsu Arakawa and Dr. Moto were. So many other memories, but still I wasn't a "fan", not until I attended my first ever-pro wrestling card at the Fairgrounds Coliseum, the longtime home for wrestling in Indianapolis, on February 29th, 1972.
What actually inspired my family to make the trek to said Coliseum (now the Pepsi Coliseum) in the first place bears repeating. My neighborhood cronies and myself had been following it a bit more than usual at the time, and one day I received a call from my longtime boyhood chum Don Rice, who told me Bobby Heenan had gotten busted wide open on TV and to turn it on quickly before I missed it (this in the day long before VCR's). There doing an interview with his Blackjacks was a massively bloody Bobby Heenan with just a bandage on his forehead, swearing he wasn't going to wrestle an Indian, and how disgusted he was at Billy Red Cloud for injuring him like that. Of course, I wanted to see more, and we were lucky here in the fact that wrestling was repeated after midnight, following the late movie on Saturday night. I made it a point to stay up, as not to miss this, and my efforts were not in vain.
Billy Red Cloud had arrived in Indianapolis only a few weeks before, and everyone had taken a shine to the bald Indian from White Earth, Minnesota. As was the custom back then, the TV matches usually consisted of one-side bouts where a big star would wrestle a weaker opponent, aptly named by my cousin Corky as "dummy guys". Today was different, though. Heenan made his way to the ring, and then came Billy Red Cloud. Billy, like most Native American grapplers of the days, came in full Indian regalia, including bringing a peace pipe given to him by his "grandfather", and beads made by the children of his reservation. The pipe had been passed down several generations and was "quite old". Of course, Red Cloud bounced Heenan around once the action started, and we fans couldn't have been happier seeing Bobby finally "get his". Things were progressing nicely for Red Cloud, Bobby could mount no real offense, so he did what Bobby Heenan always does when being outclassed, he did something totally spiteful, and destroyed the pipe and necklace!
Seeing this, Red Cloud went berserk! Going outside, he ran Heenan's head into the bell on the table at ringside. Heenan went down, and while he tried to regain his composure, Red Cloud went into a war dance right there on the Channel 4 studio floor. When he picked Bobby up, Heenan was bleeding like a gusher. The sight of blood seemed to work the Indian star into a frenzy, and he proceeded to wail away at the wounded head of Heenan, who by now had his blond locks completely stained red with his blood. The Blackjacks hit the ring to try and save their fallen comrade, but Red Cloud handled them with ease and went back to work on his prey. The locker room poured into the room and were finally able to pry Billy off of Heenan, and the Blackjacks helped Bobby back to the dressing room area. Bobby, before he was carted off, tried to plea his case to commentator Sam Menacker by saying, "all of this over.......a pipe...........", Bobby's voice trailing. Red Cloud, fighting back tears of rage wondered out loud, "How can I face my people?" More...

KM DVD/VHS Store 4
Click here to purchase DVD or VHS products direct from the official distributors.
KM Replica Masks 4
Click here to purchase pro quality replica wrestling masks of all your favorite old school masked wrestlers.
KM Store 4
The KM Store now features products featuring the GCW logo as well as some other very cool images. To see what's new and to purchase T-Shirts, ball caps, mouse pads and more, click here.
KM Message Board 4
Want to chat with other fans of regional wrestling? This message board has forums for over two dozen promotions. Click here.
KM Belt Gallery 4
This section contains an extensive title belt gallery... images of heavyweight, tag, U.S. and various regional title belts. To view it, click here.
Old School Tape Review 4
Reviews of various PPV's, commercial tapes and regional wrestling TV shows are available in this section. To read more, click here.
Website designed & maintained by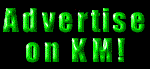 Thanks for visiting!