Regional Territories 4
This section contains monthly articles on over two dozen territories. To relive those wonderful days of old, click here.
Wrestlers 4
Enter this section for bios/profiles of various wrestlers from the regional days. To find more out about your favorite pro wrestler, click here.
Stories 4
This section contains stories from the pros themselves told exclusively to Kayfabe Memories. Want to know more as told from the wrestlers themselves? Click here.
Old School Book Reviews4
Click here to find various book reviews from old school wrestlers.
KM Links 4
For tons of links to old school related sites, click
here
.
KM Micro Wrestlers4
What are Micro Wrestlers? Click here
to find out.
KM Interviews... 4
Click here to read exclusive interviews with stars from the regional territories.
www.kayfabememories.com is © 2004 AtomDesigns. All promotional art, characters, logos and other depictions are © their respective owners. All Rights Reserved.
All contents save Wrestler Stories are © Kayfabe Memories.
Website designed and maintained by AtomDesigns © 2004 . If you experience any problems with this site or have any questions, please contact the Webmaster.
Random notes and the Legionnaires
- Mike Dupree
With Bruiser and Sheik going into partnership, and the Detroit leg of the territory closing shop, several mainstays of the W.W.A. looked to greener pastures, and by the end of 1974, several new faces made their debut.
First out were the Valiant Brothers, who dropped their W.W.A. belts that were won from Bruiser and Sammartino to Pepper Gomez and Wilbur Snyder on May 4 of 1974. On the next show, June 15, Sgt. Jacques (Rene) Goulet and Ox Baker debuted, teaming up to beat Tom DeMarco and another newcomer, Jim Starr, who would soon find his status elevated. Roger Kirby was slated to come in as Goulet's partner, rumored to be managed by Lord Al Hayes, but only made one appearance on June 29, losing to Sailor Art Thomas via submission. Goulet had made the transition right to the main event with Bruiser on the same show, stopping Dick in an Algerian Death Match, where each wrestler wore a black hood and couldn't see his opponent. This show, which was also Stan Kowalski's last appearance here, featured the lowest attendance of the year, reportedly 6,000.
Bruiser won the rematch on July 20th, winning a Gestapo Death Match, a match that is won when a wrestler's second waves a white flag. Bobby Heenan was Goulet's second, and waved the flag when he and Goulet got into an altercation. This was Heenan's last show until September 21st. Making his return debut on this card was the Sheik, who defended his U.S. Title by throwing fire on Art Thomas in a 4 minute squash that nearly triggered a riot. August 10th saw Bruiser and Thomas squaring off against Sheik and Goulet, which saw the Sheik throw fire on Bruiser, who was counted out of the ring. On the undercard, Ox Baker scored the W.W.A. Title against Bob Ellis. The high spot of this match was Ellis taking a razor and juicing Ox in front of everyone, then calmly putting the blade back in his trunks. Everyone was shocked that fan favorite Ellis would use a "foreign object" on his opponent. Gomez and Snyder were fighting champs, beating Mitsu Arakawa and Kim Duk (Tiger Chung Lee) on 6/15, Duk and Stan Kowalski on 6/29, Bill Miller and the Ox on 7/20, and Miller and Kim Duk in an exciting one on 8/31.
On the undercard of the 8/31 show, Ellis and Baker were both counted out in a rematch, and Don Fargo debuted as Goulet's partner, Pvt. Don Fargo from Corsica defeated Bill Nixon, and helped Goulet in his match with Art Thomas. On September 21,the new Market Square Arena hosted wrestling for the first time. A reported crowd of 15,800 saw Bruiser (managed by Bobby Heenan, who hadn't been seen since July 20th) go against the hated Sheik, managed by Eddie Creatchman.
That match went to a double DQ, as Heenan turned on Bruiser, and all 3 heels put the boots to Dick. Ox Baker defended his newly won title against Andre the Giant in a groan fest, and the Legionnaires defeated Snyder and Gomez for the W.W.A. Titles. (In an amusing aside, Fargo either forgot, or was playing a rib on himself, by coming into the ring with nothing but red briefs under his white cotton outer pants. He masted them down and was taking off his shirt when he looked down and quickly pulled them up. He wore his long pants for the rest of the bout.)
Bobby Heenan made his last Indianapolis appearance as a full time worker (not counting future spot appearances) on October 12 by teaming with the Sheik against Bruiser and Bobo Brazil, which saw Heenan do his usual mask of blood schtick before being pinned by the Bruiser. For some odd reason, this house was way down following the huge turnout at MSA. On November 16, Ox Baker debuted his new manager, the aforementioned Jim Starr, who was now Handsome Johnny Starr (trying to fill Heenan's BIG shoes) in his defense against Art Thomas. Goulet and Fargo won over Ellis and Bruiser in a match which saw Ellis stuff Fargo in a dress he brought out, meant for the opposition. November 29 saw the Sheik beat Bruiser in a chain match (where Sheik "accidentally" choked Bruiser until he passed out and so the ref counted 3. Ox defeated Mighty Igor, and the Legionnaires lost 1 fall of a 2/3 falls match, that went the full 60 minutes, to Gomez and Ellis, so Goulet and Fargo retained the belts.
More...

KM DVD/VHS Store 4
Click here to purchase DVD or VHS products direct from the official distributors.
KM Replica Masks 4
Click here to purchase pro quality replica wrestling masks of all your favorite old school masked wrestlers.
KM Store 4
The KM Store now features products featuring the GCW logo as well as some other very cool images. To see what's new and to purchase T-Shirts, ball caps, mouse pads and more, click here.
KM Message Board 4
Want to chat with other fans of regional wrestling? This message board has forums for over two dozen promotions. Click here.
KM Belt Gallery 4
This section contains an extensive title belt gallery... images of heavyweight, tag, U.S. and various regional title belts. To view it, click here.
Old School Tape Review 4
Reviews of various PPV's, commercial tapes and regional wrestling TV shows are available in this section. To read more, click here.
Website designed & maintained by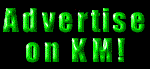 Thanks for visiting!