Regional Territories 4
This section contains monthly articles on over two dozen territories. To relive those wonderful days of old, click here.
Wrestlers 4
Enter this section for bios/profiles of various wrestlers from the regional days. To find more out about your favorite pro wrestler, click here.
Stories 4
This section contains stories from the pros themselves told exclusively to Kayfabe Memories. Want to know more as told from the wrestlers themselves? Click here.
Old School Book Reviews4
Click here to find various book reviews from old school wrestlers.
KM Links 4
For tons of links to old school related sites, click
here
.
KM Micro Wrestlers4
What are Micro Wrestlers? Click here
to find out.
KM Interviews... 4
Click here to read exclusive interviews with stars from the regional territories.
www.kayfabememories.com is © 2004 AtomDesigns. All promotional art, characters, logos and other depictions are © their respective owners. All Rights Reserved.
All contents save Wrestler Stories are © Kayfabe Memories.
Website designed and maintained by AtomDesigns © 2004 . If you experience any problems with this site or have any questions, please contact the Webmaster.
Random notes and the Legionnaires
- Mike Dupree
With Bobby Heenan, a mainstay in Indiana wrestling gone, a suitable replacement was needed. This was still in the days of the "classic" manager that usually built a heel stable for the local babyfaces to try and thwart. The unenviable job of filling Heenan's shoes fell on the shoulders of Handsome Johnny Starr.
Starr's real name was John Davis, and his father was a local judge, believe it or not (or as I was led to believe, anyway), although he was billed as being from New Orleans. Johnny had started his career on March 10,1974, going to a draw with Max Blue in Columbia, Kentucky. John had worked down south for smaller promotions, and possibly Gulas before moving into the Indianapolis region. Johnny wasn't too bad on the stick, was a good worker, and above all, could blade pretty well, something of a Bruiser staple. Heenan did his last Indianapolis date on October 12th,1974.The following card, Starr was found managing then WWA champ Ox Baker in his match against Art Thomas. I always found it odd how a grappler could have a perfect losing streak and then overnight start coming out on top. Starr must have "learned from his mistakes", as he was now starting to win his matches as well. Actually, Starr made a good foil for Ox. Ox was good on the stick, but horrid in the ring, so Starr managed to cover over some of Ox's rough spots to keep things rolling (Of course, he also performed the hideous chair shots to Ernie Ladd that I mentioned in last month's column). I think you could put it down to his relative inexperience and lack of timing, which were two things that hampered him.) The big difference I detected between Heenan and Starr is that for Bobby, wrestling was his life. For Starr, wrestling was more of a job. Starr was only going to go so far in the game and that was it. That being said, the task of following Heenan was a bit more daunting, and I never felt he really rose to the occasion. Starr carried on as Bruiser's main manager for a couple of years, managing not only Baker, but the Legionnares (when needed), the Masked Strangler, and Ox Baker and Chuck O'Connor. But by 1976,Starr was slowly phased out, and just used again as a jobber/opening card. By this time, both Jimmy Kent (and the Bounty Hunters) and Eddie Creatchman (along with the Sheik) were on the scene, and it became a crowded field.
On March 15,1975, I got to see a man I had read and heard so much about, the legendary Lou Thesz returned to Indianapolis rings on one of his many "comebacks" (he and Terry Funk should compare notes to see who's retired the most). To say that his debut was a disappointment for me at the time was an understatement. First, Bill Miller, his scheduled opponent, did a no-show, so they subbed Jim Lancaster (Jim Painter) to fill in. Jim was a big, portly fellow, and not very congruent, style wise, for Thesz. Second, was the fact that no one could live up to the hype Lou had, even then, and thirdly, I was weened on a steady diet of Bruiser, Ellis, Heenan, Sammartino, etc. and didn't really appreciate Lou's style at the time. Nevertheless, Lou was in great condition, and moved like a guy half his age. They worked a minor angle and rescheduled the match with Miller on the next show, having Lou go over in a fast paced match. On June 7th of 1975, Lou got his shot at Ox Baker's heavyweight title. Did I say Lou and Lancaster were incongruent? Ox and Lou should never have been let within 100 miles of each other in the ring. Lou tried to make a match of it, but there was only so much he could do against someone with Ox's style. Eventually, while rebounding off the ropes, Starr (Ox's second) tripped Lou and Ox brought the big elbow down and pinned Thesz in the middle.
To my knowledge, that was the only pin Baker ever got in Indianapolis as world champ! The June 21st show had Wilbur Snyder going against Ox for the title with Lou as the special referee. Ox got DQ'd when Starr pulled Lou out of the ring. Eventually, Lou and Snyder cleared the area of the two villians. There seemed to be a bond between Wilbur and Lou, and as a tag team they clicked beautifully, as a match in Anderson, Indiana, against the champion Legionnaires illustrated. Even though it was a small house, they worked like they were performing in front of the Garden crowd. Goulet, who was a fine worker in his own right when given the chance, did most of the action against the two, with LeBeouf doing most of the power moves for his team. The high spots were incredible, and the 2/3 bout probably went over a half an hour. More...

KM DVD/VHS Store 4
Click here to purchase DVD or VHS products direct from the official distributors.
KM Replica Masks 4
Click here to purchase pro quality replica wrestling masks of all your favorite old school masked wrestlers.
KM Store 4
The KM Store now features products featuring the GCW logo as well as some other very cool images. To see what's new and to purchase T-Shirts, ball caps, mouse pads and more, click here.
KM Message Board 4
Want to chat with other fans of regional wrestling? This message board has forums for over two dozen promotions. Click here.
KM Belt Gallery 4
This section contains an extensive title belt gallery... images of heavyweight, tag, U.S. and various regional title belts. To view it, click here.
Old School Tape Review 4
Reviews of various PPV's, commercial tapes and regional wrestling TV shows are available in this section. To read more, click here.
Website designed & maintained by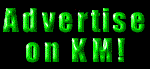 Thanks for visiting!