Regional Territories 4
This section contains monthly articles on over two dozen territories. To relive those wonderful days of old, click here.
Wrestlers 4
Enter this section for bios/profiles of various wrestlers from the regional days. To find more out about your favorite pro wrestler, click here.
Stories 4
This section contains stories from the pros themselves told exclusively to Kayfabe Memories. Want to know more as told from the wrestlers themselves? Click here.
Old School Book Reviews4
Click here to find various book reviews from old school wrestlers.
KM Links 4
For tons of links to old school related sites, click
here
.
KM Micro Wrestlers4
What are Micro Wrestlers? Click here
to find out.
KM Interviews... 4
Click here to read exclusive interviews with stars from the regional territories.
www.kayfabememories.com is © 2004 AtomDesigns. All promotional art, characters, logos and other depictions are © their respective owners. All Rights Reserved.
All contents save Wrestler Stories are © Kayfabe Memories.
Website designed and maintained by AtomDesigns © 2004 . If you experience any problems with this site or have any questions, please contact the Webmaster.
- Mike Dupree
1976
The 1976 wrestling season started off with a whimper after the fine turnout of the Christmas ' 75 show. The main event was another encounter between Ox Baker and Dick the Bruiser in a Brass Knuckles match on January 17th. The crowd was approximately 4,500, and that was probably being kind. The match itself was a plodding affair, with Ox coming out the winner after Johnny Starr and Chuck O'Connor interfered. The throng sat mostly quiet, and filed out peacefully after the main. In the semi main, Pepper Gomez kept his WWA title on a reverse decision over Chuck O'Connor (see earlier installment). The February 21st card had Bruiser and Crusher defending their belts against Ox and Chuck O'Connor which had one referee getting knocked out and a standby making the count, only to get knocked out himself and the original ref making the opposite decision. The match was ruled a draw, and the tag belts were held up. Gomez gained a draw to retain his WWA title. This show marked the end of the 2/3 fall tag team title match (other than special occasions). From this time on, all WWA tag team title bouts were one fall. The March 13th show saw B&C paired again against Ox and O'Connor, with Starr barred from the building. In actual fact, he was getting married on this date. At any rate, Ox and O'Connor annexed the straps from the brawling cousins in one of the lamer finishes seen. Ox hit Crusher with a plastic chair that couldn't break an egg at full force, and he only grazed him with the edge of the seat. Crusher went down as if hit by a sledge hammer, and Ox got the win. Many people in the crowd shook their heads in disbelief. 4,900 was listed as attendance. The March 27th show saw Bruiser against O'Connor and Crusher against Ox in singles bouts. At this time channel 6, WRTV, couldn't get down to tape the matches, so Dick had a film crew come in and film the two main bouts on 16mm,and they were later inserted onto other footage Dick had in the can. Bruiser won over O'Connor in a match that saw the still green O'Connor struggle to get a few drops of blood from a poor and apparent juice job. He struggled for several minutes, but just couldn't get it done. A big foot from the ropes brought this one to an end. (This footage was shown on the first David Letterman afternoon show that Dick guested on years later. Dick then demonstrated his "claw" on the then ample girth of one up and coming Roseanne Barr, who complained that it tickled.)
More...
If you'd like to discuss the WWA-Indianapolis region with other fans, please visit the KM Message Board

KM DVD/VHS Store 4
Click here to purchase DVD or VHS products direct from the official distributors.
KM Replica Masks 4
Click here to purchase pro quality replica wrestling masks of all your favorite old school masked wrestlers.
KM Store 4
The KM Store now features products featuring the GCW logo as well as some other very cool images. To see what's new and to purchase T-Shirts, ball caps, mouse pads and more, click here.
KM Message Board 4
Want to chat with other fans of regional wrestling? This message board has forums for over two dozen promotions. Click here.
KM Belt Gallery 4
This section contains an extensive title belt gallery... images of heavyweight, tag, U.S. and various regional title belts. To view it, click here.
Old School Tape Review 4
Reviews of various PPV's, commercial tapes and regional wrestling TV shows are available in this section. To read more, click here.
Website designed & maintained by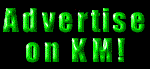 Thanks for visiting!