Regional Territories 4
This section contains monthly articles on over two dozen territories. To relive those wonderful days of old, click here.
Wrestlers 4
Enter this section for bios/profiles of various wrestlers from the regional days. To find more out about your favorite pro wrestler, click here.
Stories 4
This section contains stories from the pros themselves told exclusively to Kayfabe Memories. Want to know more as told from the wrestlers themselves? Click here.
Old School Book Reviews4
Click here to find various book reviews from old school wrestlers.
KM Links 4
For tons of links to old school related sites, click
here
.
KM Micro Wrestlers4
What are Micro Wrestlers? Click here
to find out.
KM Interviews... 4
Click here to read exclusive interviews with stars from the regional territories.
www.kayfabememories.com is © 2004 AtomDesigns. All promotional art, characters, logos and other depictions are © their respective owners. All Rights Reserved.
All contents save Wrestler Stories are © Kayfabe Memories.
Website designed and maintained by AtomDesigns © 2004 . If you experience any problems with this site or have any questions, please contact the Webmaster.
- Mike Dupree
Pro wrestling in this area took an upswing in 1977 with the Sheik/Bruiser feud topping the bill. On the January 15th show, they went at it to a double DQ decision, fighting all the way back to the back area where the wrestlers would come out. Dick ran Sheik's head into the wooden back fence several times, and Sheik did nothing to block it, causing loud thuds to resound throughout the arena. The match itself lasted only a few minutes, but the fighting through the crowd went ten or fifteen minutes. Sheik at one point scaled one of the metal bleacher sections and went after the fans. In Indianapolis in that time period, the fans had never seen anything so out of hand. Several people were actually hurt as the crowd surged to get around the combatants. Just when the Sheik would retreat and you thought it was over, out the Sheik would come and attack Brusier, and it would start all over again. It was hard to doubt the intensity between these two after that, and it went along way to restoring some credibility to the proceedings. Attendance was about 7,000 for this show. Even though it had been advertised as no TV, they did tape and show a clip of the "riot" after the match was over. I can't help but note the contrast to today's performers who look like they are waiting to be hurt to show how tough they are, or whatever they're trying to prove; Sheik and Bruiser did look like they were fighting for their lives. Afterward, as the ring was being dismantled, Sheik and his manager Eddie Creatchman came to the ring and did a promo. There were still several hundred people milling around while it was being cut. It was a pretty strange scene as most were still riled from the main event. The canvas had been taken off of the ring as well, and the ropes were just hanging. It made for a very strange evening. The Bruiser and Sheik had also started working a program in Ft. Wayne, starting on the 13th, going to a double DQ, as well as working a few other towns in the region. The undercard had the Strangler defeat Ox Baker in a WWA title bout with the stip that the loser had to leave town. The Bounty Hunters kept their WWA belts against Snyder and Bobo Brazil, losing by DQ. Ivan Koloff also debuted, defeating perennial whipping boy, Paul Christy.
The next big event saw them move to the larger Market Square Arena on February 12th for the Sheik/Bruiser confrontation in the steel cage. A clip of this bout can be seen in the movie "I Like To Hurt People", the finish having the masked Strangler come down and kick the door down to gain entrance and attack the Bruiser. This allowed the Sheik to escape and be counted out (no job tonite, eh Eddie??). Sheik took a metal bar from the broken cage door and chased fans throughout the arena. He was a sight to behold (Writer's note: I helped set up the cage that night and never suspected the cage door had been gimmicked).
More...
If you'd like to discuss the WWA-Indianapolis region with other fans, please visit the KM Message Board

KM DVD/VHS Store 4
Click here to purchase DVD or VHS products direct from the official distributors.
KM Replica Masks 4
Click here to purchase pro quality replica wrestling masks of all your favorite old school masked wrestlers.
KM Store 4
The KM Store now features products featuring the GCW logo as well as some other very cool images. To see what's new and to purchase T-Shirts, ball caps, mouse pads and more, click here.
KM Message Board 4
Want to chat with other fans of regional wrestling? This message board has forums for over two dozen promotions. Click here.
KM Belt Gallery 4
This section contains an extensive title belt gallery... images of heavyweight, tag, U.S. and various regional title belts. To view it, click here.
Old School Tape Review 4
Reviews of various PPV's, commercial tapes and regional wrestling TV shows are available in this section. To read more, click here.
Website designed & maintained by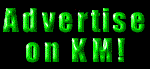 Thanks for visiting!