Regional Territories 4
This section contains monthly articles on over two dozen territories. To relive those wonderful days of old, click here.
Wrestlers 4
Enter this section for bios/profiles of various wrestlers from the regional days. To find more out about your favorite pro wrestler, click here.
Stories 4
This section contains stories from the pros themselves told exclusively to Kayfabe Memories. Want to know more as told from the wrestlers themselves? Click here.
Old School Book Reviews4
Click here to find various book reviews from old school wrestlers.
KM Links 4
For tons of links to old school related sites, click
here
.
KM Micro Wrestlers4
What are Micro Wrestlers? Click here
to find out.
KM Interviews... 4
Click here to read exclusive interviews with stars from the regional territories.
www.kayfabememories.com is © 2004 AtomDesigns. All promotional art, characters, logos and other depictions are © their respective owners. All Rights Reserved.
All contents save Wrestler Stories are © Kayfabe Memories.
Website designed and maintained by AtomDesigns © 2004 . If you experience any problems with this site or have any questions, please contact the Webmaster.
- Rich Tito
First off, I want to thank Vince for this opportunity to write for Kayfabe Memories. Even though Chicago was considered an AWA territory when I first started going in 1966 to the International Amphitheatre, it was strictly a WWA territory a few years earlier. Dick the Bruiser and Wilbur Snyder bought out Fred Kohler and brought along Bob Luce out of Kohler's office and installed Luce as the promoter and figurehead of the Chicago Wrestling Club.
Verne Gagne came along a little later and bought into the promotion along with Snyder and Bruiser. So Chicago had the best of both worlds, AWA and WWA.
The first live card I attended was on June 24, 1966. I was only 12 years old at the time and needed lifts back and forth to the Amphitheatre. The first memory I have of walking into the arena was probably the same as every other wrestling fan. I was in total awe. It was like walking into Commiskey Park and Wrigley Field for the first times. There aren't any words to describe it.
I was a total mark at the time, believing that my guys Crusher and Bruiser could whip any guys on the planet and that Gagne and Snyder could outwrestle any villain that Bob Luce could throw at them. It didn't matter if the bad guy was from Algeria, Russia, Germany, Japan or even parts unknown, my heroes would take care of the bums!
Hard to believe, but the matches were always scheduled to start at 8:30 p.m. and actually would begin about 15 minutes later. That was an odd starting time and you never see that time frame again, but that was the starting time. The fans would begin to get restless and start yelling, stomping and banging the stainless steel upper deck dressing that surrounded the Amphitheatre.
Bob Luce was always walking around and was always available to talk and sign autographs. Luce was a fan's dream as a friend to us all.
The first match was fan favorite Luis Martinez against the evil Russian, Igor Volkoff. Volkoff looked the part with the beard and short haircut while wearing the wrestling top with "CCP" across it. Martinez rallied to win the match with his octopus hold. As Volkoff left the ring, I was among those who taunted the Russian with " Go Back to Russia You Dirty Commie" and years later found out that Mr. Volkoff was from Calumet City, Illinois and had served in our Armed Forces. Mr. Steve Gob, my apologies some 35 years later.
More...
If you'd like to discuss the WWA-Indianapolis region with other fans, please visit the KM Message Board

KM DVD/VHS Store 4
Click here to purchase DVD or VHS products direct from the official distributors.
KM Replica Masks 4
Click here to purchase pro quality replica wrestling masks of all your favorite old school masked wrestlers.
KM Store 4
The KM Store now features products featuring the GCW logo as well as some other very cool images. To see what's new and to purchase T-Shirts, ball caps, mouse pads and more, click here.
KM Message Board 4
Want to chat with other fans of regional wrestling? This message board has forums for over two dozen promotions. Click here.
KM Belt Gallery 4
This section contains an extensive title belt gallery... images of heavyweight, tag, U.S. and various regional title belts. To view it, click here.
Old School Tape Review 4
Reviews of various PPV's, commercial tapes and regional wrestling TV shows are available in this section. To read more, click here.
Website designed & maintained by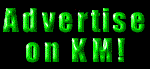 Thanks for visiting!