Regional Territories 4
This section contains monthly articles on over two dozen territories. To relive those wonderful days of old, click here.
Wrestlers 4
Enter this section for bios/profiles of various wrestlers from the regional days. To find more out about your favorite pro wrestler, click here.
Stories 4
This section contains stories from the pros themselves told exclusively to Kayfabe Memories. Want to know more as told from the wrestlers themselves? Click here.
Old School Book Reviews4
Click here to find various book reviews from old school wrestlers.
KM Links 4
For tons of links to old school related sites, click
here
.
KM Micro Wrestlers4
What are Micro Wrestlers? Click here
to find out.
KM Interviews... 4
Click here to read exclusive interviews with stars from the regional territories.
www.kayfabememories.com is © 2004 AtomDesigns. All promotional art, characters, logos and other depictions are © their respective owners. All Rights Reserved.
All contents save Wrestler Stories are © Kayfabe Memories.
Website designed and maintained by AtomDesigns © 2004 . If you experience any problems with this site or have any questions, please contact the Webmaster.
- Mike Dupree
Over the years, the Indianapolis based WWA (World Wrestling Association/Alliance) has gained a sort of cult following, and is always associated with its founder/co-owner, William Afflis a.k.a. Dick the Bruiser, who was also its first champion, and who went on to hold that belt 9 times.

Championship Wrestling of Indiana, Inc, first started in March of 1964, and was the brainchild of both the Bruiser and his partner, Wilbur Snyder. They had previously been working for the local promoter of the time, Balk Estes, and in fact, were his AWA tag team champions at the time they went into business for themselves.
Unlike most wrestlers of the time that took over a territory, Bruiser and Snyder made no bones about the fact they owned the promotion outright, and it had a dramatic effect on their fledgling business for some time to come. Since wrestlers could not hold a license to promote and wrestle at the same time, Bruiser and Snyder simply put the promotional license in their wives' names, and the early ads for their cards read, "L. Afflis presents.... Championship Wrestling. The real problem with this idea was, in 1964, audiences of "sports entertainment" were not as accepting of the fact that professional wrestling was more "entertainment" than "sport". There were already rival shows across town, and on October 31,1963, there was an explosion at the Indianapolis Fairgrounds Coliseum that left no suitable year round venue for some considerable time (and local fans were a bit paranoid about going to any event in the explosion's aftermath).
Bruiser and Snyder going into business for themselves seemed then like a logical step on paper. Local big stars (like the Sheik, Verne Gagne, Ray Gunkel, etc.) had long realized there was much more profit to be made by being in business for themselves, and through hook or crook, managed to slot themselves at the top of their respective territories. Bruiser and Snyder, though in the ring were a contrast, outside the ring had much in common and had formed a lasting friendship.
Wilbur Snyder was originally from Van Nuys, California, and had gone to the University of Utah before entering pro football, where he eventually made his way up to Canada to play for Edmonton. One of Wilbur's teammates was a young Gene Kiniski, who had been moonlighting as a wrestler, and was making several times more money than he had been as a football player. Wilbur, who at the time was a phenomenal athlete, decided to try his hand at wrestling, and broke into the business in his native California in 1955.
The good looking, fast moving Snyder was an immediate smash, and even went to a 1 hour draw with then NWA champion, Lou Thesz, further cementing his reputation. In 1957, or thereabouts, he was brought into the Chicago/Milwaukee region, controlled by wrestling czar, Fred Kohler (who at one time, because of his network wrestling show, controlled the booking of a large segment of the major wrestling talent in the U.S., not unlike the big two do today) and put over Verne Gagne for the U.S. TV title (and how many people have ever went over Verne in the middle of the ring?). Wilbur was in huge demand all over the country, and he eventually set up shop in Indianapolis, working for Balk Estes, who was drawing record houses at the Fairgrounds Coliseum.
William Afflis was born in Lafayette, Indiana to wealthy parents, and moved to Indianapolis as a boy, attending Shortridge High School. When he was growing up in Indianapolis, his father died and his mother remarried and moved away from Indianapolis, letting Dick have his own apartment at the tender age of 16! When he graduated from high school (as a top rated lineman) he enrolled at Purdue, where he was suspended for beaning the assistant coach (who had demeaned Dick on the field in front of the other players) on the head with his football helmet. Several schools and a name change (from William to Richard, hence "Dick") he finally ended up at the University of Nevada, where he graduated with a degree in engineering. From 1951 to 1955, he was an offensive lineman for the pre-Lombardi Greenbay Packers, finally quitting for the greener pastures of pro-wrestling (or, as one legend has it, because he was suspended for deliberately breaking the leg of an opposing teams lineman). The Packers, at the time, were the worst team in pro football, and spent more time partying than training for their games. Dick started wrestling for Tony Stetcher in Minneapolis in 1955,and a few months after his debut, wrestled Lou Thesz for the NWA Title. By 1956, Dick was perfecting his style, and was one of the first to actually boast and brag about himself in interviews ("working the stick"). His matches became more riotous, with Dick bringing in chairs, tables, or anything else he could get his hands on. This sort of thing, though passe today, was groundbreaking in its time. Wherever he performed, he drew large houses, and finally was given the U.S. TV title in 1957 over his future partner, Wilbur Snyder. Dick continued to be a mainstay in the Midwest region, making his home in Indianapolis, and wrestling there for local promoter Dick Patton. The riot in Madison Square Garden in late 1957 (resulting in Dick's ban from New York) only further enhanced his reputation.
More...

KM DVD/VHS Store 4
Click here to purchase DVD or VHS products direct from the official distributors.
KM Replica Masks 4
Click here to purchase pro quality replica wrestling masks of all your favorite old school masked wrestlers.
KM Store 4
The KM Store now features products featuring the GCW logo as well as some other very cool images. To see what's new and to purchase T-Shirts, ball caps, mouse pads and more, click here.
KM Message Board 4
Want to chat with other fans of regional wrestling? This message board has forums for over two dozen promotions. Click here.
KM Belt Gallery 4
This section contains an extensive title belt gallery... images of heavyweight, tag, U.S. and various regional title belts. To view it, click here.
Old School Tape Review 4
Reviews of various PPV's, commercial tapes and regional wrestling TV shows are available in this section. To read more, click here.
Website designed & maintained by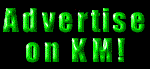 Thanks for visiting!