Regional Territories 4
This section contains monthly articles on over two dozen territories. To relive those wonderful days of old, click here.
Wrestlers 4
Enter this section for bios/profiles of various wrestlers from the regional days. To find more out about your favorite pro wrestler, click here.
Stories 4
This section contains stories from the pros themselves told exclusively to Kayfabe Memories. Want to know more as told from the wrestlers themselves? Click here.
Old School Book Reviews4
Click here to find various book reviews from old school wrestlers.
KM Links 4
For tons of links to old school related sites, click
here
.
KM Micro Wrestlers4
What are Micro Wrestlers? Click here
to find out.
KM Interviews... 4
Click here to read exclusive interviews with stars from the regional territories.
www.kayfabememories.com is © 2004 AtomDesigns. All promotional art, characters, logos and other depictions are © their respective owners. All Rights Reserved.
All contents save Wrestler Stories are © Kayfabe Memories.
Website designed and maintained by AtomDesigns © 2004 . If you experience any problems with this site or have any questions, please contact the Webmaster.
- Scott Keith
- For those who think WCW has bad names NOW, chew on THAT one.
- So anyway, I was basically playing "pick a tape at random" tonight until I found something without a rant, and I happened to grab the tape with Clash 16 / Crockett Cup 87 / Superbrawl II / Wrestling Classic on the first shot. And since thereís no Crockett Cup 87 rant yet, thatís our lucky winner!
- High Concept here: The Crockett Cup was a two-night, non-televised tournament consisting of about a billion tag teams from every NWA-affiliated territory out there, with the winner getting $1,000,000. The 8 top teams were seeded 1-8 and given a first round bye, and the rest of the riff-raff competed in first-round matches to find opponents for them. Outside of the name teams, it was generally high-quality competition like Mark Starr & Chris Champion or Tim Horner & Pez Whatley or whatever. You get the idea. The inaugural year saw the Road Warriors beating Ronnie Garvin & Magnum TA in the finals. In my younger days I probably could have rattled off the top 8 seeds without checking the Supercards website, but 1987 was a long time ago, so I check the ranterís best friend and come up withÖ
1. Rick Rude & Manny Fernandez
2. Dusty Rhodes & Nikita Koloff
3. The Road Warriors
4. The Midnight Express
5. Giant Baba & Isao Takagi
6. The Rock N Roll Express
7. Ivan Koloff & Vladimir Petrov
8. Tully Blanchard & Lex Luger
- Ricky Morton had been injured for a while leading up to this, so that was a pretty clear case of false advertising. One shudders to think how the Rock n Roll Express v. Baba & Takagi would have turned out otherwise, though.
- Taped from Baltimore, MD
- Your host is Tony Schiavone.
- Konga the Barbarian & Bill Dundee v. Mike Rotunda & Tim Horner. This would be one of those excitement-filled preliminary bouts. Sadly, the Mulkey Brothersí only Crockett Cup appearance is not included on this tape, as they bow out in the first round to Denny Brown & Chris Champion. I guess Mulkeymania just didnít sell tapes. Anyway, we pick things up here with Mike being hammered on the outside by the heels. Back in, Barbarian hits the KICK OF FEAR for two. Earl Hebner with hair may not be the funniest thing on this tape, but Iíd feel terrible if I failed to mention it. Barbarian goes upstairs and misses the flying headbutt. Hot tag Horner, who bodypresses Barbarian for two. Dundee nails him with a chain for the pin, however. 3:01 aired. ľ* Dundee and Barbarian would get squashed by the bookerman and his Russian buddy in the next round.
More...

KM DVD/VHS Store 4
Click here to purchase DVD or VHS products direct from the official distributors.
KM Replica Masks 4
Click here to purchase pro quality replica wrestling masks of all your favorite old school masked wrestlers.
KM Store 4
The KM Store now features products featuring the GCW logo as well as some other very cool images. To see what's new and to purchase T-Shirts, ball caps, mouse pads and more, click here.
KM Message Board 4
Want to chat with other fans of regional wrestling? This message board has forums for over two dozen promotions. Click here.
KM Belt Gallery 4
This section contains an extensive title belt gallery... images of heavyweight, tag, U.S. and various regional title belts. To view it, click here.
Old School Tape Review 4
Reviews of various PPV's, commercial tapes and regional wrestling TV shows are available in this section. To read more, click here.
Website designed & maintained by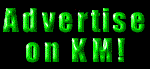 Thanks for visiting!